Kevin Feige Hints That Kamala Khan Will Steal The Show In The Marvels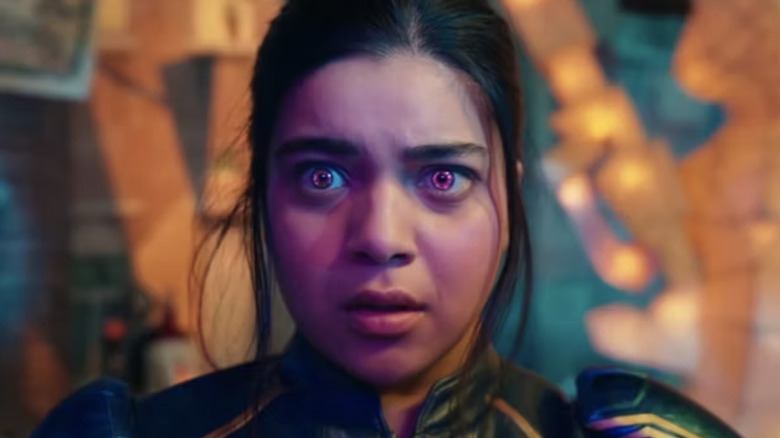 Walt Disney Studios Motion Pictures/Marvel Studios/ Disney+
Since Disney+ became the home for Marvel streaming properties, it opened a world previously unknown to fans. While big-budget blockbusters still release in theaters, smaller shows on the streaming platform feature characters in a more intimate and personal setting. Finally, Hawkeye (Jeremy Renner) could get the respect he deserves in his titular series, and Loki (Tom Hiddleston) got the character development he deserved while introducing a Variant of the historic Kang the Conqueror.
For the content juggernaut, keeping in line with the status quo is not enough. These Marvel series have also introduced fan-favorite characters. Kamala Khan (Iman Vellani) made her live-action debut in her series "Ms. Marvel." Though she was changed from an Inhuman to a mutant for the series, "Ms. Marvel" is still a moving representation of Kamala's heritage. 
This current era of storytelling gives Kamala many opportunities to shine, including in the upcoming team-up film "The Marvels." Captain Marvel (Brie Larson), Ms. Marvel, and Photon (Teyonah Parris) are at the forefront of this team. MCU fans are hopeful for "The Marvels," but that is nothing compared to boss Kevin Feige, who shared his favorite part of the film so far.
Ms. Marvel represents an opportunity to relive her story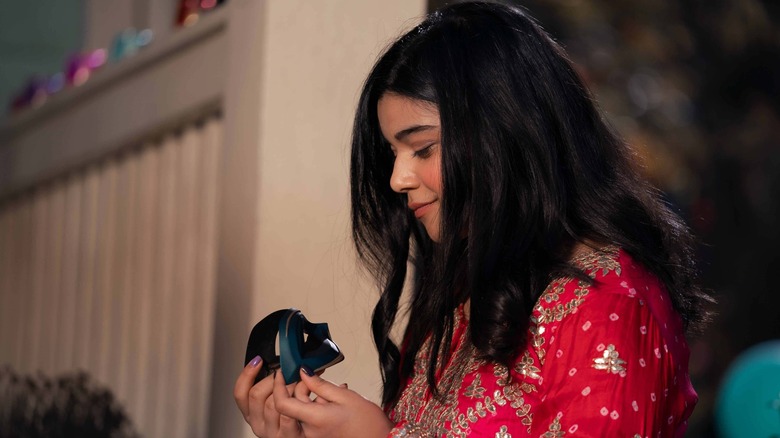 Walt Disney Studios Motion Pictures/Marvel Studios/ Disney+
Last fans saw Captain Marvel, she was spinning through a portal that opened up in Kamala's room. Though admittedly disoriented at first, Carol realizes she is in the room of a megafan. The two never meet, but that is fine because they are bound to cross paths in "The Marvels." Typical of the producer, Kevin Feige is keeping the circumstances of how they will meet under wraps, but he does deliver a small teaser in relation to the film. 
When speaking in an exclusive interview with Entertainment Weekly, he let loose a tiny "spoiler" meant to excite fans. He shared what he loves about the new phase, and that includes the superpowered teenager from New Jersey.
"Kamala Khan, for instance, is a great new character in the pantheon," Feige said. "I'm very proud of the 'Ms. Marvel' show. I also know — and this is a spoiler — she essentially steals 'The Marvels,' which is coming out [July 28]. It makes me excited that people will, I hope, see that movie and then go back and revisit those shows on Disney+." 
When it premiered, "Ms. Marvel" was a stark departure from previous content. While other television series on Disney+ had high stakes, "Ms. Marvel" was a high school show about a young girl finding herself. She just happened to find superpowers along the way. Depending on the success of "The Marvels," Feige seems quite confident that her popularity will drive viewers right back to where she started.