Why Ms. Marvel Has MCU Fans Hopeful For The Marvels Movie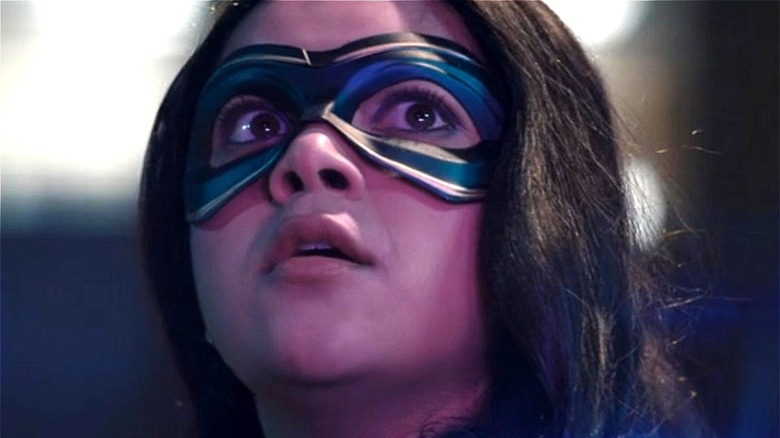 Marvel Studios/Disney+
Contains spoilers for "Ms. Marvel" Episode 6, "No Normal"
One of the most endearing aspects of "Ms. Marvel" is Kamala Khan's (Iman Vellani) heartfelt obsession with Captain Marvel (Brie Larson). Her room is absolutely covered in posters, littered with figurines, and papers with all manner of Captain Marvel iconography. Kamala dreams about what it is like to be Captain Marvel and even designs her very own costume to emulate the hero, with the help of her friend Bruno (Matt Lintz). So proud of this costume, the very first episode of "Ms. Marvel" deals with her attempting to go to AvengerCon and enter a Captain Marvel costume contest. It is during this very contest that her abilities start to awaken, and although she doesn't like the temporary hero nickname ("Night Light") she is given, she is overjoyed to finally be among the powerful.
In one of the final scenes of "Ms. Marvel" Episode 6, "No Normal," her father, Yusaf (Mohan Kapur), explains to Kamala that her name roughly translates to "marvel," and a look of realization spreads across her face. Kamala expresses shock that she has the same name as her hero, and her happiness is quite palpable. This sets up her comics-accurate superhero name, Ms. Marvel, but the last moment of the show throws a curve ball at longtime Marvel fans. Noticing that her heirloom bangle is glowing, Kamala is suddenly tossed into her closet, and then Brie Larson's Captain Marvel emerges. Captain Marvel appears to be in shock at the sudden translocation, and is surprised at being plopped in a room filled with Captain Marvel décor. It seems though that MCU fans have had a resounding response to this final scene and hope for the future, but why?
Fans are excited Larson's Captain Marvel go in a new direction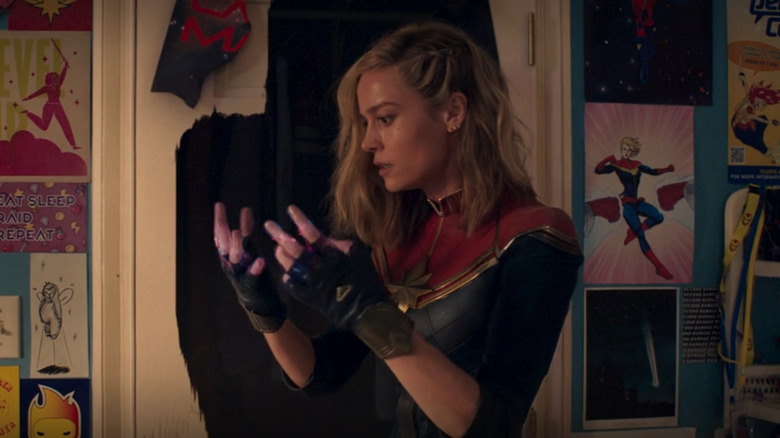 Marvel Studios/Disney+
Converging on Reddit to discuss the events of the final episode of "Ms. Marvel," several MCU fans expressed a similar sentiment. Redditor u/ZazaB00 said of that surprising cameo of Captain Marvel, "The obvious jokes aside, I'm now looking forward to 'The Marvels.' If the tone of 'Ms. Marvel' carries over, I think it could be a lot of fun. It was great to see a moment of emotion and humor out of Captain Marvel with just a small line at the end. I found that stoic version of Captain Marvel not so fun to watch."
Others also felt the same way, with u/TrapperJean stating that they pray the character of Captain Marvel gets the Thor (Chris Hemsworth) or Captain America (Chris Evans) treatment and clarified that they felt like it took Marvel a couple of iterations before nailing the characters. They then said that they hope the final moment of "Ms. Marvel" illustrates a change in direction for Captain Marvel because Brie Larson is a good actor. U/DandyBerlin expressed excitement for both Captain Marvel, Monica Rambeau (Teyonah Parris), and Ms. Marvel in "The Marvels," and to see the dynamic that will unfold between the three.
The Marvels has a release date of July 2023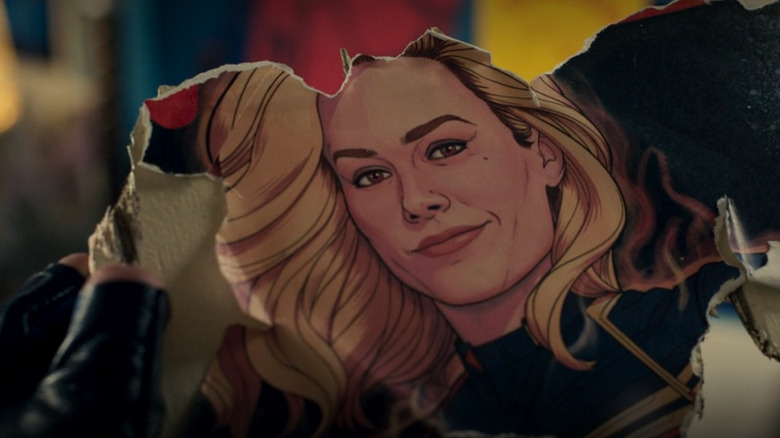 Marvel Studios/Disney+
According to Marvel, "The Marvels" stars Brie Larson, Iman Vellani, and Teyonah Parris, and has a tentative release date of July 28, 2023. Little is known of the plot at this point, but what is known is that fans will get a chance to see several characters with ties to the "Marvel" name come together. Monica Rambeau, the daughter of Carol Danvers' friend from the original "Captain Marvel" movie, returns from The Blip and gains superpowers from her interactions with the Hex over Westview in "WandaVision", though she has a somewhat tenuous relationship with Captain Marvel. 
During an interview with Uproxx, Larson was asked what fans can expect from the upcoming "The Marvels" film. She replied, "And it's the thing that I love about Marvel, is that they continue to reinvent. They continue to do the thing that you just would never think would be possible in these films. And they're not afraid to go there. So I'm super excited about what we did. I think there are some huge personal achievements of mine that I'm really excited about sharing, but you know, it's fun to have a bit of a secret." Needless to say, it seems as if Marvel fans have something to look forward to if the final moments of "Ms. Marvel" are any indication.