Jennifer Coolidge Urged David Harbour To Actually Choke Her On We Have A Ghost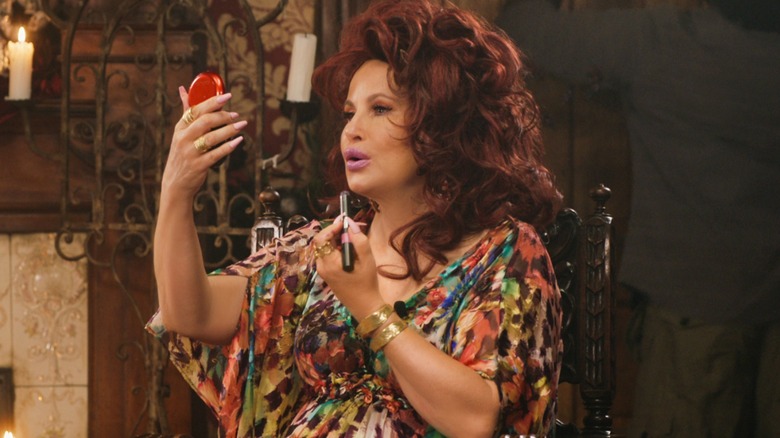 Netflix
David Harbour has long had a knack for the fantastical, whether it was in 2019's "Hellboy," as a smirking Santa in "Violent Night," or even the Demogorgon-fighting Jim Hopper in "Stranger Things." Now, Harbour is going full phantom for "We Have a Ghost."
Based on Geoff Manaugh's short story "Ernest" which was published on Vice in 2019, "We Have a Ghost" follows the Presleys, a family that just moved into what the locals call "the house of death." It seems the town rumblings weren't just gossip, and the Presleys soon learn that they have a spooky new roommate: a ghost named Ernest with a combover and an inability to speak. As it turns out, Ernest isn't all that scary, and the ghost becomes an internet sensation.
The "We Have a Ghost" trailer introduces an impressive cast alongside Harbour, including Anthony Mackie, Tig Notaro, and Jahi Di'Allo Winston as the teenage member of the Presley clan who takes a shine to Ernest. Jennifer Coolidge also appears as a TV medium, and according to Harbour, Coolidge urged her co-star to get physical on set.
Harbour didn't want to strangle America's sweetheart
In an appearance on "Late Night with Seth Meyers," David Harbour was quick to pile on praise about his "We Have a Ghost" co-star Jennifer Coolidge. "She's as amazing as you think she would be," Harbour said of the "White Lotus" star. The veteran actress was game for anything, including jumping out of a window for 15 takes, each time introducing new expressions and animal sounds.
Coolidge was particularly uncompromising when it came to one scene she shot with Harbour. "There's a CGI [hand] that shoots out of my face and it strangles her, so I did it with my hand, and she was really pissed," recalled Harbour. For Coolidge, Harbour's gentle touch didn't suffice. "We stopped the take and she was like, 'David, you gotta really strangle me. You gotta strangle me!' I was like, 'Jen, I'm not gonna murder America's sweetheart.' She's like, 'C'mon! C'mon!'"
Fortunately, no new ghosts were produced on the set of "We Have a Ghost." The horror comedy hits Netflix on February 24.