Deadpool 3 Scores The Crown's Emma Corrin As Its Big Bad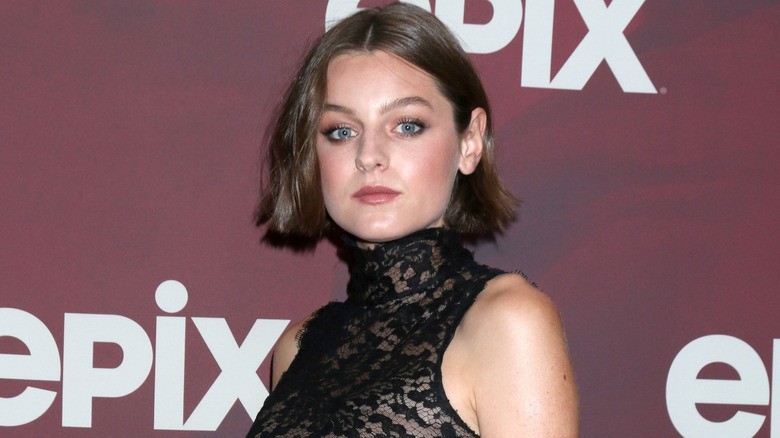 Kathy Hutchins/Shutterstock
"Deadpool" fans already received two hit films filled with shocking violence, meta commentary, and over the top jokes. Now, "The Merc with  Mouth" is officially completing a trilogy and taking things to a whole new level.
"Deadpool 3" will be the first in the series to be made under Marvel Studios, with Marvel Cinematic Universe mogul Kevin Feige co-producing it. The film will also bring Hugh Jackman back as The X-Men's Wolverine. On the Empire Film Podcast, Jackman even made the sequel sound like a buddy-comedy centered on Deadpool and a very reluctant Wolverine. 
"I'm just talking from my perspective," Jackman said. "[Logan is] frustrated by him, wants to be a million miles away from him, or wants to punch him in the head." 
A new Deadpool film set in the MCU with a returning Wolverine is already exciting news enough. Now a major new star is signing onto the film as well.
Emma Corrin will be Deadpool 3's big villain
According to Deadline, Emma Corrin joins the cast of the upcoming "Deadpool 3." It's unclear which Marvel character they're playing, but they'll be taking on a villainous role in the movie. Ryan Reynolds even made an announcement about the news on Twitter.
"New addition to the family!" Reynolds posted. "The Deadpool family, for clarity, which is just like a real family except with less swearing ... Welcome, Emma Corrin!" The new "Deadpool 3" actor also posted an Instagram story where they playfully hold up Deadpool's figure.
Corrin is best known as Princess Diana on Season 4 of "The Crown," which garnered them some serious awards notice. Since then, the performer has stayed very busy with roles in new movies including "My Policeman" and "Lady Chatterley's Lover." 
Marvel has been looking to bring Corrin into the MCU for quite some time, so this is a huge opportunity for all involved. Fans will just have to speculate over who Corrin is playing until "Deadpool 3" gets closer to its release date of November 8, 2024.