Tatooine's Binary Suns Brought Ming-Na Wen To Tears On The Mandalorian's Set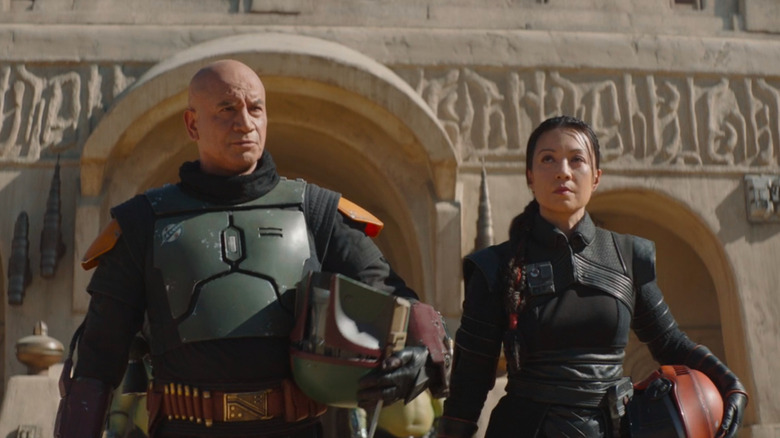 Disney+
Following the disappointing reception of "The Rise of Skywalker," Lucasfilm had to find a new way to recapture "Star Wars" fans' attention. Along came Jon Favreau and Dave Filoni, who utilized the growing Disney+ to usher in a new era of the franchise. The two began collaborating on "Star Wars," with Favreau focusing on "The Mandalorian" while Filoni continued to hit the nail on the head with the animation side.
Favreau and Filoni collaborating to push "Star Wars" into the future bring numerous new possibilities to the franchise. For one, the creative duo can easily transition characters between live-action, animation, and vice-versa, creating an ever-connected universe that "Star Wars" never had. Ming-Na Wen's vicious bounty hunter Fennec Shand was the first example.
The duo first introduced Shand in "The Mandalorian" Season 1 before she jumped to animation in "The Bad Batch," expanding on her pre-"Mandalorian" life a bit. Then, because "Star Wars" characters are never really dead, she returned to live-action in "The Book of Boba Fett," which gave her a more significant role as the crime lord's right hand.
Ming-Na Wen is a massive "Star Wars" fan herself, so she relishes in returning to the planet of Tatooine to play the bounty hunter. Other "Star Wars" fans can only imagine what it's like to step onto the set of one of Lucasfilm's projects, but Wen got to experience it herself, and it was quite an emotional moment for her.
Stepping foot into Tatooine meant a lot to Ming-Na Wen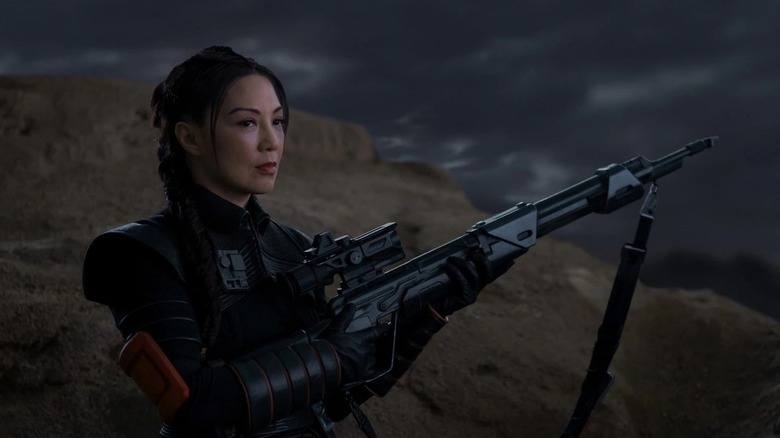 Disney+
During an interview with StarWars.com, Ming-Na Wen reminisced on walking onto the set of "The Mandalorian" for the first time. "They turned on the Volume and there were the two suns," she told the website. "And tears welled up in my eyes. I was on Tatooine!" For Wen, it was more than just nostalgia, as "A New Hope" inspired her to reach her dreams of becoming an actor. Growing up as one of the few Asians in Mount Lebanon, Pennsylvania, a young Wen used science fiction movies to escape from her everyday life. When she saw Luke in "A New Hope," who dreamt of a life that his hardworking family couldn't understand, it reminded her of her life, pushing her to achieve her goal of making a career in Hollywood. "That's what I loved. That's what I daydreamed about. I wanted to be Luke Skywalker. I wanted to be Han Solo. I wanted to be Leia. They were all different parts of me that I wish I could be," Wen told StarWars.com.
Fast forward a few decades, and Wen's dreams have come true. She's the only actor to complete the Disney Holy Trinity, starring in "Mulan," Marvel's "Agents of S.H.I.E.L.D.," and "Star Wars." She even managed to become her own version of Han Solo, as she told Vanity Fair that Fennec Shand shares many similarities to Harrison Ford's character. Like Solo, Shand starts as a survivor whose only commitment is to herself before becoming loyal to others through "The Mandalorian" and "The Book of Boba Fett." Wen's also more than happy to be the first Asian representation in "Star Wars," saying, "It was meant to be" after growing up as a massive fan of the space opera.