Are Michael Richards And Jerry Seinfeld Friends In Real Life?
"Seinfeld" was a self-described "show about nothing," but it was really about a quirky New York City friend group. The NBC sitcom followed a fictionalized version of stand-up comedian Jerry Seinfeld and his two besties, George Costanza (Jason Alexander) and ex-girlfriend Elaine Benes (Julia Louis-Dreyfus), as well as his eccentric neighbor Cosmo Kramer (Michael Richards) and a few other assorted oddballs.
"Seinfeld" ran for nine seasons and would go on to 10 Emmy Awards, including one for Outstanding Comedy Series in 1993. And it's no wonder because the cast's chemistry was magic.
While speaking with Seinfeld on his web series "Comedians in Cars Getting Coffee," Richards told his former co-star that he felt they were destined to work together from the very first audition. "I knew I was gonna get the part," he told Seinfeld in 2012. "I knew it on the first time I met you." Seinfeld agreed, saying that he felt the hand of the universe telling him, "You two are gonna be together."
But were the two co-stars destined to have a real-life friendship or was it all made for TV?
Michael Richards considers Jerry Seinfeld a close friend who stood by his side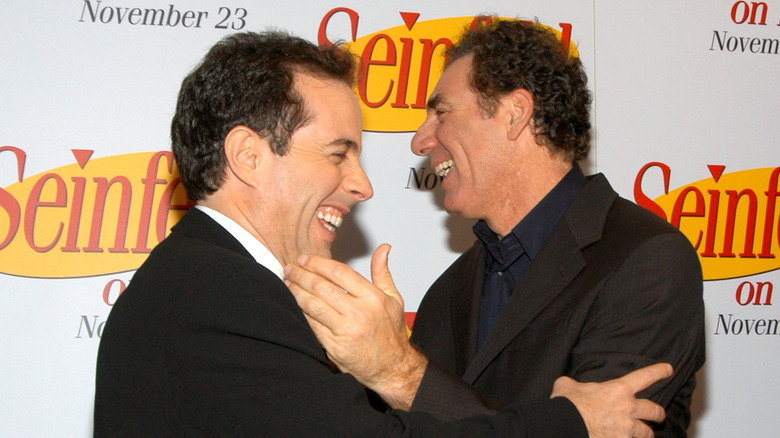 Everett Collection/Shutterstock
In 2006, Michael Richards was caught up scandal when he lost his temper with a heckler during a performance at The Laugh Factory in Hollywood. The actor engaged in a racist exchange with the audience member and screamed the "N-word," per Us Weekly. He apologized and retired from stand-up soon after.
During their "Comedian in Cars Getting Coffee" reunion, Richards thanked Seinfeld for sticking by him following the scandal. "It meant a lot to me. But inside, it still kicks me around," he said. Seinfeld said there was "never an issue" with his loyalty, then gave his pal some advice: "That's up to you to say, 'You know what, I've been carrying this baggage enough. I'm gonna put it down,'" he said. Later he told Richards, "I hope you consider using your instrument again because it's the most beautiful instrument I've ever seen."
Several fans commented on a YouTube video of the exchange to note that Seinfeld has been a good, compassionate friend to Richards.
When Richards' scandal took place, Seinfeld told CNN's Larry King that his friend had deep regret over the incident. "He still feels bad," Seinfeld said 2007. "That's the terrible thing about something like that, is you never quite get it out of your head that you hurt people." He described the moment as a bad decision that resulted from an outburst of anger and said he did not think Richards was racist because it was so hard for him to forgive himself. Seinfeld also said he would definitely hire Richards again. "Why not?" he asked. "I mean, we're human beings. None of us is without a mistake."