Penelope's Desk On Criminal Minds Is Covered In Gifts From Kirsten Vangsness' Fans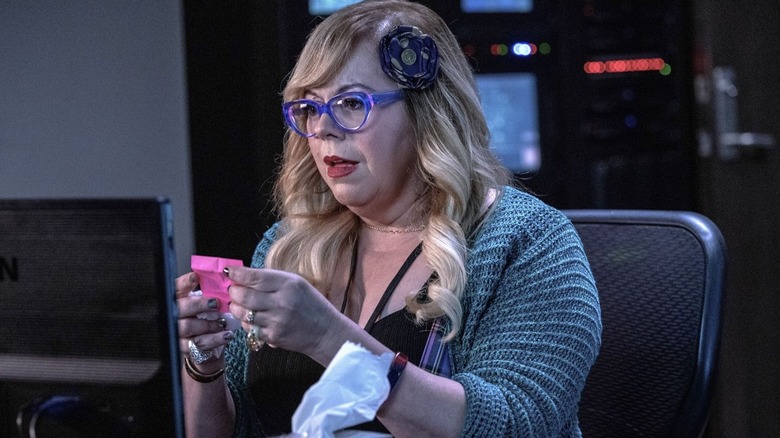 Michael Yarish/Paramount+
Office spaces don't have to be dull and boring. That's something that "Criminal Minds" star Kirsten Vangsness is proving with her character's bright space. Vangsness has been playing tech guru Penelope Garcia since the show first premiered on CBS in 2005. The members of the FBI's Behavioral Analysis Unit bid farewell to viewers with Season 15 in 2020. But that was not the end of the story for this crew of crimefighters.
Most of the team reunited for Season 16 on Paramount+, and the show received the new moniker: "Criminal Minds: Evolution." While the show got a new name and a new home, some things have stayed the same. That includes their iconic workspace and the return of familiar faces like David Rossi (Joe Mantegna), Dr. Tara Lewis (Aisha Tyler), and Garcia. "Criminal Minds: Evolution" begins with the hunt for a network comprised of serial killers, and Garcia is on the case, using her brain power and technology to track down the criminals who are at large.
Garcia is a ray of sunshine in the BAU, with her positive attitude matching bright clothes and glasses. When she's not at her desk, it's her workspace that's adding some brightness to the office. And fans have been helping her decorate by giving her an important type of office supply — if you can call it that.
The fan gifts that are in plain sight on set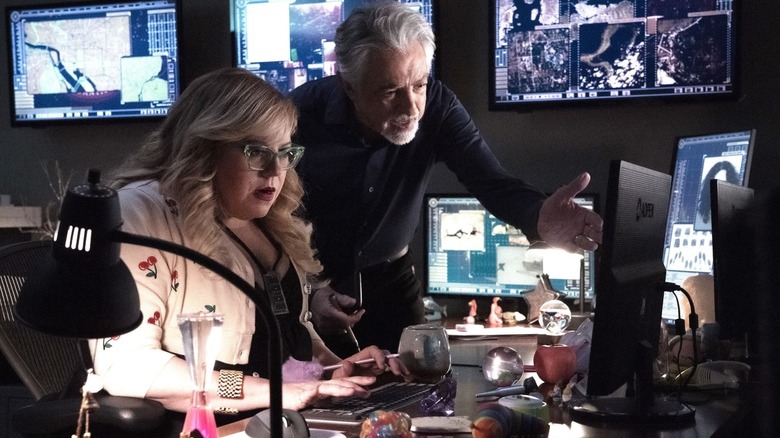 Bill Inoshita/Paramount+
While she's showing off her tech skills, Penelope Garcia is also bringing loads of laughs to any meeting by weighing in on the state of the internet and by joking around with her co-workers. Her humor and sense of fun truly shine when visiting her desk. During a set tour with TV Guide, Kirsten Vangsness showed off her character's space, which includes a monster figurine and a lava lamp. Vangsness said that these knick-knacks are all courtesy of the props department. All of them except for some of the fun pens. "Fans send me pens," she said, showing off one fuzzy pen that has been with her for several seasons.
But fun pens and lava lamps are not the only pieces returning to the Behavioral Analyst Unit. Garcia left her job at the end of Season 15, leaving behind a pink sticky note for the next tech guru. She finds that note upon her return, and Vangsness told CinemaBlend about the unique role that pens have played when it comes to this note. "So when we did the original, I would say 90% of the pens in Garcia's office back then, and so far now, are run by imagination. So they didn't write. So I would write something– it would be really meaningful –but it would be different every take. I was like, whatever I want to feel right then," she said, adding that she did make a definite undisclosed choice when it came to her message.