Warrior Nun Fans Are Calling For Apple TV+ To Save Season 3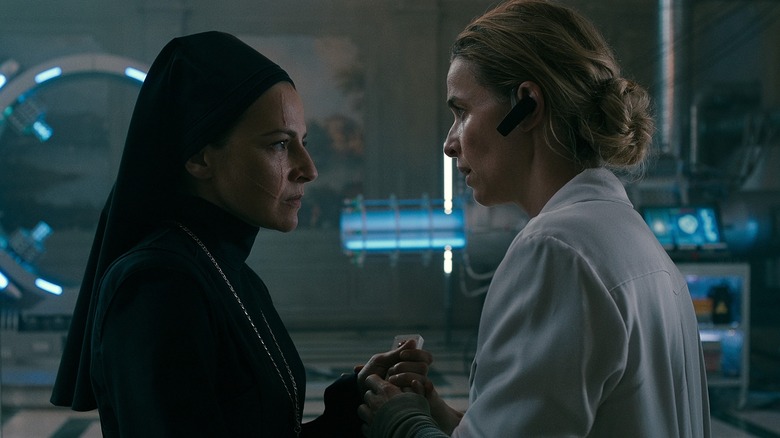 Netflix
Two months to the day after the premature cancellation of Netflix's fantasy series "Warrior Nun," fans are still campaigning without rest for the show's revival. Now, however, they're pushing a new strategy so crazy, it arguably just might work.
Based on Ben Dunn's comic book character "Warrior Nun Areala," the series was developed by veteran television writer Simon Barry, who would go on to serve as showrunner during "Warrior Nun's" two-season run on Netflix. The show spun into a genre-blending tale of mythological proportions which followed an ancient order of supernatural fighters who come into conflict with all manner of religious and paranormal threats. Though the first season was met with a lukewarm response from critics, audiences were instantly enamored with the new series — by Season 2, critics and audiences were seemingly in agreement that "Warrior Nun" was an underrated success.
Nevertheless, neither crowd could prevent the series' tragic end. In December of 2022 — a mere month after Season 2 was released to unanimously positive reviews — Netflix made the decision to axe "Warrior Nun." Fans online were vocal about their disappointment, with some noting that the series had been a hallmark for female and queer-led entertainment.
Despite its impressive volume, the since-formed #SaveWarriorNun campaign has been met with silence from Netflix — which has led to fans begging competing streamers to save the series on their behalf.
Warrior Nun fans go trending once again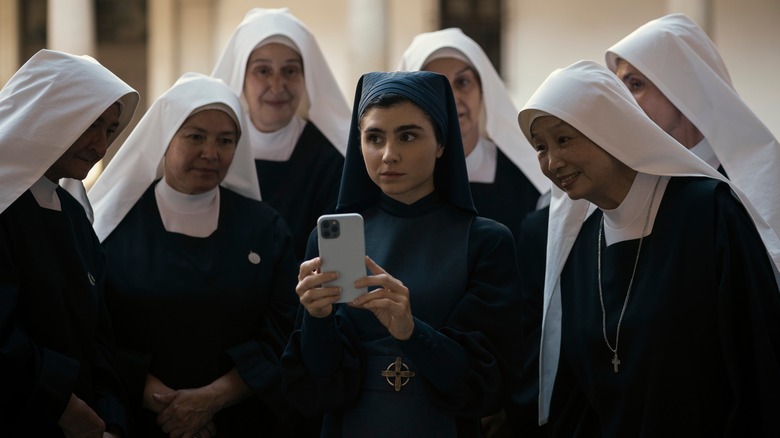 Manalo Pavon/Netflix
Continuing their use of Twitter as a means of organizing, the #SaveWarriorNun coalition has united its ranks around a singular goal — convince Apple Studios to revive the series on their platform, Apple TV+. Whether or not the series would fit in alongside "Ted Lasso" and "Severance" seems to be of little concern to fans, as they are simply looking for a streamer with the capability to produce the series and the perceived foresight to recognize its potential.
This most recent development seemingly spawned from a surge of renewed vigor from the fanbase caused by Simon Barry visiting the #SaveWarriorNun billboard towering over Sunset Boulevard in Los Angeles, California — right in Netflix's backyard. In a Twitter post, Barry thanked the fans (whom he affectionately calls "Halo Bearers") and posted a selfie with the billboard.
The phrase "APPLE TV SAVE WARRIOR NUN" was represented across a staggering 52,000 Tweets, causing it to appear briefly on the site's trending page. One fan wrote, "The day I open twitter and find warrior nun has been SAVED will be the greatest day ... Just let it come quickly, @AppleTV SAVE WARRIOR NUN." Another tweeted, promising that they won't switch to an android if Apple steps in to revive the show.
Apple TV+ has yet to respond or acknowledge the campaign, and it's likely they never will unless they ultimately choose to pick up the series. If Apple TV+ passes on the series, a number of platforms — including Amazon Prime Video — could still potentially swoop in to rescue the project.