Viewers Are Incredibly Underwhelmed By Your Place Or Mine (Just Like Those Awkward Promo Pics)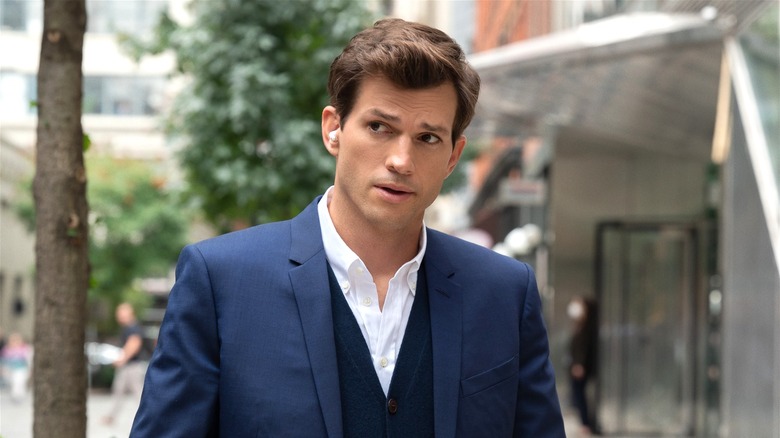 JoJo Whilden/Netflix
The most recent Netflix romantic comedy is "Your Place or Mine," starring Reese Witherspoon and Ashton Kutcher. Written and directed by Aline Brosh McKenna, the film follows Debbie (Witherspoon) and Peter (Kutcher), who have been best friends for decades but live on opposite sides of the country: Debbie in LA with her son, Jack (Wesley Kimmel), and Peter on his own in New York City. When the two swap houses for a week, they begin to discover romantic feelings for one another.
Prior to the film's release date, it made headlines when several awkward red carpet photos of Witherspoon and Kutcher went viral — in them, the two are stiffly standing next to one another, looking as though they are complete strangers. Kutcher then admitted that he didn't want to look too friendly in case a rumor started about the two of them having an affair, but the explanation didn't do much to stop people on the internet from continuing to roast them.
All in all, the promotion for the film turned out to be very underwhelming for anyone hoping to see some charming banter or general good energy between the two leads. And, as it turns out, the film itself is just as underwhelming. Here's what viewers are saying online about "Your Place or Mine" and why they didn't love it.
Viewers think Witherspoon and Kutcher lack chemistry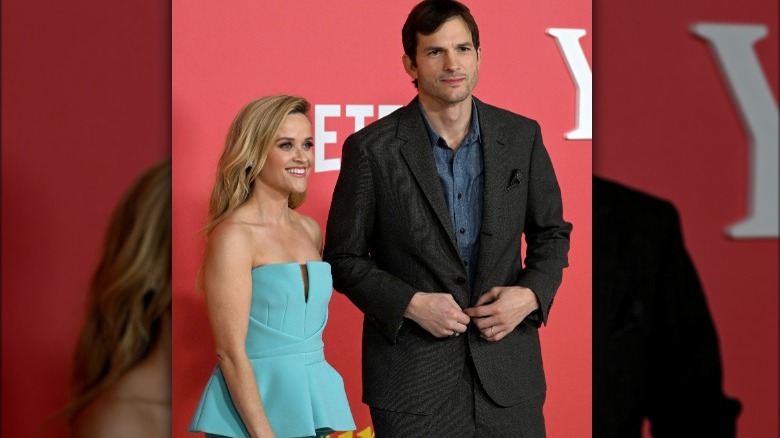 Albert L. Ortega/Getty Images
After "Your Place or Mine" was released to Netflix, viewers took to Twitter to discuss their thoughts, and the majority of those who watched it weren't exactly impressed. Mostly, viewers thought that Reese Witherspoon and Ashton Kutcher didn't have any chemistry — just like those awkward promo pictures showcased. One Twitter user, @RefilWest, expressed their discontent with the movie, writing, "They absolutely matched the exact amount of chemistry they gave us on their red carpets, bar for bar."
Meanwhile, @dazzle715 also had a problem with the lack of chemistry, alongside another major qualm: they found it boring. They then lamented, "They just don't make rom-coms like they used to." And @ikanatassa called out the weak script and declared that the film should've spent more time in development because even Witherspoon's charm couldn't save the film.
Additionally, several viewers pointed out the reason for the super awkward red carpet photos: Witherspoon and Kutcher have very few scenes together. For example, @swiftlydunphy wrote, "it is so [funny] to look back at the awkwardness of these photos after watching the movies because they have literally no scenes together like they clearly recorded those phone call scenes completely separately." In agreement, @hilarialexander noted that the fact that they have only a couple of scenes together makes the promo pictures make sense.
Finally, @OllyDyche gave a more in-depth review in their tweet, writing, "['Your Place or Mine'] is unremarkable Witherspoon and Kutcher are great on screen, but its distracting style, mostly unremarkable humor and predictable plot, massively hold it [back]." They then recommend 2014's "Love, Rosie" as a better film with the same concept (friends-to-lovers who live in different cities).
And critics agree with viewers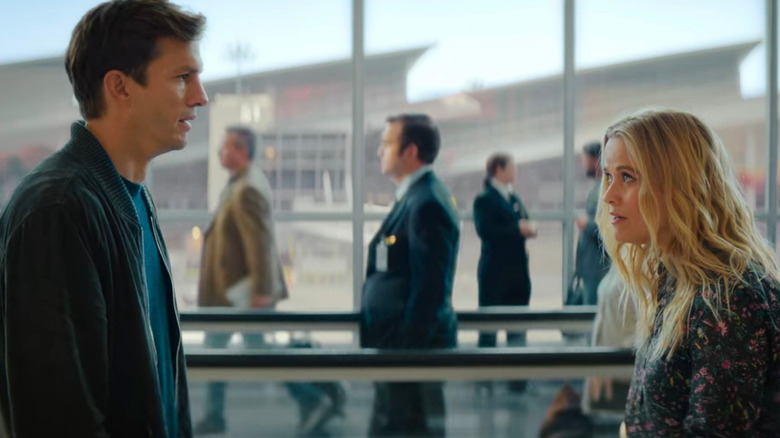 Netflix
Viewers are not the only ones who weren't big fans of "Your Place or Mine" — several critics have also called out the stars' lack of chemistry. To begin with, Rex Reed of the Observer bluntly wrote, "Netflix brings us a stale rom-com called Your Place or Mine that fritters away the considerable charms of Reese Witherspoon and Ashton Kutcher ... it's derivative and preposterous—worse than a rejected TV pilot, and about as romantic and funny as a root canal."
Further, Christy Lemire of Roger Ebert pointed out that they don't even make a believable pair of best friends, writing, "We know they're best friends because they keep telling us they're best friends, but their exchanges never convey the comfort or substance of such a crucial, two-decade bond." Addtionally, Owen Gleiberman of Variety called out the lack of satisfaction in the eventual getting together of the couple, writing, "[The] romantic climax plays like an episode of couples' therapy."
If you'd like to decide for yourself if all of these viewers and critics are right about the film, "Your Place or Mine" is now streaming on Netflix.