Twitter Has The Appropriate Reaction To The Farmer Wants A Wife Super Bowl Trailer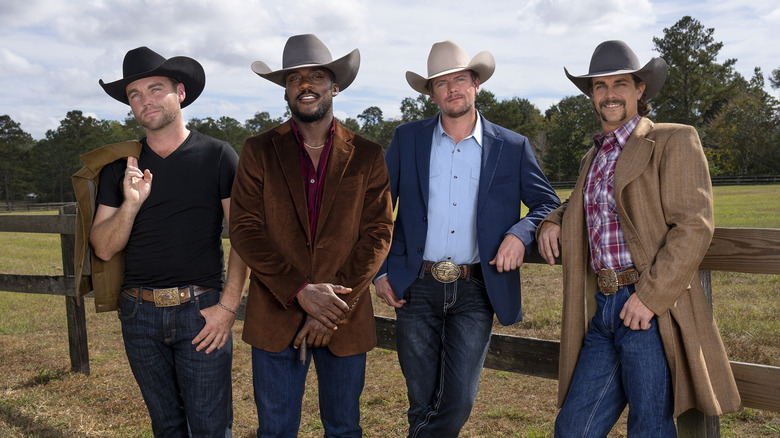 Michael Becker/FOX
Cowboy fever is not just taking Paramount Network by storm. Fans have steadily been celebrating Taylor Sheridan's modern western franchise that follows the bloody and vengeful Dutton clan. With realistic depictions of the cattle ranching industry, the franchise's flagship series, "Yellowstone," has spawned two additional spin-offs. Luckily for Western lovers, country living has now spread to reality television. Heading towards a television near you will be the aptly titled dating show, "Farmer Wants a Wife."
The new Fox series promises that farmers deserve to have their love stories peddled to the masses too. In the new trailer for the reality series, a group of cowboys from the heartland vie for the love of potential suitors from the big city. In a surprise to practically no one, the internet has a lot of opinions about the John Denver-saturated series meant to emulate shows that fans of westerns need to see. But the question remains: Is a concept alone going to be enough to keep this series afloat?
Did anyone ask for this?
It turns out that the success of one genre does not guarantee love for fans. "Farmer Wants a Wife" throws multiple women from the city into rodeos, hauling hay bales, and horseback riding. But no one seems to be convinced that any of it is necessary. Though many may argue that shows such as "The Bachelor" may not be necessary, social media users feel that "Farmer Wants a Wife" is just too ridiculous to go the distance.
"I don't think I've ever been desperate enough to work on a man's farm to try to convince him to be my husband. And I've been fricken desperate," posted on @CassieZeeb Twitter. Pairing together two people with nothing in common seems to be a recipe for disaster, not love. Other fans on social media found more humorous ways to cope with the news that this is real life. "Why did Fox turn FarmersOnly.com into a show?" asked @MattChampNole. 
But for those who are looking for a good time, there may be room in their hearts for the new series. "I can't decide what I'm more excited about. #CocaineBear or #farmerwantsawife," celebrated @JoeGagliardi.