Ben Affleck Out-Memes Himself In Dunkin's Super Bowl 2023 Commercial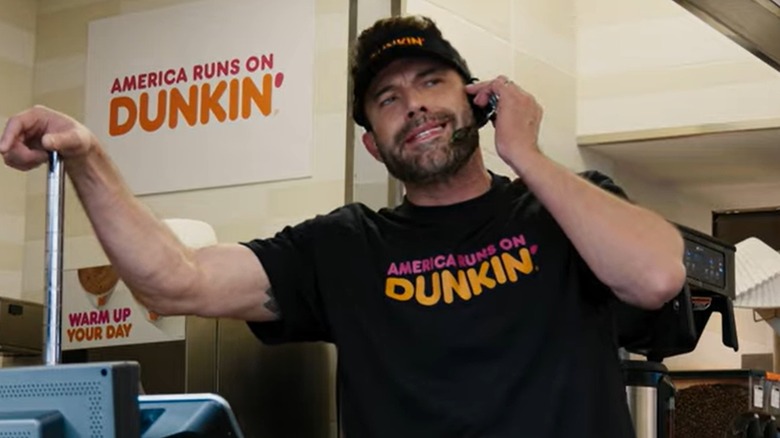 Dunkin' Donuts / YouTube
It was only a matter of time before Ben Affleck became an official Dunkin' Donuts spokesperson, in addition to his status as an unofficial mascot for the beloved chain. His Dunkin' runs in various emotional states have become the stuff of viral legend over the last few years, and now he's helping the company make its Super Bowl advertising debut — hotly anticipated by Dunkin' fans worldwide.
The ad's premise is simple: What if, during your morning Dunkin' drive-thru stop, the voice behind the speaker was Affleck, doing his best frazzled Boston accent? Of course, none of the Dunkin' customers seem to recognize him by voice alone, but they become appropriately star-struck once they reach the window.
Affleck excels in his new role as a Dunkin' drive-thru cashier, maybe from his hundreds of hours tallied on the other end of the box. And it wouldn't be a true blue Super Bowl commercial without another surprise celebrity cameo at the end.
Jennifer Lopez evidently shares Affleck's Dunkin' addiction
As you can see in the video above, Ben Affleck's final customer in his Dunkin' Donuts Super Bowl commercial is none other than his wife, Jennifer Lopez. She at first seems somewhat irritated that Affleck has taken a job in a suburban Dunkin' Donuts location, but not so irritated that she doesn't order herself a quick glazed for the road.
Interestingly, the commercial is more than just an acting job for Affleck since the ad was reportedly developed by Artists Equity, the production company he founded, along with fellow Bostonian Matt Damon. "I think people already sort of think that I work for Dunkin'," he told People.
If seeing the commercial has you craving Dunkin' coffee and donuts and more of Ben Affleck's misadventures as a Dunkin' drive-thru employee, there's good news. The Dunkin' Donuts YouTube channel has several more spots featuring the actor so you can get your fill.