Fans Have High Hopes For Dunkin's Super Bowl 2023 Commercial With Ben Affleck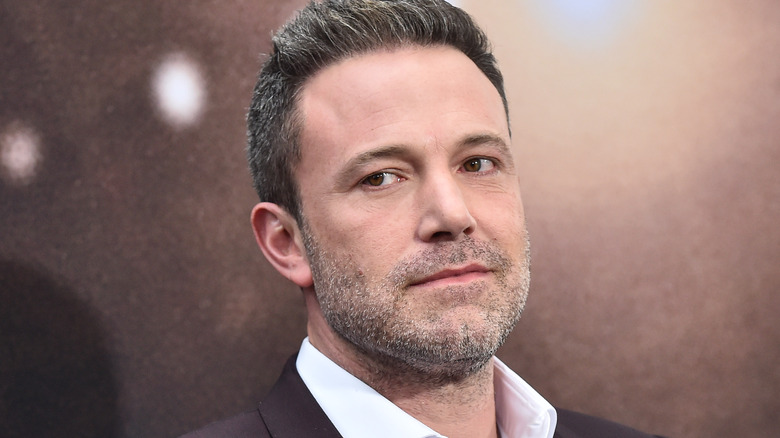 DFree/Shutterstock
As the 2023 Super Bowl approaches, teasers continue to pop up for ads running during the big game. One such advertisement is for Dunkin', with the official YouTube channel for the company posting a cryptic six-second video in anticipation of the full ad.
In the video, we see what looks to be an iced coffee, with the camera zooming in close and the words "Something's Ben Brewing" overlaid in front of it. We believe the misspelling of "been" is in reference to "Argo" star Ben Affleck (via The Boston Globe), who will no doubt be presenting the Dunkin' commercial. However, fans have still been left wondering what the beverage company could be brewing. Certainly not Affleck himself?!
As it turns out, people online have a few ideas as to what Affleck could be presenting to the world during the big game. Here are a few suggestions fans of the donut and coffee chain want to see brought back to the establishment.
Fans hope to see their favorite menu items brought back to Dunkin'
On Twitter, fans of Dunkin' expressed their excitement and anticipation for what the company could have in store. One Twitter user, @ashalexia28, wrote, "Are you bringing back hazelnut? That would be amazing considering it was my go-to when pumpkin wasn't available." Pumpkin-flavored beverages are typically only around during the Fall season, so having a good substitute available would be nice. Another Twitter user, @PhoenixNSky273, wrote, "Bring back the maple bacon sandwich on Texas toast and maple something coffee. I had it only once quite a few years ago and now that I have Dunkin' in my town I want it again." We believe they are referring to the Falling For Maple coffee, again only typically available during the Fall.
Twitter user @jordanp_eralta broke out the caps lock, begging the company, "PLEASE, I NEED BUTTER PECAN NOW." Meanwhile, only one thing will do for Twitter user @NootQueen92. "If it's not the return of the @girlscouts cookie flavors then I'm not interested," they wrote.
Whatever Dunkin' has planned, we'll see it during the 2023 Super Bowl on February 12.