Why The Voice In Budweiser's Six Degrees Of Bud Super Bowl 2023 Ad Sounds So Familiar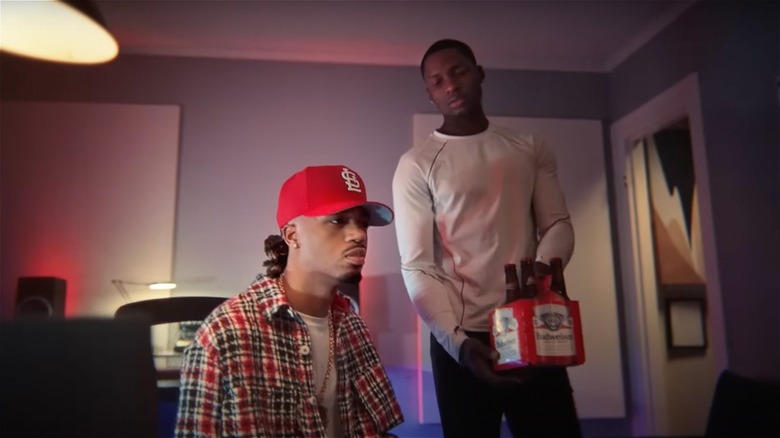 Budweiser's 2023 Super Bowl advertisement features the voice of one Hollywood's most coveted actors. 
The "Six Degrees of Bud" commercial, which kicks off with an old-school tune, shows the journey of a Budweiser six-pack as it goes from group to group, friend to friend, detailing just how popular and beloved the American beer is. As the case of beer travels from one environment to the next, viewers hear a narrator discuss just how universal the love for the beverage is. Audiences might find it difficult to peg who exactly is talking up the case of Buds but listen closely and you'll find an actor just as iconic as the beer.
"Footloose" and "Friday the 13th" star and all-around legend Kevin Bacon is the voice behind the brew commercial. Bacon last appeared as himself in Disney+'s "The Guardians of the Galaxy Holiday Special," which hit the service in late 2022. The Budweiser advertisement isn't Bacon's only Super Bowl 2023 commercial. The "X-Men: First Class" actor also joined forces with his daughter to promote Hyundai's electric vehicle initiatives.
Budweiser's Super Bowl commercial is possible thanks to Kevin Bacon
Budweiser's "Six Degrees of Bud" commercial, which cleverly uses the brewery's six-pack case of beer, is a nod to the Six Degrees of Kevin Bacon. Cinephiles will know that the Six Degrees of Kevin Bacon suggests that anyone in the filmmaking business is linked to the iconic actor, with six degrees of separation. The concept has achieved cult-like status, though Bacon wasn't originally a fan of it. In an interview with The Corp, Bacon initially felt that he was being ridiculed because he was associated with so many prolific actors. "'They're making fun of me," he said. "I thought the joke was, 'Can you believe that such a lightweight could be connected to Laurence Olivier or Meryl Streep or whatever in six steps or less?'"
Since the initial popularity of the Six Degrees of Kevin Bacon, the "Tremors" actor has warmed up to it and gotten in on it. Before he celebrated the concept's impact on pop culture with the Budweiser Super Bowl 2023 ad, Bacon spoofed the game in a commercial for Visa.