Here's Who Your Favorite TV And Movie Characters Picked In The 2023 Super Bowl (And Why)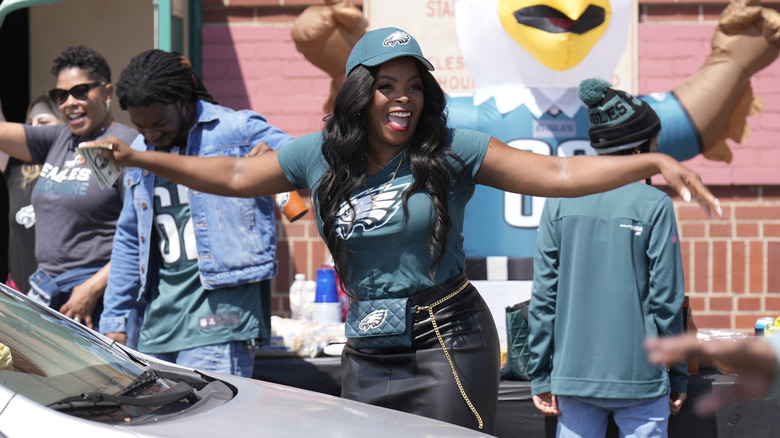 ABC/Disney
Super Bowl LVII is upon us, featuring a match-up of NFL juggernauts the Kansas City Chiefs and the Philadelphia Eagles. A record 50 million people will be betting on the big game this year, which works out to be about one in five adults in the U.S. The question is: Where should their money go? Patrick Mahomes of the Chiefs is the NFL's most valuable player once again, and he leads an electrifying offense. Jalen Hurts is the quarterback for the explosive Eagles, who also have a relentless defense. With the game being played in neutral Phoenix, the Eagles are currently narrow favorites to win. There are a number of ways to explore who to pick to win the big game, including analytics, records against common opponents, color preferences, nicknames, or a coin flip.
Or you could seek advice from a wide variety of your favorite TV and movie characters. While their picks will be highly biased for reasons that will soon become obvious, there may well be a germ of wisdom from some of them. After all, Lex Luthor wouldn't steer you wrong, would he? Rocky Balboa isn't going to pick a loser, now would he? Let's explore who your favorite TV and movie characters are picking to win in the 2023 Super Bowl. 
The Man of Steel stays true to his home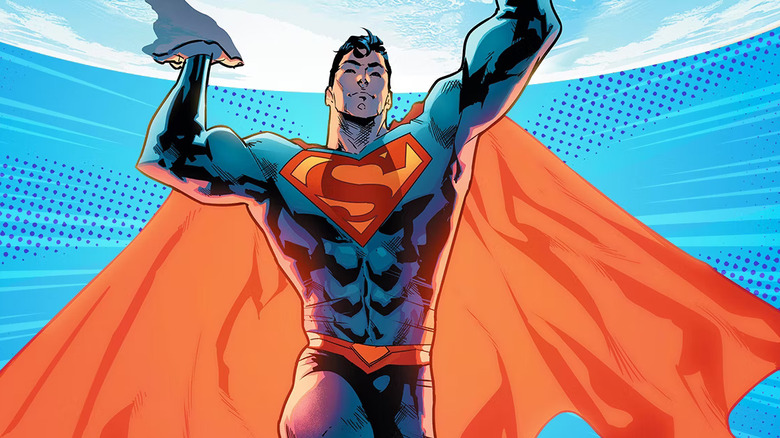 DC Comics
Superman may be from Krypton, but Clark Kent is a Kansas boy all the way, as he was raised in tiny Smallville after being found by Jonathan and Martha Kent. The Kents raised their boy right, as they taught him to use his powers responsibly, treat others with kindness, and root for the home team. While Kansas City is technically split right on the border of Kansas and Missouri, Kansans certainly root for the Royals in baseball and the Chiefs in football, as they are the only major professional teams in the state. 
The Man of Tomorrow might also see some similarities between himself and Chiefs' quarterback Patrick Mahomes, who is often compared to Superman by the media. The elusive, creative, and athletic quarterback was described as going "full Superman" in a game against the Titans. One article wonders if he's actually Superman, which would be an excellent cover for meek journalist Clark Kent. Both Mahomes and Superman are hoping that the green uniforms of the Eagles don't contain green Kryptonite. Even with Mahomes nursing an injury, Superman is picking the Chiefs all the way. 
Abbott Elementary says Fly, Eagles, Fly!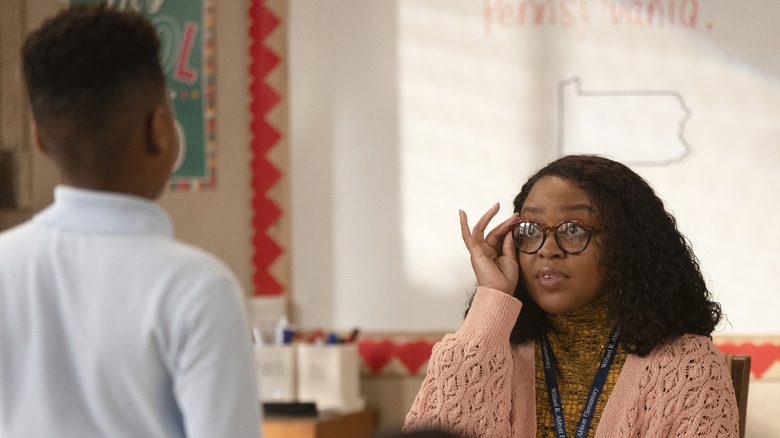 ABC
Quinta Brunson, the creator and star of "Abbott Elementary," and her character, second-grade teacher Janine Teagues, have something big in common: They both love Philadelphia and its teams. Gritty, the bizarre and beloved mascot of the Philadelphia Flyers hockey team, makes an appearance in the second season. Former Philadelphia 76er basketball player Andre Iguodala plays a minor role in one episode. On a Halloween episode, Janine dresses up as 76er star James Harden, known for his enormous beard. 
Janine loves Philly through and through. Brunson, the actress behind the character, is so superstitious about the Eagles that she won't watch games if she doesn't catch them from the start. Luckily for her, she's attending the Super Bowl, bringing Philly and Abbott Elementary with her. It's something that Janine could really only dream about. In the second season, Janine has to park out on the street because there's a big tailgate party at Abbott. There are other Eagles references in the show, as one teacher uses the Jets' record against the Eagles in a lesson about economics, the janitor is looking forward to a new school year because the Eagles got A.J. Brown and someone regrets a school egg drop because those eggs could have been used against the Dallas Cowboys' team bus. Philly all the way. 
The Winchester brothers will follow the Chiefs to hell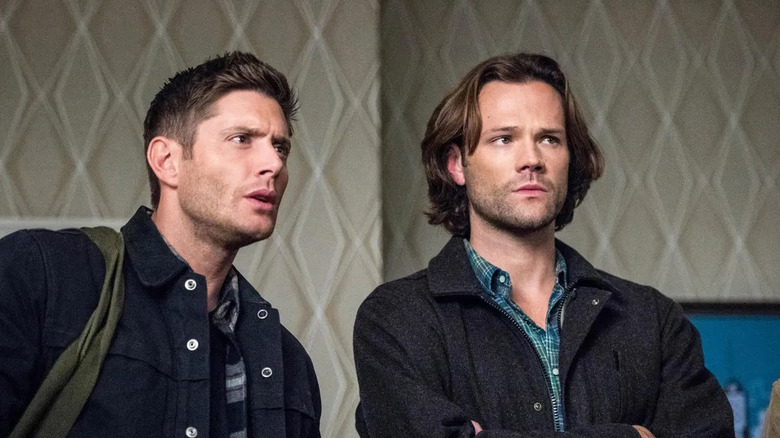 The CW
Sam and Dean Winchester are creature-hunting brothers in the long-running series "Supernatural." They were born in Lawrence, Kansas, which is just 40 miles away from Kansas City. They spent much of their childhood on the run with their father, tracking down demons and monsters. Even as young kids, Sam (four years younger than Dean) and Dean were roped into the hunt. Sam resented this and actually left Kansas for a while to attend Stanford, but it wasn't long before he came back to help his brother. Driving all over the state and country in their black 1967 Chevrolet Impala, they fought demons and looked good doing it. 
Growing up and living so close to Kansas City undoubtedly made them fans of the Chiefs, although their greatest loyalty was probably to their hometown's the University of Kansas Jayhawks. There's no question that they'd pick the Chiefs over the Eagles, however. Oddly enough, there's a player on the Chiefs named James Winchester, a long snapper entering his 8th season. He's probably not a lost member of the Winchester family, but you never know. 
Rocky Balboa thinks the Eagles are gonna fly now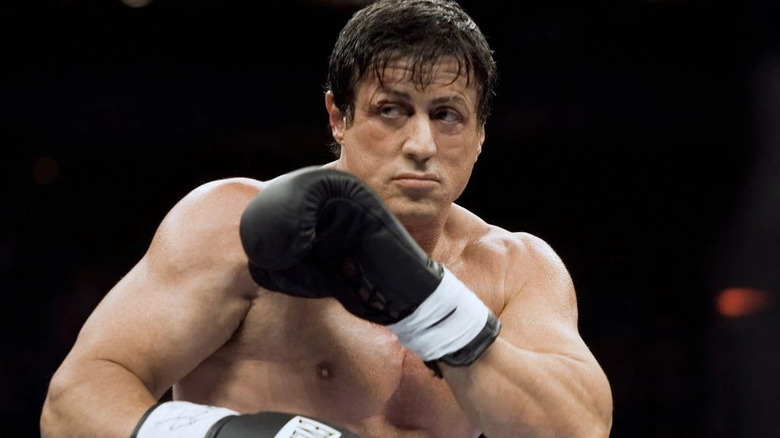 MGM Studios
"Yo, Adrian! The Eagles are gonna do it!" That's something that Philly icon Rocky Balboa might say to his wife about the Eagles' chances in the Super Bowl. This is a character so beloved and iconic in Philadelphia that they put a statue of him at the bottom of the steps outside the Philadelphia Museum of Art. Philly loves an underdog story, and in "Rocky," the journeyman boxer and part-time loan shark collector Rocky Balboa gets the opportunity of a lifetime against the heavyweight champ, Apollo Creed. His scenes of using slabs of beef as punching bags and running up the steps (now known as the "Rocky steps!") in front of the museum are some of the best-known and most-parodied in film history. 
While the Eagles may be slight favorites in the game, their quarterback Jalen Hurts has a resume that Rocky would appreciate as an underdog. Like Rocky, Hurts didn't have a lot of hype coming into his college career at Alabama, but his hunger to improve and willingness to outwork everyone led to success in college and in the NFL. Hurts is ready to go the distance in the big fight, just like Rocky did. 
Mary Ann Summers is a Kansas girl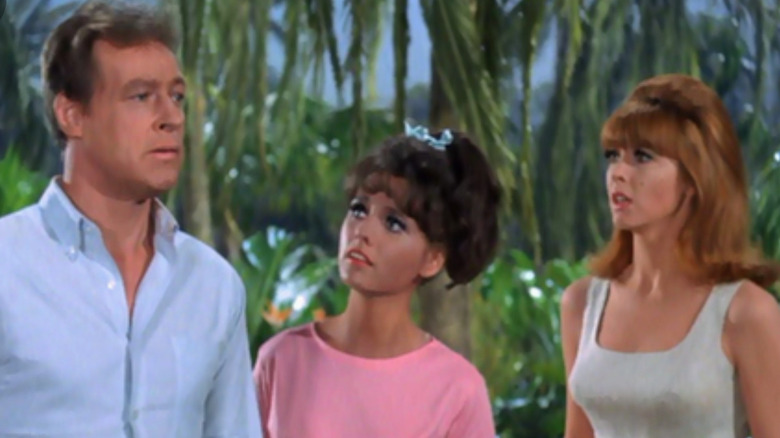 CBS
Everyone who's ever watched syndicated reruns knows Mary Ann Summers, the girl next door trapped on a deserted island with six other people in the '60s sitcom "Gilligan's Island." Growing up a farm girl in Winfield, Kansas, Mary Ann wound up on the infamous "three-hour tour" that led to her being deserted after a storm after she won a radio contest. Winfield is about 200 miles away from Kansas City, but for a farm girl, it represented the Big City in a way that New York does to those in northern America or Atlanta does to those in the south. 
Mary Ann's grit and plucky optimism were important for her fellow castaways' morale, and there's no doubt that she'd pick the Eagles for the same reason she never gave up hope for leaving the island. Of course, Mary Ann later had her own brush with sports greatness. The Castaways later returned to the island and set up a resort. The Harlem Globetrotters later crash-lands on the island and crush Mary Ann and her friends in a basketball game. Later, the Globetrotters help save the resort by playing a game against an evil financier's team of robots. Los Angeles Lakers announcing legend Chick Hearn somehow wound up on the island to call the game. If the Globetrotters can beat a team of robots, surely Mary Ann's big city Chiefs can overcome the Eagles?
Will the Gang win this big game?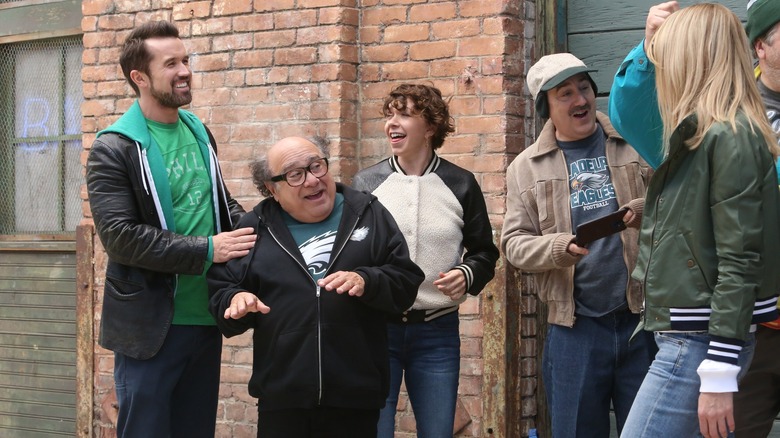 FX
Frank Reynolds, his children Dennis and Dee, Mac, and Charlie Kelly are the proprietors of Paddy's Pub, the worst bar in Philadelphia. Like your average Philadelphian, they are obsessed with the city's sports. They break a number of laws in an attempt to attend a Phillies' World Series home game in "The World Series Defense." Upon learning that the Eagles are having an open tryout, not unlike the film "Invincible" where a 30-year-old bartender gets an NFL job, Dennis and Mac decide to further their own personal competition in the tryout. Dee decides to dress up as a man named "Cole Armstrong" in an effort to make the team. Needless to say, things do not go well. 
However, these reprobates embody the city in "The Gang Wins The Big Game." The very rich Frank and a host of the biggest lowlifes in Philadelphia travel to Minnesota for Super Bowl XXXIX. The Eagles were up against Tom Brady and the hated juggernaut New England Patriots. This episode nicely sums up the notoriously tense relationship Philly natives have with their teams as Mac says, "You know who we are? We're losers. All of Philadelphia. We're angry, and we're mean, and we're cruel, and we act like jerks." However, Dennis notes that if their anger as fans "could just be released... we could feel like champions." The Eagles won that game, and the Gang isn't betting against them this time, either.
There's no place like Kansas for Dorothy Gale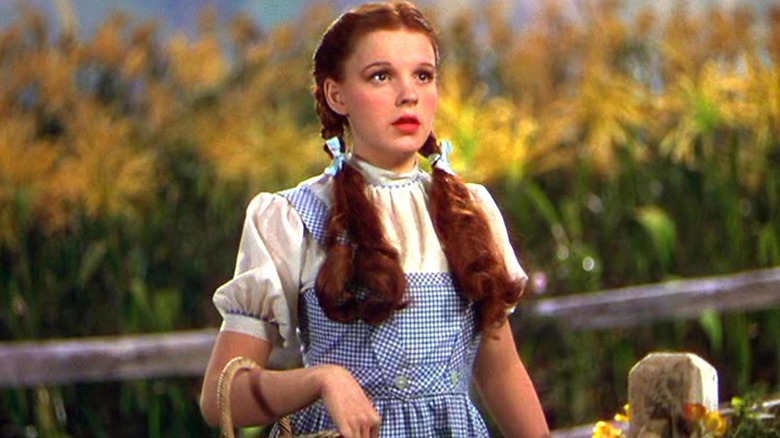 MGM Films
"Toto, I have a feeling we're not in Kansas anymore." Of course not, Dorothy Gale! Like all of the Chiefs' faithful, you've undoubtedly made the trek to Phoenix to support your beloved Kansas City team against the Emerald City of Philadelphia. Of course, Patrick Mahomes has been compared to a wizard, so it's no surprise that Dorothy and her friends, like in the movie "The Wizard Of Oz," would be off to see the wizard!  Of course, Mahomes would have them follow the white-painted hash marks on the field instead of the yellow-brick road. Dorothy definitely wants to go home, back to Kansas, but only after her Chiefs win the Lombardi Trophy. 
While there's a minuscule chance of a tornado hitting State Farm Stadium in Phoenix, the wizard Mahomes will have to slip away from the cyclonic Philadelphia pass rush. They've been knocking down quarterbacks' houses all season long. However, Dorothy firmly believes that all Patrick Mahomes will have to do is click his ruby cleats together three times and say "There's no place like the end zone," and good things will happen for Kansas City. 
The Fresh Prince is Philly forever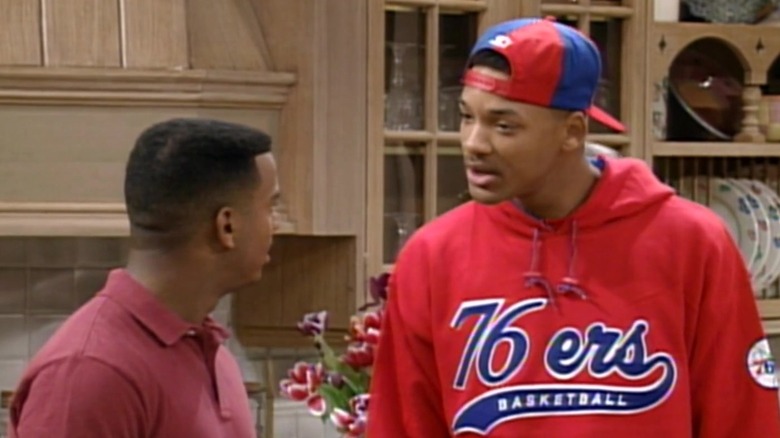 NBC
Will Smith's life got flipped-turned upside down. In West Philadelphia, he was born and raised, and on the playground was where he spent most of his days. Of course, this is part of the theme song for the show "The Fresh Prince Of Bel-Air," starring young Will Smith. Playing a character based on his own personality but with a vastly different backstory, this is a fish-out-of-water story about a kid from Philly who moves in with his wealthy aunt & uncle in California. A number of famous athletes made appearances on the show, including basketball legends Kareem Abdul-Jabbar and Isiah Thomas, and football hall-of-famer Bo Jackson. 
While basketball was more Will's thing than football, there's no question that his Philadelphia roots remained strong. For a while, he was even obsessed with his reputation in the city when he learned that people considered him chicken for leaving in the first place. He learns to leave all of that behind as he considers his future. He even stays in Los Angeles when his aunt and uncle leave for New York to finish college. Perhaps if the Rams were in the Super Bowl, Will might feel pulled between two teams. However, the Eagles against the Chiefs leaves him with a clear favorite: Philly all the way! 
Liz Sherman is burning for the Chiefs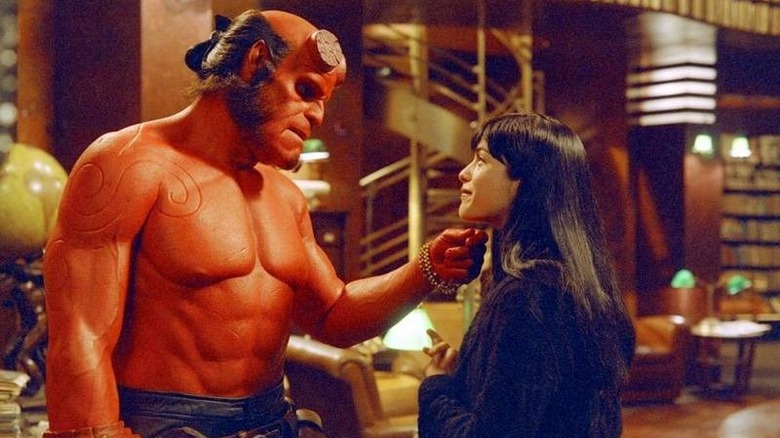 Sony Pictures
Liz Sherman is the pyrokinetic field agent for the Bureau for Paranormal Research and Defense (BPRD), as seen in the "Hellboy" films and comics. As a child growing up in Kansas City, she had poor control over her powers. Emotional distress could trigger uncontrolled flare-ups, although the use of prayer and sheer willpower as a child helped keep it under control for a while. When a boy pulled on her pigtails when she was eleven, she was surprised and upset, and this led to her causing an inferno that killed her family and many others. Eventually, she became a ward and then later a field agent for the BPRD, with her best friends being Hellboy and Abe Sapien. 
Born in 1962, Liz is just a couple of years older than the Chiefs franchise, which started playing in 1960 as part of the American Football League. Originally a rival to the NFL, they forced a merger in 1966, with their first championship game being referred to as the "NFL-AFL Championship Game." It wasn't until the third iteration of that game that it became known as the Super Bowl, and young Liz would have been aware that the Chiefs won Super Bowl IV. The Chiefs' red uniforms match her fiery nature, so there's no doubt that she'd pick them to win. 
Vince Papale is invincible for Philadelphia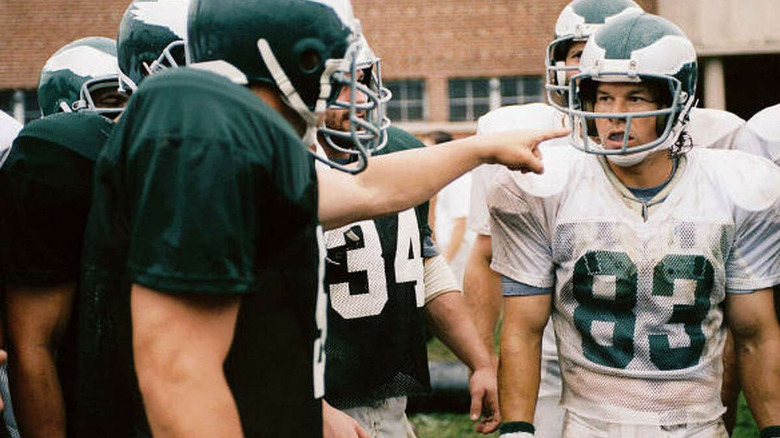 Disney
The character of Vince Papale, played by Mark Wahlberg in the 2006 film "Invincible," is based on the real-life Vince Papale, who went from the sandlot to the NFL. A Philadelphia native, the real-life Papale played for another NFL rival, the World Football League, prior to making it to the NFL in 1976. That team was creatively named the Philadelphia Bell. 
The character in the film is a bit scrappier, playing pickup football while working as a substitute teacher and bartender. When he loses his teaching job, his wife leaves him. However, new Eagles coach Dick Vermeil sets up a rarity in the NFL: an open tryout. Much to his surprise, Papale makes the team, as Vermeil takes a liking to his grit and effort. Papale struggles in the preseason but comes up big in the Eagles' home opener against the New York Giants, forcing a fumble and scoring a touchdown. It's no wonder that this film made it to Hollywood because it feels almost too good to be true!
In a city of underdogs, Papale embraced this quality and made the fans love him. There's no question that his eternal loyalty lies with his beloved Eagles. 
Even Lex Luthor loves the Chiefs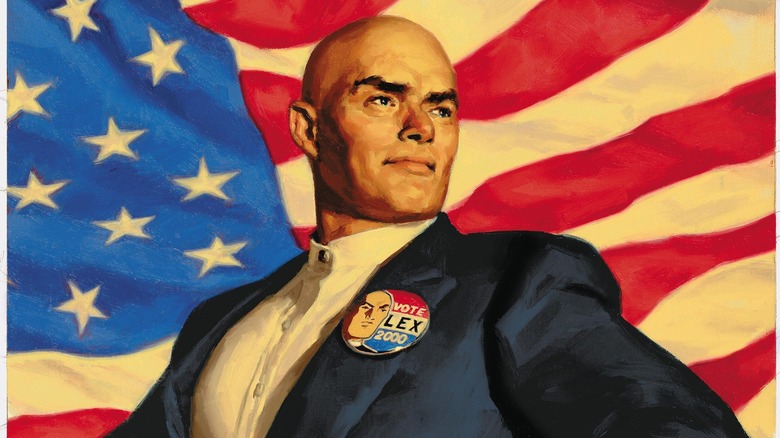 DC Comics
Never forget that in many versions of Superman's story, Clark Kent and his arch-enemy Lex Luthor grew up together in Smallville. Luthor was best friends with Superboy until a lab accident robbed him of his hair and twisted his mind in hatred. Favoring a life of the mind over Superboy's physical prowess, Lex always favored his ingenious and terrifying inventions over Superboy's speed and strength. However, the Boy of Steel always stopped his schemes and put him in jail, but they continued their rivalry into adulthood and in Metropolis. 
Later versions of Lex positioned him as an evil oligarch who manipulated the system to become rich, all while scheming against Superman. He even became president of the United States at one point! While he helped fight off an alien invasion, he withheld intelligence on the aliens that led to the destruction of Topeka. What a betrayal against his home state. All of that said, Lex is almost certainly rooting for and picking the Chiefs. He has to admire the cunning of Patrick Mahomes, the scheming of coach Andy Reid, and their status as a slight underdog against the dominant Eagles. If the Eagles have a Kryptonite, it's their run defense, a factoid that Luthor has no doubt let him know. 
Liz Lemon is Philly strong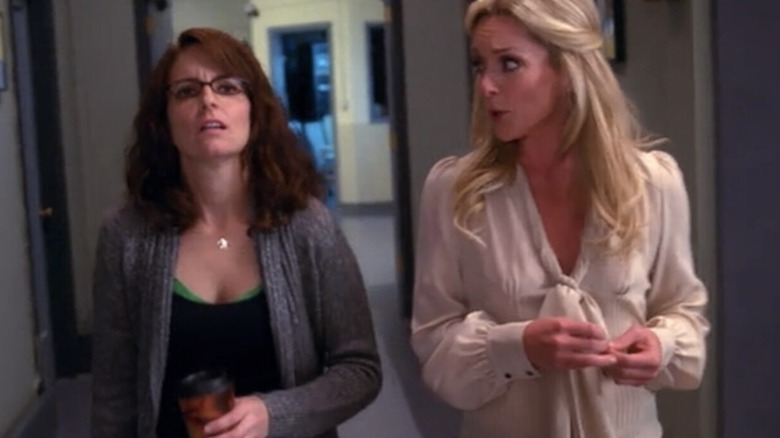 NBC
Liz Lemon may be best known for "30 Rock" and her late-night series "The Girlie Show With Tracy Jordan," but she was born and raised in the small town of White Haven, just a hundred miles north of Philadelphia. While not athletically inclined, she did force her way legally onto her high school football team to end gender segregation. Her parents were too embarrassed to attend and took her brother Mitch to see "The Goonies" instead. 
Liz definitely roots for Philadelphia teams, especially the Phillies, and notes that she got a Pete Rose bowl haircut when she was a child. She also notes having posters of Tug McGraw and Mike Schmidt on her wall. Even as an adult, she has a Phillies wallet. When her boss Jack Donaghy offers her tickets to the Yankees, she wants it on A-Rod (Alex Rodriguez) bobblehead day so she can destroy it. While politically-active Liz undoubtedly has ethical difficulties with the NFL regarding injury policies and other issues, there's no doubt that she's rooting for the green and white.  
Kim Wexler loves the Royals and the Chiefs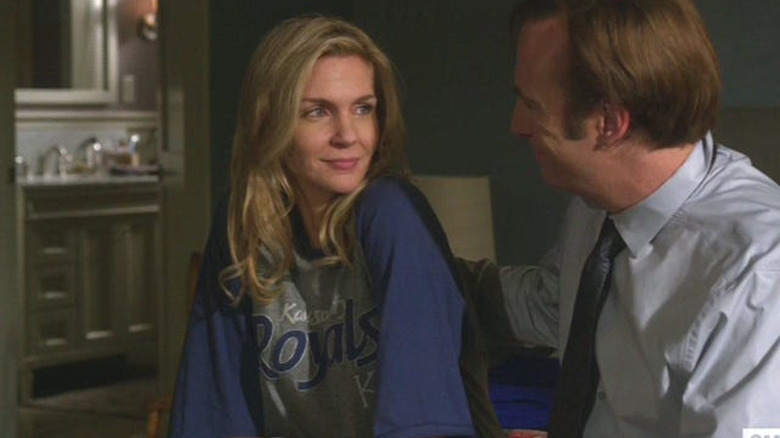 AMC
For many Midwesterners, the Chiefs are a popular pick for a favorite team because they've been around for over 60 years and there are so few professional teams in the area. Nebraska is one of those states without a pro team, so those seeking out a team to root for naturally gravitate to Kansas City. Kim Wexler, the partner of con man lawyer Jimmy McGill (also known and better known as Saul Goodman in the show "Breaking Bad"), is a key character in the prequel show "Better Call Saul." 
Kim was born in Red Cloud, Nebraska, which is about 300 miles away from Kansas City. Still, it's a close enough drive to imagine attending a Chiefs game. What is unquestionably true about a woman who was attracted to many of McGill's cons is that she's a Kansas City Royals fan, wearing it in "Better Call Saul." After a life of criminal activity and hurting others, she starts to feel guilty and runs away to Florida. When Jimmy calls, she tells him to turn himself in, and he mocks her and tells her to do the same. Kim does this, leading to Jimmy's eventual imprisonment and a clean conscience. Kim is doubtlessly rooting for the Chiefs, but after all she went through, she would only wager on the game if she could make a legal bet. While living in Albuquerque, perhaps she did make the trip to Las Vegas to do so. 
Unbreakable David Dunn is a Philly boy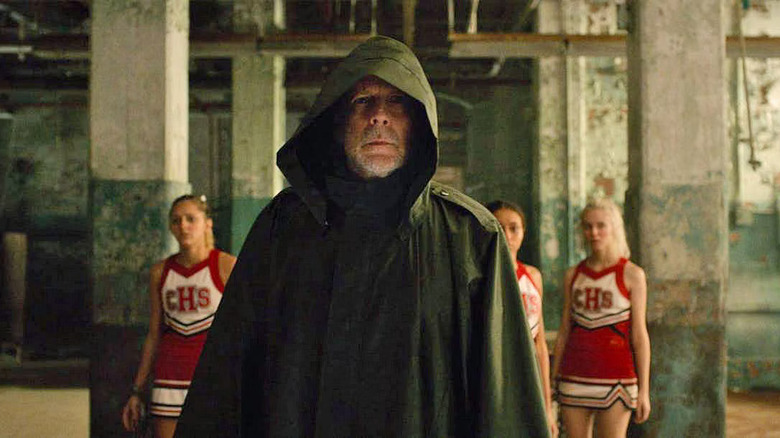 Buena Vista Pictures
In the movie "Unbreakable," David Dunn was just an ordinary Philly boy who loved football and was a star at Philadelphia University. He never got hurt and was impossible to take down, but his girlfriend (and future wife) Audrey hated the violence of the sport. When they got into a car accident, Audrey was knocked out by David was completely unharmed, but he faked a career-ending injury so he could justify quitting football. David undoubtedly had dreams of playing for his beloved hometown Eagles, but he gave them up for Audrey. 
Later in life, David survives a train accident that kills everyone else on it. A man named Elijah Glass informs him that he has superpowers. Beyond his strength, David has a kind of evil-detecting ESP that allows him to "read" every bad thing a person has ever done. He stays close to the game by working as a security guard at his former team's stadium, and it's here he fully realizes the extent of his powers. He tracks down a killer in an orange jumpsuit and starts his career as a superhero before learning that Glass caused the train accident and committed other atrocities in an effort to find his own nemesis.  
While Chiefs coach Andy Reid is a great coach, he's not an evil mastermind. Nevertheless, David Dunn will probably watch the Super Bowl with his son Joseph somewhere, cheering on his green-clad team.