The Weird Al Biopic Proves Parody Films Need Another Shot In Hollywood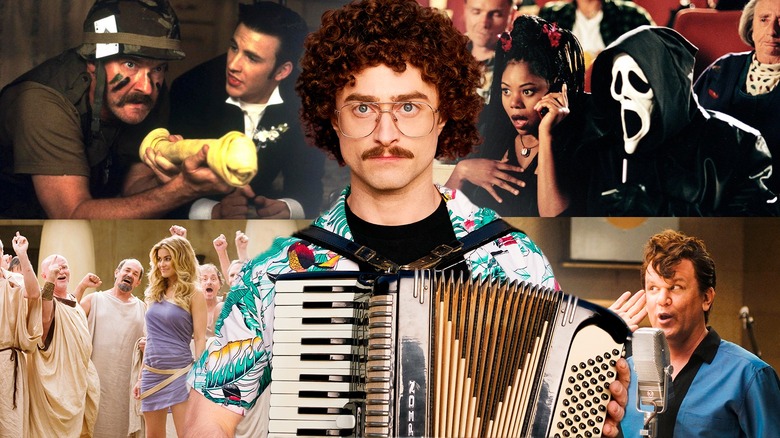 Static Media
After a good decade of languishing on streaming and in the bowels of Redboxes everywhere, parody films are making a comeback. 
That forward momentum is largely attributable to "Weird: The Al Yankovic Story." It's a movie that wildly satirizes Yankovic's real life (though it occasionally dabbles with getting the true story right), all the while providing wonderfully bananas performances from both Daniel Radcliffe as an egomaniacal version of the singer and Evan Rachel Wood as a calculating and jealous version of pop star Madonna. "Weird" has received wide critical acclaim, and done well for the Roku Channel, which streamed the film's debut with limited ad support, making it a genre gamble that has wholly paid off for the streamer.
With "Weird" seemingly a lock for a ton of award nominations this summer, it's definitely time for Hollywood to take another look at the parody genre, both as a box official summer tentpole and as a television-bolstering genre. 
Parody films used to mean huge box office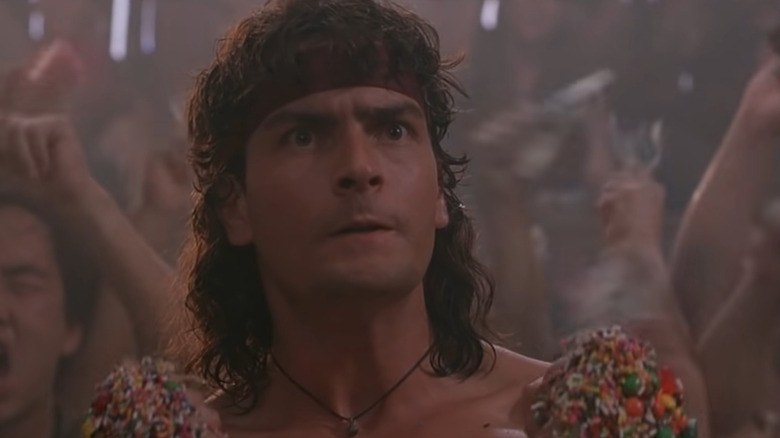 20th Century Studios
The parody genre was a strong box office favorite during the late 1980s and early 1990s, starting with 1980's "Airplane!," which made big bucks off of the disaster genre, helped sink it as a box office titan, and made it clear that parodies could be blockbusters unto themselves. While "Airplane II: The Sequel" didn't quite set the world on fire, fellow parody films such as "Top Secret!," "I'm Gonna Git You Sucka!" and "The Kentucky Fried Movie" became basic cable staples, and "This is Spinal Tap" gave birth to the mockumentary genre. The 1990s brought a whole new life to the parody  — "The Naked Gun" trilogy followed in the footsteps of its born-too-soon parent series "Police Squad!" and made major dollars, creating an iconic slice of 1990s cinema that affirmed Leslie Nielsen's move from drama to comedy. Similarly, the "Hot Shots!" series gave the world Topper Harley (Charlie Sheen), a dead-on parody of action film machismo that made mincemeat of the Stallones and Schwarzeneggers of the world.
The 2000s continued the trend, with the Wayans Brothers — who cut their teeth on the teens-in-the-hood parody "Don't Be a Menace to South Central While Drinking Your Juice in the Hood" — making a parody of a parody with "Scary Movie," which mocked the already meta "Scream" movies. Another big hit? The early Chris Evans starrer "Not Another Teen Movie." 
Even lesser-known entries in this era have something to recommend them, from a young Samuel L. Jackson in "Loaded Weapon Part 1" to Linda Blair acquitting herself well in "Reposessed." However, at some point, parody films went downhill in a big way, and we all know why.
The Friedberg-Seltzer era took down parody films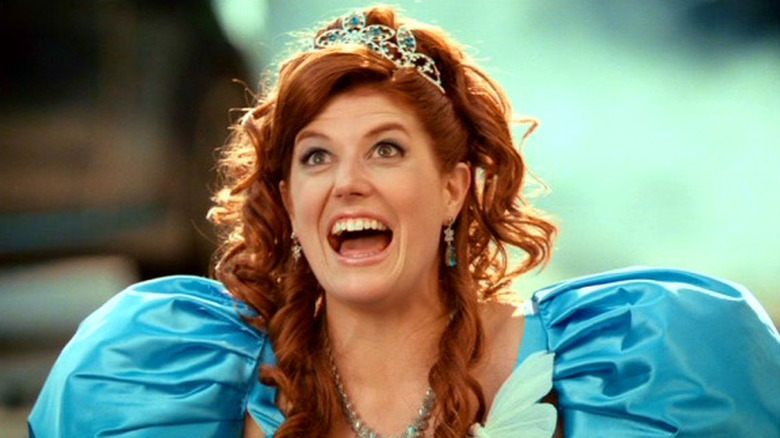 Lionsgate
Naturally, with time, the bottom dropped out, and in retrospect it's easy to see that the era of Friedberg-Seltzer parody flicks killed interest in the genre.
The producing team started out strongly enough; "Date Movie" drew attention and box office with a winning-in-spite-of-itself performance from Alyson Hannigan. However, that resulted in an avalanche of flicks whose humor tended to boil down to making direct references to memes, commercials and popular films instead of creating original characters and sculpting unique jokes. Nonetheless, these films kept printing money until "Disaster Movie," which made only $34 million at the box office after previous films like "Epic Movie" and "Meet the Spartans" churned up over $80 million apiece. After "Vampires Suck" – their "Twilight" parody — they rolled downward into direct-to-DVD releases like "The Starving Games" and "Superfast!," and the genre trickled downward into nothing but quick cash-ins on whatever was popular at the time. 
The crash of the Friedberg-Seltzer era sent other parody films, some of which got brief theatrical releases — such as the Wayans Brothers musical "Dance Flick" — off to the nether realm of late-night cable, RedBox and obscure streaming sites. Even the genre-minting talents of Pat Proft and David Zucker weren't enough to save "Scary Movie V" from the dustbin.
Weird (and Spinal Tap II) are parody's big chance for resurrection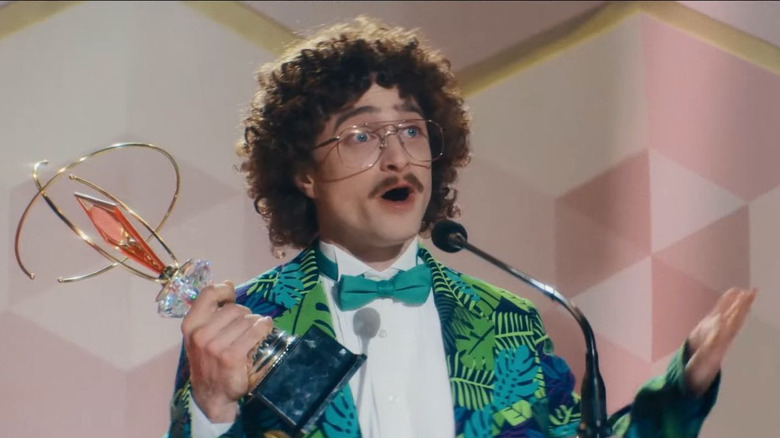 Roku Channel
Why did these flicks flunk? Aside from a lack of ... well, actual parody material in these so-called parody films, the characters in that era of spoofs tended to just be direct copies of the characters they made fun, instead of actual characters. For example: "Disaster Movie" features a character based on Princess Giselle from "Enchanted" (Nicole Parker), who is literally called Giselle, looks like Giselle, and sings to animals like Giselle. She fails to parody an archetype. There's no originality there.
And yet, brilliant parody films were released during this fallow period. "Walk Hard: The Dewey Cox Story" is a well-written mocking of the dead musician biopic with genuinely great songs. "Popstar: Never Stop Never Stopping" is a spot-on mockumentary about a boy band member whose vanity results in a disastrous solo career. "Superhero Movie" created interesting characters that branch beyond its roots as a simple "Spider-Man" parody. All of the flicks got nowhere box office-wise, but that's the fault of the atmosphere they were born in. 
And now, we have "Weird" to point to. Audiences yearn to laugh, and bringing back parody films — smart, well-written parody films — could only be a boon to streamers and movie theaters everywhere. Already, there are some bright spots on the horizon. Most notably, there's the upcoming "Spinal Tap II," set for a 2024 release, which will reunite Rob Reiner with his original cast and bring the adventures of the titular band back to the big screen. Meanwhile, Paramount is backing a Seth Macfarlane-produced "Naked Gun" reboot featuring Liam Neeson. That's definitely something to get you grinning, and if these movies pan out, we should cross our fingers and hope that parody films get the revival they deserve.