Ellen Pompeo Has One And Only Request For The Grey's Anatomy Series Finale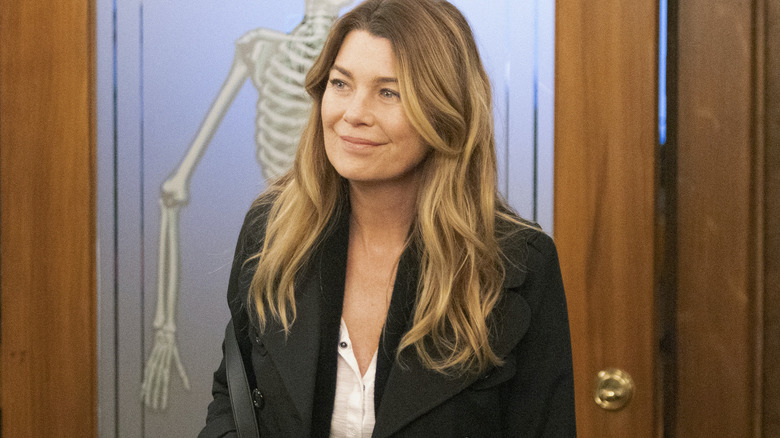 Liliane Lathan/ABC
"Grey's Anatomy" has been on the air for nearly 20 years. Throughout that time, the Shonda Rhimes-created medical drama has said both hello and goodbye to more than its fair share of cast members. As a matter of fact, very few of the series' original stars still appear on a regular basis on the show. Over the years, everyone from Sandra Oh and Katherine Heigl to Patrick Dempsey and T.R. Knight have all departed "Grey's Anatomy" at one point or another.
Even the series' longtime lead, Ellen Pompeo, has chosen to relinquish her status as a regular cast member. "Grey's Anatomy" has, in other words, entered an era where not even its eponymous character has a major role in it anymore. That fact has understandably led many longtime fans of the ABC series to begin speculating about just how much longer it will stay on the air.
Right now, it doesn't look like ABC or anyone involved in the series is in any particular hurry to bring "Grey's Anatomy" to an end. That said, whenever the long-running medical drama does reach its conclusion, Pompeo has revealed the one wish she hopes will be fulfilled in its eventual series finale.
Ellen Pompeo wants to bring the original Grey's Anatomy cast together one last time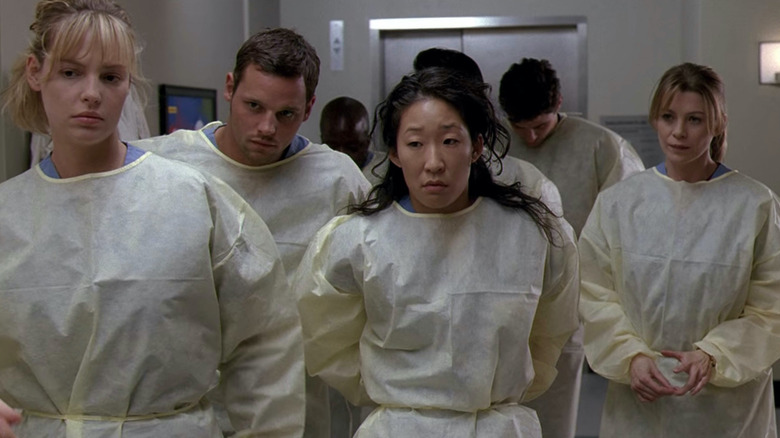 ABC
During a 2019 appearance on "The Late Late Show with James Corden," Ellen Pompeo opened up about what she wants to see happen in the inevitable final episode of "Grey's Anatomy." Pompeo, in specific, revealed that she'd like to see the "Grey's Anatomy" finale feature a quasi-reunion of some of the show's original cast members.
"I'd love to have some of the old cast come back, the original cast is just like [puts hand over her heart]," Pompeo said. "That probably won't happen, but that would be the most amazing way to [end it]." While she didn't specifically name any of her past co-stars, the original "Grey's Anatomy" cast included Sandra Oh, Katherine Heigl, T.R. Knight, Patrick Dempsey, Isaiah Washington, and Justin Chambers, so it seems safe to assume that Pompeo had, at the very least, some of those actors in mind when she made her comments.
The "Grey's Anatomy" star was quick to note in her interview that it'd be difficult to bring all of her past co-stars back. After all, many of the show's original characters, including Knight's George O'Malley and Dempsey's Derek Shepherd, were killed off in various different ways. Of course, that hasn't actually stopped the "Grey's Anatomy" creative team from finding ways to bring some of them back over the years, either.
Several original Grey's Anatomy stars have returned to it over the years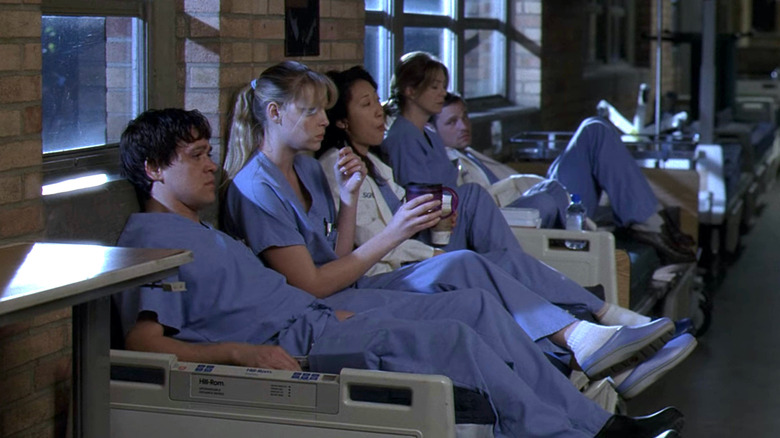 ABC
From the moment it began, "Grey's Anatomy" has never been particularly shy about killing off its characters. Throughout its run, the series has killed off everyone from Chyler Leigh's Lexie Grey to — as was previously mentioned — Patrick Dempsey's Derek Shepherd. Some of those deaths have, of course, been better received by viewers than others. There are, for instance, a number of "Grey's Anatomy" fans who wish Lexie had stayed on the show longer.
But not all of the series' deaths have proven to be creatively insurmountable. That is to say that the writers behind "Grey's Anatomy" have found ways to bring back certain actors whose characters were killed off. T.R. Knight's George returned in "Grey's Anatomy" Season 17 for a brief appearance in a COVID-19-induced vision experienced by Ellen Pompeo's Meredith Grey. Both Dempsey's Derek and Leigh's Lexie returned for similar cameos that same year.
Of course, none of this means that the "Grey's Anatomy" finale will feature the kind of massive reunion that Pompeo hopes will happen. Either way, the longtime "Grey's Anatomy" star seems fully aware that there will be some mighty high expectations surrounding the show's eventual finale.
"The ending, the final episode, matters so much," Pompeo noted during her appearance on "The Late Late Show with James Corden" in 2019. "The fans are never going to be happy, no matter what — 'Sopranos,' 'Game of Thrones.' They're pissed no matter what you do. So, there's a lot of pressure on that final episode."