Eminem's 60 Minutes Interview Had Fans In Awe Of The Rapper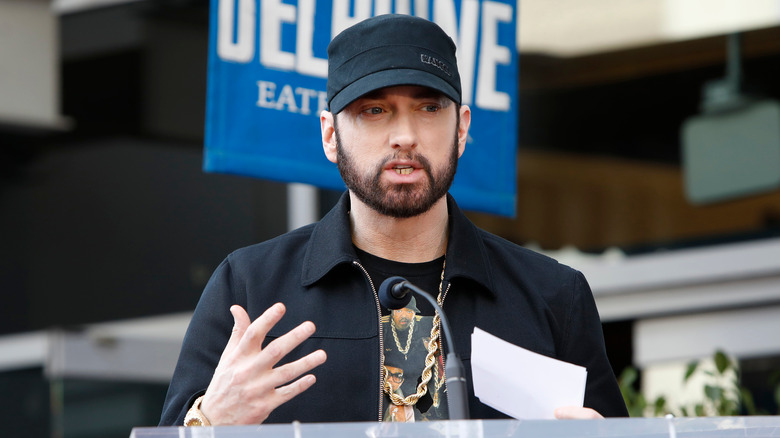 Kathy Hutchins/Shutterstock
Eminem (a.k.a. Marshall Mathers) has been a veritable force in the music industry since he first arrived on the scene back in 1999 with "The Slim Shady LP." The controversial rapper was an absolute overnight sensation, with his first album going platinum and every subsequent release going at least gold (via NME). Still, given his deliberately abrasive style, the last place you might expect to see Mathers is on a Sunday night current events show like "60 Minutes." In fact, the hip-hop artist seems likelier to do a takedown of a program like that in one of his songs as he frequently has in the past.
All the same, as the years have gone by, Eminem has become something of an activist, speaking out in a freestyle about then-President Donald Trump and even drawing attention to the crisis of mass shootings in the United States over the last decade. However, neither of those topics were on his mind when he showed up on the CBS news program.
Fans praised the rapper for telling his story on 60 Minutes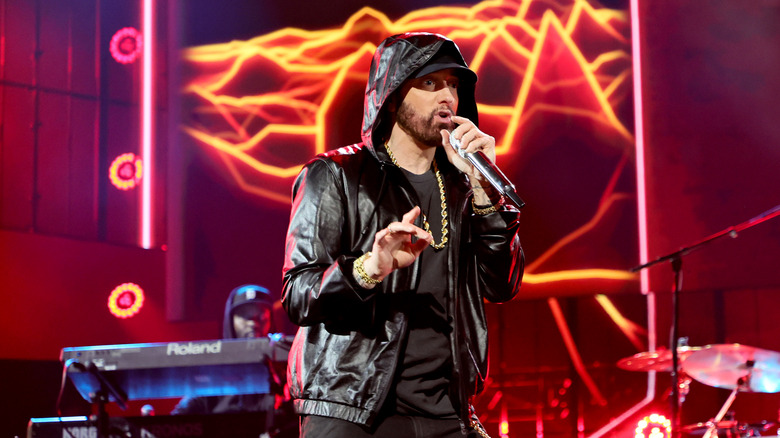 Theo Wargo/Getty Images
Marshall Mathers met up with "60 Minutes" correspondent Anderson Cooper back in 2010 and the rapper dropped his Slim Shady and Eminem personas to have a real talk with the host about his life and his story. Getting into his childhood and upbringing, as well as some of the demons that have haunted him for years, Eminem opened up in a way that fans found admirable.
Over a decade later, viewers and fans are still praising the rapper for the interview, as the comments below the video clearly show. "The moment he pulled out all the notes and his dictionary, you know he is successful for a reason," wrote @lan-hwang, referencing a key point from the interview. Meanwhile, @brandonasbury7334 offered further praise for Mathers, writing, "This is why Eminem is a genius; only a genius can do what he does with words." Indeed, Eminem has been praised for his lyricism, flow, and no-nonsense demeanor by fans for over two decades.
Elsewhere, other commenters noted how Mathers reacted to Cooper suggesting he was crazy. "Eminem laughing while Anderson Cooper read his lyrics was priceless," noted @joshuaha7661. While the rapper may not be as massive of an influence as he was when he first arrived on the scene all of those years ago, it's clear that there are plenty of fans still in his corner to this day.