How To Watch The 2023 Puppy Bowl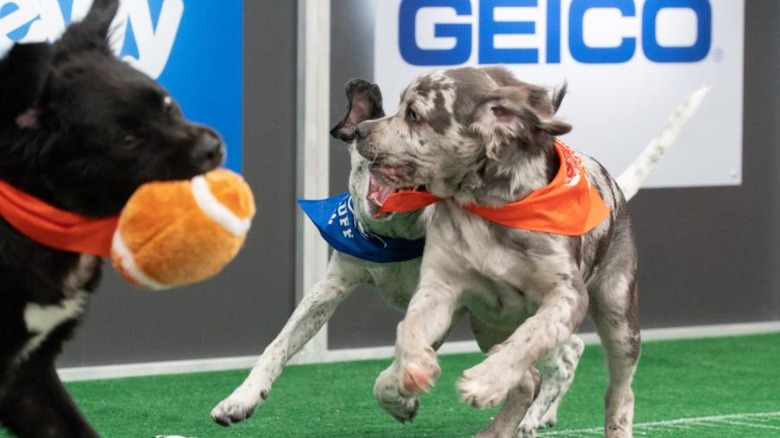 Discovery
In terms of Super Bowl-related events, is there anything more iconic than the Puppy Bowl? 
The Animal Planet and Discovery-sponsored event has been entertaining the pooch-loving masses since 2005, — with it designed to spread awareness about animal shelters and pet adoption. For Super Bowl LVII this year, the three-hour TV showcase will be putting "inspiring adoption stories" and "puppy players" on full display, as Team Ruff and Team Fluff take each other on for the Wayfair "Lombarky" trophy (via Discovery).
For those unaware of the concept, the Puppy Bowl typically pits small numbers of puppies up against each other in a football-inspired playroom, complete with field goal posts and yard lines to go along with various dog toys that act as balls. A human "rufferee" is tasked with watching over the four-legged mayhem. The dogs that participate are all adoptable and come from different shelters across the United States. According to Discovery, there's never been a year where the Puppy Bowl didn't see a 100% adoption rate for all of its participants. There have even been furry best friends belonging to celebrities that have made appearances (via NBC News).
As for when to watch Puppy Bowl XIX, Discovery and Animal Planet are apparently slotted into a timeslot before this year's big game.
Puppy Bowl XIX is scheduled to air before the Super Bowl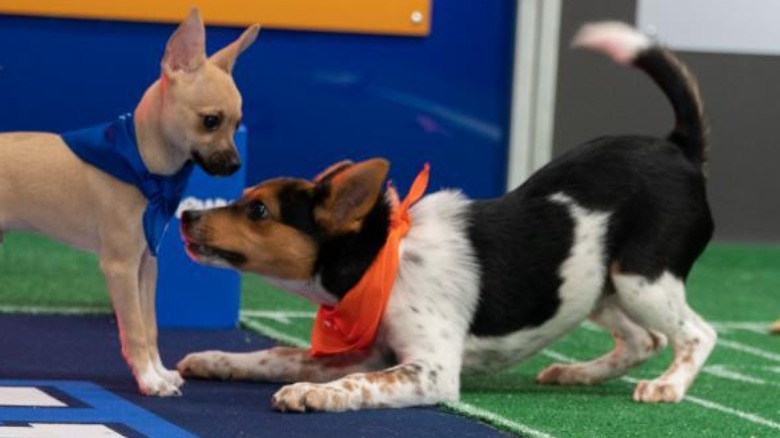 Discovery
With this year's Super Bowl set to start around 6:30 p.m. EST, or 3:30 p.m. PT., Puppy Bowl fans will have plenty of time to watch their favorite pooches go at it before kickoff — since the Animal Planet event scheduled to start around 2 p.m. ET/11 a.m. PT (via Discovery). Fans looking for four-legged fun this Super Bowl Sunday can watch the Puppy Bowl on multiple streaming and cable platforms — including Animal Planet, Discovery Channel, TBS, Discovery Plus and HBO Max. 
Previews and player profiles for this year's event have already been released and posted online, along with pictures of the canine competitors. Members of Team Ruff and Team Fluff have been gathered from different states and shelters, with them all being various mixes and breeds. A starting lineup was compiled by Puppy Bowl organizers and fans will be asked to vote on their favorites as part of the third annual Pupularity Playoffs for the award of "Most Pup-ular" (via Discovery).