Timothy Olyphant Opens Up About The 'Frightening' Shooting Near The Justified: City Primeval Set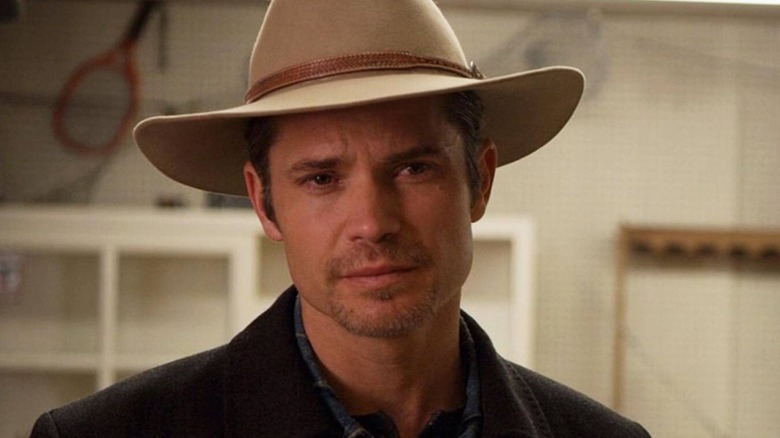 FX
Long before Taylor Sheridan dug into the Neo-western with the likes of "Yellowstone," there was FX's "Justified" to keep the genre alive. The series followed U.S. Marshal Raylan Givens (Timothy Olyphant), enforcing his unique brand of justice across Appalachia. It was a massive hit during its run, lasting for six seasons, but as tends to be the case with any popular series, it'll soon receive the revival treatment with a spin-off limited series: "Justified: City Primeval."
The sequel series will pick up many years after the original show ended. Now, Givens finds himself in Miami, but a chance encounter will draw him back into a life of violence as he ventures into Detroit to find the elusive Oklahoma Wildman. The original series may have been set in Kentucky, but a good chunk of filming took place in California. For "City Primeval," the team took production to Illinois for the Detroit environment, but they soon found themselves in a scary predicament when gunmen opened fire near the set. The incident took place over the summer of 2022, and now, Olyphant is speaking out about the incident and how frightening the whole ordeal was. 
Timothy Olyphant said he was just waiting to get hit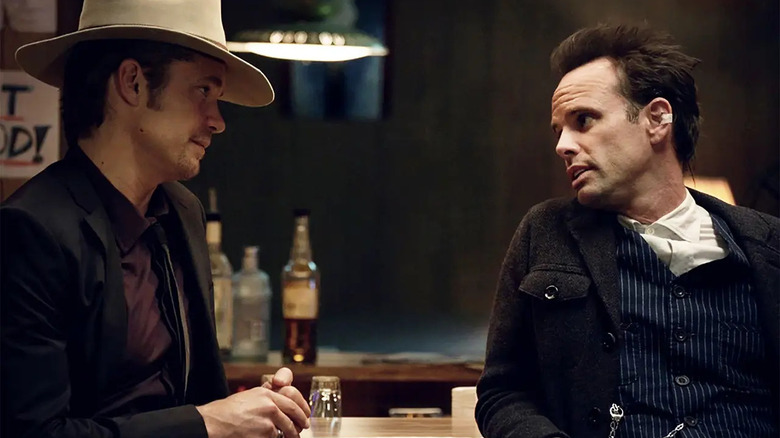 FX
The cast and crew of "Justified" and "City Primeval" are likely used to the sound of gunfire, but it's of the fake variety. Things took a far more dangerous turn on July 20, 2022 when three cars drove toward the production, firing guns all the while. Timothy Olyphant appeared on the January 22 episode of the podcast, "Conan O'Brien Needs a Friend." The actor explained how the cars smashed through the barricade to surround the set and referred to it as "the scariest g**damn thing," saying how it felt like it went on forever. 
While everyone ducked for cover, Olyphant went on to say how he managed to get a peek at the vehicles. One of the shooters had a modified pistol, while someone else was on the sunroof with a machine gun. But scariest of all, he said he thought it was only a matter of time until a bullet actually hit him. But the experience gave him a real sense of fiction blurring with reality as he saved the life of a production assistant. He elaborated, "It's the weirdest thing; I'm wearing the Raylan [Givens] wardrobe standing behind this car. This is just like the show. It's so weird. What am I doing?"
Fortunately, no one was hurt or killed, but the next day brought its own stresses. They were supposed to film in another part of town, but Olyphant knew no one was in the right mindset to film after such an event. However, they resumed filming shortly thereafter, and "Justified: City Primeval" is slated to come out later this year.