John Leguizamo Was Going To Be The MCU's Vulture After Michael Keaton First Backed Out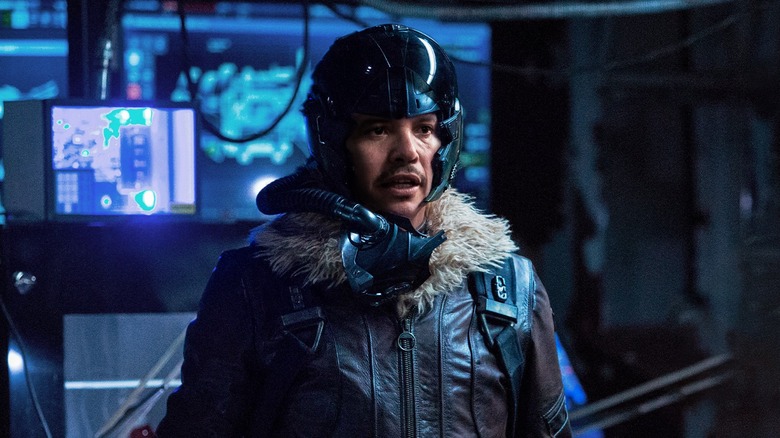 Static Media
Spider-Man may have the best rogues gallery in all of Marvel Comics, and he may be rivaled only by Batman in having the most incredible list of foes in all of comics across all companies and brands. Everyone from Green Goblin and Doctor Octopus to Venom and Kingpin is included in that rogues gallery. Even the brutal Punisher was at one point at odds with the swinging webhead. Of course, with four different film adaptations of our friendly neighborhood Spider-Man, many of these devious villains had to be cast for live-action projects. One of the more fascinating characters, Vulture, had a very interesting journey to the screen.
According to legend, Adrian Tombs, aka Vulture, was supposed to appear in Sam Raimi's "Spider-Man 3" before getting scrapped from the film to make room for Sandman and Venom. Then, Vulture was to make an appearance in "Spider-Man 4." The crew even went so far as to cast the insanely talented John Malkovich to play the character. The concept art of the actor in character set the internet ablaze with nostalgic possibilities. Years later, the character was teased again in the post-credit scene of "The Amazing Spider-Man 2" when his wings could be seen on the back wall of a room that hinted at the future appearance of the Sinister Six.
Finally, fans got an opportunity to see the character in Tom Holland's first solo outing in the Marvel Cinematic Universe, "Spider-Man: Homecoming." As fans no doubt remember all too well, "Batman" actor Michael Keaton brought Tombs to life in the film in one of the actor's most beloved roles in years. But it almost didn't happen, as John Leguizamo revealed he almost took the role.
Negotiations were finished for the part
In an interview with ComicBook's Chris Killian, John Leguizamo revealed that he was in talks to portray the character. "I was supposed to be the Vulture," he said. "We had negotiated, and I was about to play him, and they said that Michael Keaton wanted it back, and they asked me if I would give it up. I said, 'Well, okay, I guess.' They said, 'No, we'll work with you again; we're gonna...' That's what happened there." If you are wondering why you missed the role that Leguizamo played instead of Vulture, it is because it has yet to materialize. "They offered me something tiny," the "Silent Night" actor said. "I went, 'Nuh-uh.'"
The revelation that Leguizamo wanted and could have played the character could bring up a lot of possibilities now that the multiverse has become central to the Marvel Cinematic Universe. After directing "Doctor Strange and the Multiverse of Madness," Sam Raimi told The Direct that while he never thought it was possible, joining the MCU made him feel it is possible to return for "Spider-Man 4." And, of course, following his appearance in "Spider-Man: No Way Home," Andrew Garfield commented on the possibility of "The Amazing Spider-Man 3" happening to The Hollywood Reporter, but noted that no one would believe a word he said.
Of course, there are no confirmations about either of those films happening, but it is a perfect opportunity for these lost Vulture moments to finally happen. If you ask us, Sony and Marvel both owe Leguizamo another shot at the wings. And fans definitely deserve to see the actor bring Adrian Tombs to life.