You Fans Got An Absolute Kick Out Of That Cardi B Scene In Season 4 Episode 1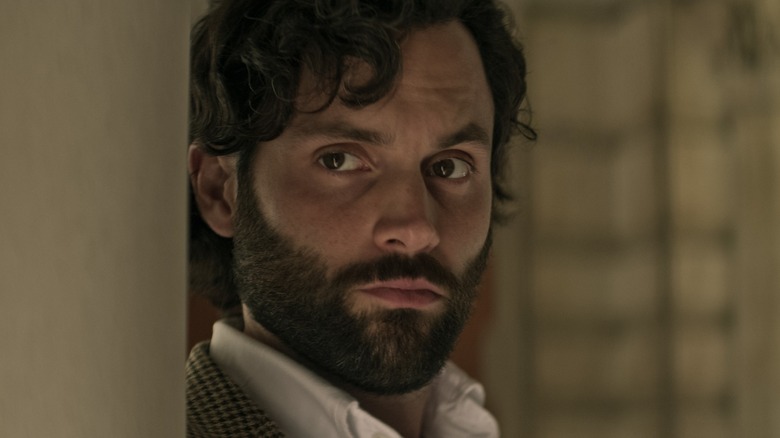 Netflix
Contains spoilers for "You" Season 4, Episode 1 – "Joe Takes a Holiday"
In 2021, Twitter users were treated to the birth of an instantly iconic celebrity friendship between Penn Badgley and rapper Cardi B. After a clip of Padgley praising Cardi went viral, she reposted it with an effusive caption. Cardi, clearly a big fan of "You," couldn't believe that Badgley knew who she was. The actor replied with a similarly stunned expression, leaving "You" fans themselves shocked by the Twitter exchange. And now, "You" Season 4 has included a fun homage to their friendship.
Badgley promised "You" would go down a different route with Season 4, and it seems that he wasn't lying. Episode 1, "Joe Takes a Holiday," catches up with everyone's favorite serial killer, who's now an English professor. After a night of partying, Joe wakes up with a dead Malcolm (Stephen Hagan) and immediately begins getting rid of the body. As he pulls up to a workshop and gets to work cutting Malcom apart, a familiar tune plays: Cardi B's "I Like It." While it's common for shows to use popular songs in their soundtrack, true "You" fans know that this particular musical choice is a callback to the rapper and Badgley's hilarious Twitter exchange. Fans quickly recognized the subtle meaning behind the use of Cardi B's song, and social media ignited with their reactions.
Fans love the reference to Penn Badgley and Cardi B's friendship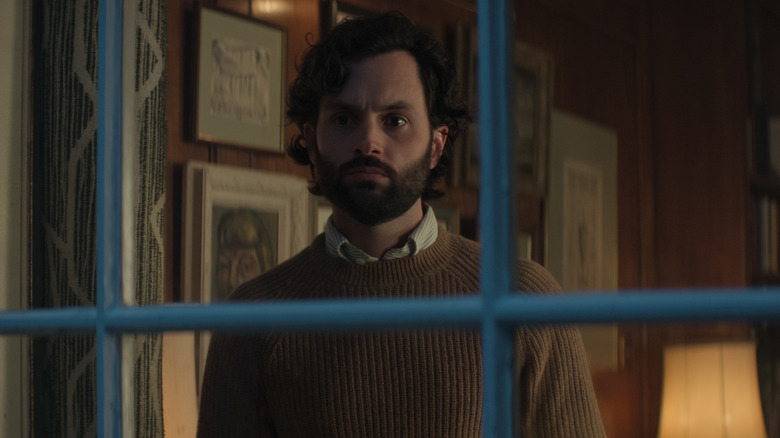 Netflix
Penn Badgley and Cardi B's Twitter exchange-turned-friendship was an incredible crossover that no fan saw coming. Netflix's use of "I Like It" in "You" Season 4, Episode 1 has surprised and delighted fans even more.
In the official "You" Season 4, Episode 1 discussion thread, Reddit users quickly shifted the conversation to the show featuring Cardi's song in the premiere. Redditor u/thatoneurchin loved it, saying, "Not Joe cutting up a body to Cardi B," pairing the comment with a skull emoji. Many others, including u/awildbanana91 and u/uhohmykokoro, are convinced that Badgley himself requested the show use the song in its newest season. While the Cardi B song was an excellent addition to "You," u/gorgeousbeagle isn't letting the rest of the show's music choices go to waste, saying, "The music is great so far this season."
On Twitter, "You" fans had similar reactions, like @stellarstefania, who said, "Cardi B playing in the background of that scene had me losing my mind." Meanwhile, @TiffanyGLDSTR had one perfect word to summarize "You" bringing Badgley and Cardi B together: "elite." And @THE3N4C3R also loved that "You" gave their fans this Easter egg, saying, "Yoooo! That nod to Cardi and Penn, playing her track while Joe disposes of the body. Love to see it."