Are Sandra Oh And Kevin McKidd From Grey's Anatomy Friends In Real Life?
As Owen Hunt and Cristina Yang on "Grey's Anatomy," Kevin McKidd and Sandra Oh spun friendship, heartache, passion, and tragedy out of their years-long working relationship. Their storyline, which swayed from swoony to scary and back again, lasted the course of five seasons and became one of the series' most iconic and essential relationships. Both damaged and in love with their jobs, the two were simultaneously perfect and problematic for each other, bringing out each other's best while sometimes compounding their worst. Of course, it all came to an end when Cristina finally left for Zurich, mirroring Sandra Oh's real-life departure from the show. But their love lived on past Cristina's departure.
The pair's chemistry, which sparked several memorable and deeply romantic moments, has made fans wonder (naturally) if McKidd and Oh are friends — or possibly more — in real life. After all, "Grey's Anatomy" just wouldn't be as fun without its backstage drama, right?
Yes, McKidd and Oh are pals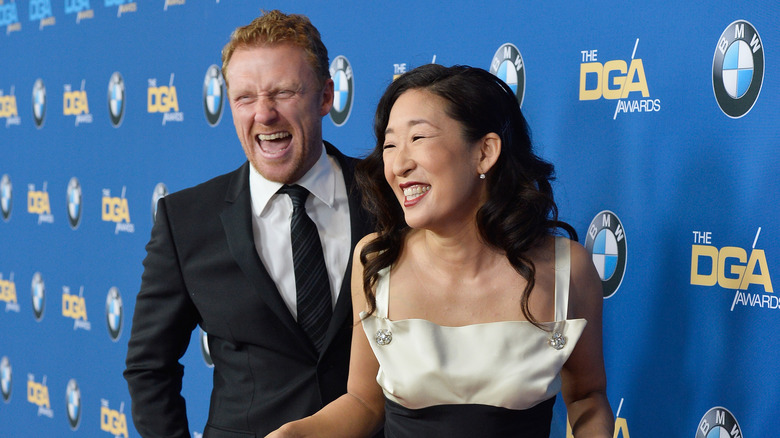 Frazer Harrison/Getty Images
First things first: It's unlikely that Sandra Oh and Kevin McKidd have ever had more than a friendly working relationship. McKidd was married to Arielle Goldrath McKidd from 2017 until recently (via People), whereas Oh was most recently linked to photographer Lev Rukhin (via Just Jared). However, like many "Grey's" co-stars, the two remained great friends during and after their time together on the show.
In an interview with TV Line in 2019, McKidd congratulated Oh on her Lead Actress in a Drama win at the Golden Globes before elaborating upon their relationship. "[We] really trust each other and know each other," he said. "During all of those hours working together [on "Grey's"], we watched each others' lives unfold. When she was going through a hard time, or I was, [we] leaned on each other."
Additionally, the actor told People last year that he has asked Oh to return to "Grey's" on numerous occasions. "Every time I see her, I'm always needling her, going, 'Come on, come on. Just one.'" And to put any further doubts to rest, he added, "We're also really good friends ... So Sandra, I'm coming for you." So, yes, the two appear to be going strong. But not in an Owen-Cristina way. Yet.