Seth Gilliam Wasn't Fond Of Filming In The Mud For The Walking Dead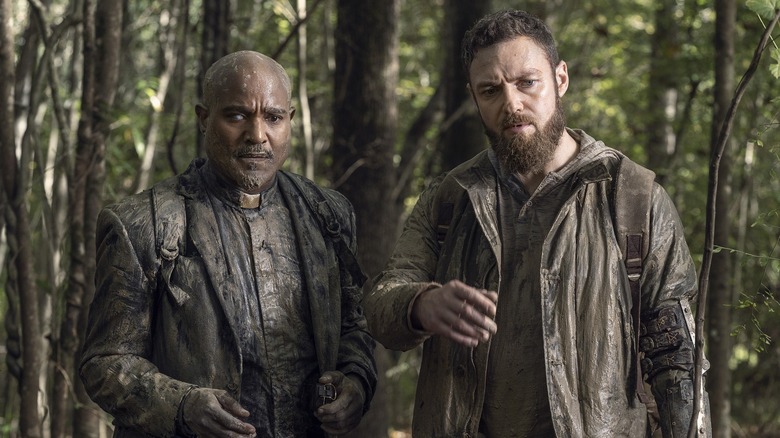 Josh Stringer/AMC
Some fans undoubtedly remember Seth Gilliam portraying Sugar Watkins in the feature film "Starship Troopers," but the actor spends most of his career working in television. The thespian enjoyed a 60-episode run as Ellis Carver on "The Wire" (via IMDb). He also guest starred on a number of high-profile series, including "Law & Order," "CSI: Miami," and "Person of Interest." But it was only a matter of time until the character Gilliam is best known for showed up on "The Walking Dead."
"TWD's" Father Gabriel (Gilliam) first fell under the purview of Rick Grimes (Andrew Lincoln) and his group in Season 5, Episode 2's "Strangers." And like most performers that appeared on the show, Gilliam endured his fair share of special effects makeup during his seven-season stint. Surprisingly, though, the contact lens he wore to represent Father Gabriel's infected eye wasn't a big deal — quite the contrary. "I really look forward to getting the contact lens put in," Gilliam said in an interview on the "Talking Dead" (via YouTube).
"My lens tech is a young woman named Justin, who was fabulous," Gilliam continued. "And, basically, she babies me. She'll ask me, 'Is it feeling okay? Are you doing alright?' I'll just sit there and put my thumb in my mouth while she puts drops in my eye. I love it." Gilliam may not have minded sporting what was undoubtedly an uncomfortable contact lens, but he did not enjoy rolling around in the mud with Aaron (Ross Marquand).
Gilliam didn't enjoy his time in the mud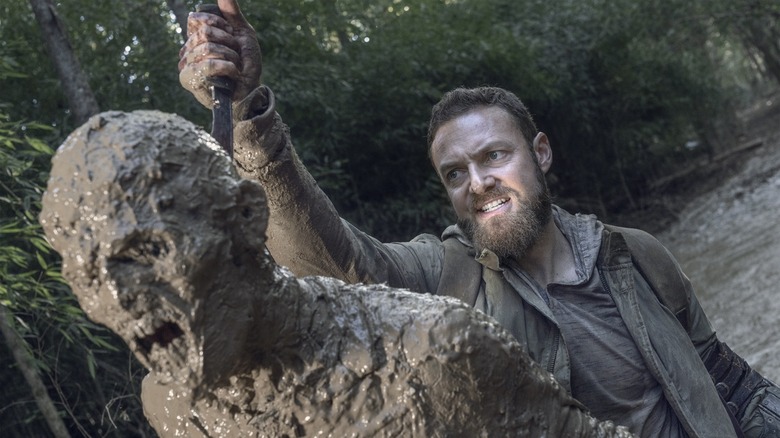 Josh Stringer/AMC
Seth Gilliam and Ross Marquand shared practically every second of screen time in "The Walking Dead" Season 10 episode "One More." Father Gabriel (Gilliam) teams up with Aaron (Marquand) on a scouting mission in which they encounter "Terminator 2: Judgement Day's" Robert Patrick. But before they come across the former T-1000 actor, a walker clutches at Father Gabriel. Aaron kills the zombie, but not before Gabriel falls in the mud and ruins Maggie's (Lauren Cohan) map. And Gilliam did not enjoy shooting that muddy mess.
"The mud [scene] was pretty quick," Gilliam said in an interview with Entertainment Weekly. "I think we may have done three or four takes because you're really just ruining the costume completely, to begin with. The mud was pretty cold. Though it was edible, it still tasted like dirt. So, I didn't really care to be in the mud too much too long. Thankfully, I think we got it in the four takes that we did it. I think we probably got it in the first take, but that's life."
Gabriel and Aaron's mud scene with the ravenous walker wasn't exactly a climactic heavyweight showdown, but at least Father Gabriel finally got an episode devoted to exploring his past.