Are Ariel Winter And Nolan Gould From Modern Family Friends In Real Life?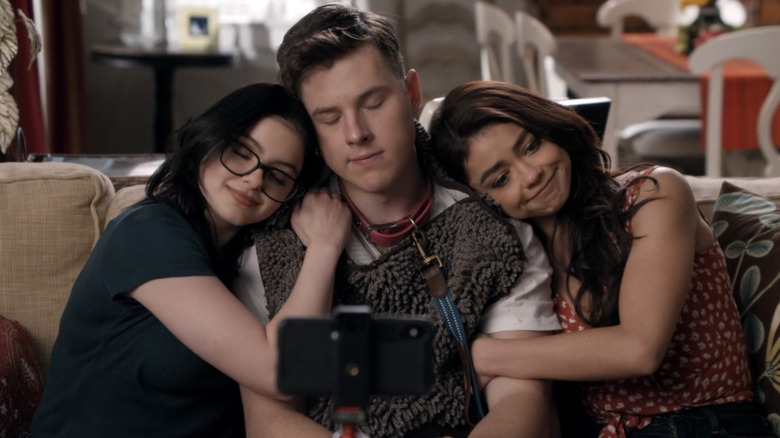 ABC
During the beloved sitcom's 11 seasons, Nolan Gould starred as Phil (Ty Burrell) and Claire Dunphy's (Julie Bowen) son, Luke, in "Modern Family." The actor convincingly portrayed a younger brother who often is a nuisance to his older sisters, Alex (Ariel Winter) and Haley Dunphy (Sarah Hyland). 
Throughout the series, it is clear that Luke has an aptitude for bothering Alex due to her rigid nature. However, despite his tendency to annoy the California Institute of Technology graduate, Luke is loving and supportive of her. For instance, in Season 11, Episode 18 ("Finale Part 2"), Haley and Alex trick their brother and convince him to wear a dog costume before they all embark on their new lives. After they complete their prank, the siblings feel overcome by emotion as they will soon be separated. Luke responds by resting his head on Alex.
Some fans may be curious if Gould and Ariel Winter share Alex and Luke's bond. While speaking to DAMAN in 2020, Gould revealed if he is friends with his castmate in real life.
Nolan Gould revealed Ariel Winter was one of his 'best friends'
During the DAMAN interview, Nolan Gould disclosed that he missed his on-screen family members after "Modern Family" wrapped filming. He also shared that he is particularly close with Ariel Winter. "Ariel Winter, who played Alex Dunphy, is one of my best friends in real life," said the actor.
Gould shared similar comments about his friendship with Winter in a May 2019 interview with Hollywood Life. He revealed that he and the "Phineas and Ferb" actress often saw each other because they were neighbors. "I definitely keep in touch with Ariel the most, we moved into the same neighborhood and stuff. She's like three minutes away from me, so it's like when I go home from work, I just see Ariel out on like walks and stuff," stated Gould with a laugh.
While speaking to Hollywood Life, he explained that he developed close relationships with Winter and Hyland because he did not have traditional schooling while working on the ABC sitcom, which limited his interaction with his peers. He also expressed gratitude for his friendships with his "Modern Family" co-stars.
"It is really cool to have people that became like family that I got to grow up with and experience the same things – I know that like we're all going to be bonded for life, we're going to be best friends after the show," shared Gould.