Pam Grier Turned Down The Opportunity To Play A Bond Girl (& That Was Probably The Right Move)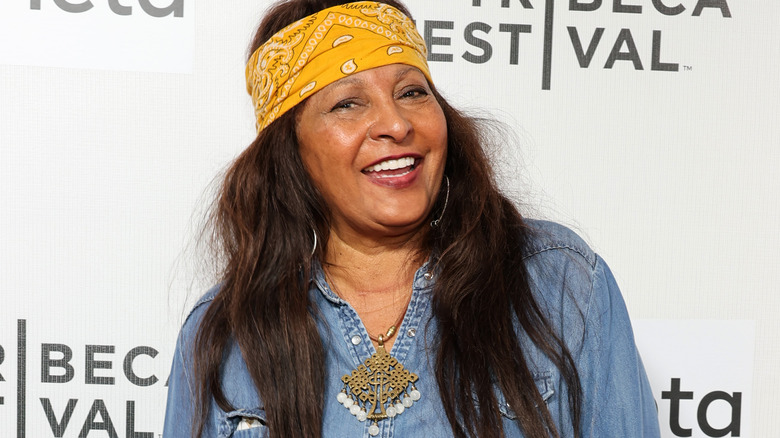 Cindy Ord/Getty Images
In 2016, while promoting "Spectre," actress Naomie Harris declared the "Bond girl" term outdated and suggested the term demeaned the women of the James Bond franchise. "Monica [Bellucci] is 50, and I think it's respectable to say she's a 'Bond woman.' It's quite demeaning to call her a girl. So I think it's time we had a little change there," Harris, who played Eve Moneypenny in the film, said of her co-star and others who belong to the unofficial club of women. 
All these ladies are gorgeous and smart and have to keep pace with Bond, but Harris' comments reflect the way the roles and the way they are viewed have changed. In 2021's "No Time To Die," where actresses like Ana de Armas and Lashana Lynch were dispatching bad guys in style right along with Daniel Craig's Bond. 
It's always been a special class of performers that make the women of the Bond franchise, though. Everyone from Michelle Yeoh to Madonna has been a Bond girl in one way or another. One name that feels like it should belong with that group is Pam Grier. After all, Grier was one of the faces of the blaxploitation genre in the '70s with films like "Foxy Brown" and "Coffy." Having her share screen time with Bond seems like a no-brainer, folding two different genres together with two iconic figures playing off each other.
Turns out, Grier was offered the chance to be a Bond girl, only for her to turn it down.
Pam Grier wanted more of a character
According to Pam Grier, she could have starred opposite Roger Moore's James Bond in 1983's "Octopussy." Speaking with Entertainment Weekly about her career, Grier said she was picky when she was offered a role in the Bond franchise, but she also wasn't interested in that specific movie because she didn't want to simply be a woman Bond saves. 
"Am I going to help rescue him? Is he rescuing me? A Bond girl is an afterthought, a CliffsNote, perhaps. I asked, 'Am I challenging Bond? Am I out to kill him? Will I kill him before he kills me?' They hadn't thought of that. I gave them other ideas, which were much more profound and interesting than what they were doing," the actress said. 
Looking at the scope of Grier's career, it's easy to argue why turning down a role in the Bond franchise was a good thing. By sticking to her guns and demanding the right roles, Grier remained Foxy Brown to generations of movie lovers, including Quentin Tarantino, who would go on to write 1997's "Jackie Brown" just for Grier, and it was the role that gave the actress a much-deserved comeback.
Grier's '80s roles weren't all that bad either. She appeared in "Miami Vice" and Steven Seagal's breakout hit "Above the Law." In both the Michael Mann-produced series and "Above the Law," Grier played cops who got plenty of chances to get in on the action.