Playing Kathleen On The Last Of Us Has Melanie Lynskey Feeling Positive About The Future (& We Hope She's Right)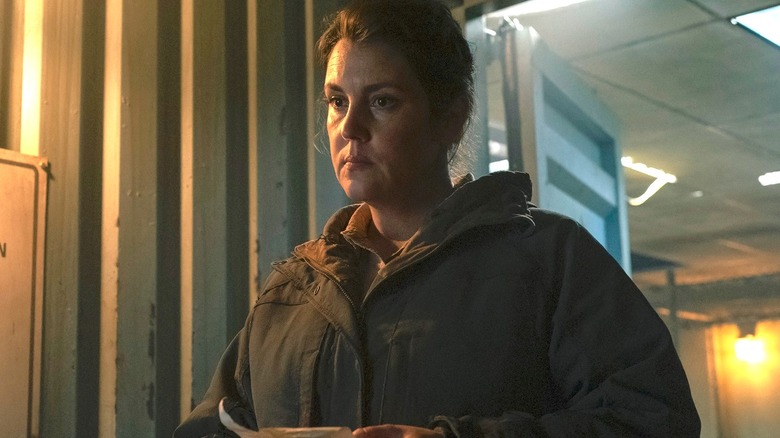 Liane Hentscher/HBO
Contains spoilers for "The Last of Us" Episode 4
"The Last of Us" — the popular HBO show based on the video game of the same name that follows Joel (Pedro Pascal), a smuggler, as he travels across the post-apocalyptic United States with 14-year-old Ellie (Bella Ramsey) — is currently four episodes into its 1st season, which will have nine episodes total. Episode 4 introduced the character of Kathleen, played by "Yellowjackets" star Melanie Lynskey, a character that doesn't exist in the game and was created for the series.
Kathleen is the leader of a group of rebels who regained control of Kansas City, Missouri, from FEDRA. Kathleen is a ruthless leader — by the end of the episode, Kathleen has killed the doctor who once delivered her after he refused to give up information about someone named Henry, who she believes is responsible for her brother's death. Her first order of business is to take down any FEDRA collaborators and has instructed her soldiers to do so. While not a ton is known about Kathleen or her history yet, it's clear that she has a vital role to play in the episodes to come.
Despite the violent nature of the story, Lynskey found that playing Kathleen left her feeling positive about the future.
Lynskey thinks Kathleen represents the right type of leader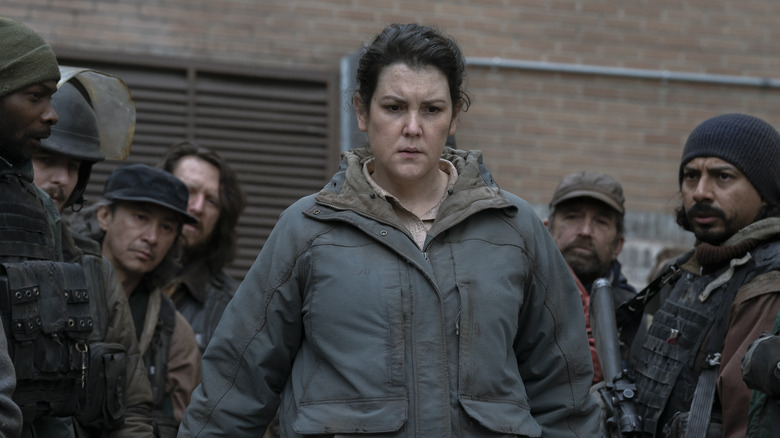 Liane Hentscher/HBO
Melanie Lynskey recently took to Twitter to express some thoughts she has on getting cast in "The Last of Us" and the nature of her character, Kathleen. "Other than getting to work with creative geniuses who I respect and admire [co-creators Craig Mazin and Neil Druckmann] the thing that excited me most about doing ['The Last of Us'] is that my casting suggested the possibility of a future in which people start listening to the person with the best ideas," Lynskey explained.
The actress went on to specify that Kathleen represents the person who can organize and plan, who can make decisions, and who generally knows what to do — even if she's not the strongest or the coolest. Lynskey then brought up the fact that women in power are often held to impossible standards and are constantly criticized — either they're too angry or not angry enough, either their voice is too shrill or it's too quiet, and so on. She added what she wanted to establish with her portrayal of Kathleen and how she played into the expectations of women in power positions.
Lynskey continued, "I was excited at the idea of playing a woman who had, in a desperate and tragic time, jumped into a role she had never planned on having and nobody else had planned on her having, and then she actually got s*** done ... I wanted her to look like she should have a notepad on her at all times. I wanted her to be feminine, and soft-voiced, and all the things that we've been told are 'weak.' Because honestly, f*** that."
Lynskey is grateful to play an unexpected character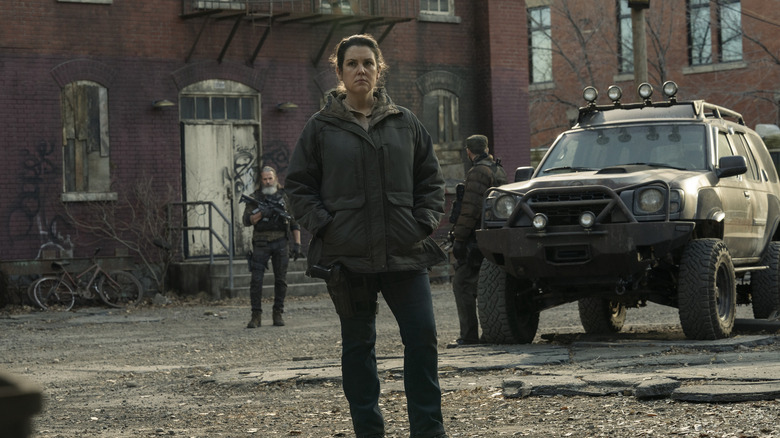 Liane Hentscher/HBO
Continuing with the Twitter thread, Lynskey then addressed the fact that many people may be surprised — or even angry — to see her cast as the ruthless but efficient leader role. She wrote, "That's thrilling to me. Other than the moments after action is called, when you feel like you're actually in someone else's body, the most exciting part of my job is subverting expectations."
The actress then expressed her gratitude to be cast in the role and be given the opportunity to subvert expectations in the first place. Along with thanking the fans who have reached out with support, Lynskey wrote, "I'm so grateful to Craig and Neil for creating a truly new character. Someone I have never seen before. And for trusting me with her. And for letting me be on THE MOST AMAZING SHOW."
We can't wait to see how Kathleen's character arc continues to play out through the rest of the season. "The Last of Us" airs on HBO every Sunday night.