Are Khary Payton And Paola Lázaro From The Walking Dead Friends In Real Life?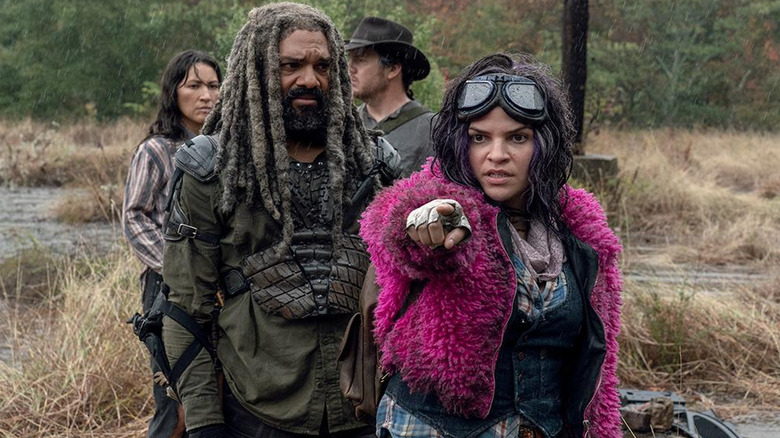 AMC Networks Inc.
Khary Payton and Paola Lázaro were tasked with bringing pivotal comic book characters to life on AMC's "The Walking Dead." Payton took up the mantle of fan-favorite King Ezekiel (Sutton) in the Season 7 episode, "The Well." However, Lázaro didn't appear as the Princess (Juanita Sanchez) until much later during Season 10, Episode 14's "Look at the Flowers." And the thespian portraying Juanita didn't know anything about the source material's Princess. "Later on, I found out more about the character," Lázaro said during the "Talk Dead to Me" podcast (via Skybound). "But I didn't really know — I just thought I was auditioning for like a new role that did not exist. So, I was like, 'Well, let me make it my own because it's new.'"
The King and Princess both survive the post-apocalyptic world on the show. However, Ezekiel doesn't fare as well in Robert Kirkman's comics. Sutton meets a horrifying and unfortunate end at the hands of the duplicitous Alpha, when the leader of the Whisperers chops off Ezekiel's head and displays it on a border pike for all to see. Later, it's left up to Andrea Grimes to put down Ezekiel's zombified skull. The AMC series often deviated from the storylines presented in print, so the actors were constantly left wondering whether or not their characters would survive to see another episode. But one thing that was never in question for Payton was his on-and-off-screen friendship with his "TWD" co-star, Lázaro.
Payton And Lázaro are the best of friends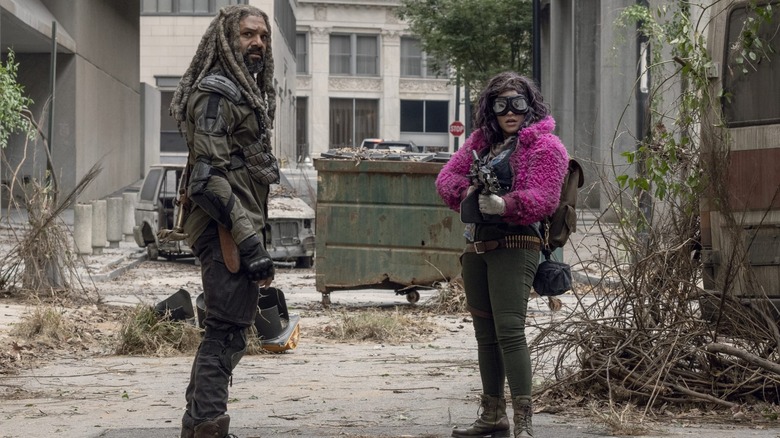 AMC Networks Inc.
Ezekiel Sutton (Khary Payton) crosses paths with the Princess (Paola Lázaro) as he journeys into the city with Eugene (Josh McDermitt) and Yumiko (Eleanor Matsuura) in the Season 10 episode, "The Tower." Princess isn't looking for any trouble, but she is ready to obliterate the three strangers with her machine gun if their intentions turn out to be nefarious. Ezekiel diffuses the tense situation when he speaks of admiring Juanita's zombie decorations, which she fashioned to give the walkers more personality. But, in real life, Payton and Lázaro became fast friends — decorative walker displays not included.
"So that when it comes to us in a scene together, it's the blending away of Ezekiel and Princess to being Khary and Paola," Payton said in an interview on the AMC Talk blog. "I feel like there's this very thin line between when we're just us and when we're playing those characters. And yeah, once again, it's crazy how quickly it happened with Paola, and it was just like, 'Oh, this is a friend for life. Here you go!' Almost immediately. Yeah, she's amazing."
Payton and Lázaro's rapport can clearly be seen in their social media posts (per Twitter). One of their best online entries was a short video of the friends letting off some steam courtesy of a little grind-it-out impromptu dancing (via YouTube). The show may be over, but these two seem poised to be friends for life.