Why Hawkeye's Wife In The Avengers Looks So Familiar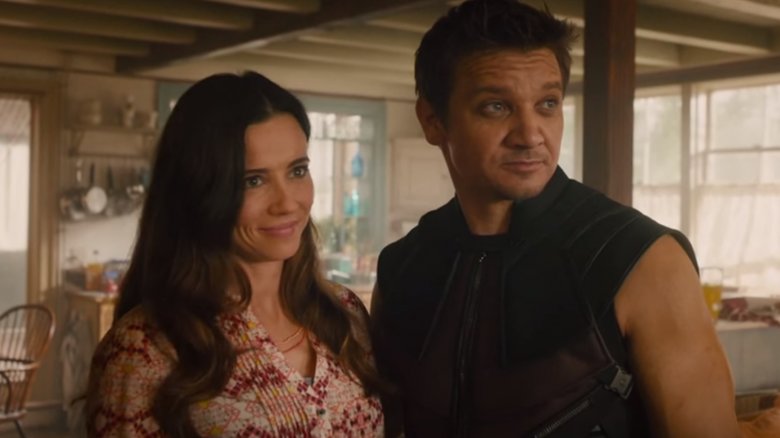 Although Hawkeye's presence — or rather, lack thereof — in Avengers: Infinity War became a point of frustration for fans of the bow and arrow-wielding assassin, the character has still made quite an impression in the Marvel Cinematic Universe. Introduced in Thor, Clint Barton aka Hawkeye has been a mainstay of the Avengers gatherings, and the introduction of his wife Laura in Avengers: Age of Ultron proved that Earth's mightiest heroes could have a home life as well.
If the kind, supportive Mrs. Barton looks familiar, well, it's probably because you know the work of the actress portraying her, Linda Cardellini. The actress has been active in Hollywood for more than two decades and has racked up some impressive credits along the way. From guest roles in children's television favorites of the late '90s to high-brow drama films to peak TV appearances, here's where you may have seen Cardellini before.
TGIF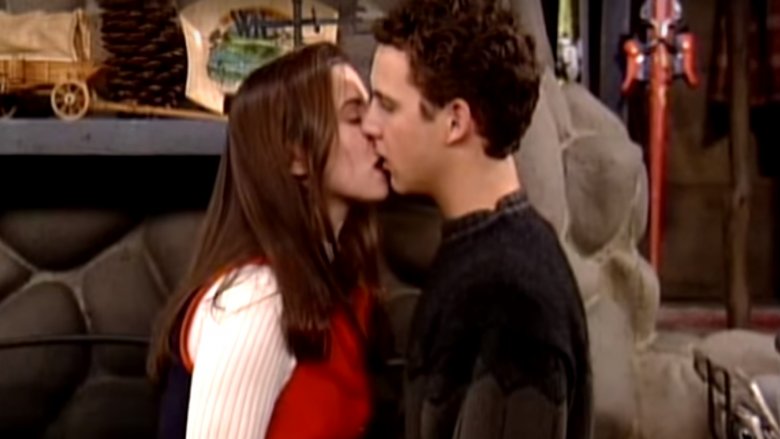 Although she was hardly a child actress when she got her start — her breakout role was in ABC's kid-thriller series Bone Chillers, at which time she was 21 years old and thought "it was too scary for kids" — Cardellini did spend a great deal of her early career in the kid-centric television circuit. She enjoyed cameo roles in TGIF shows like Step by Step and Boy Meets World and also made appearances on 3rd Rock from the Sun and the Clueless small screen series.
Although Step by Step offered her first live audience experience, Boy Meets World had an even more special significance for the actress because, as she told The A.V. Club, it was the first role that got her some very verbal feedback from viewers who took umbrage with her flirtation with Ben Savage's Cory Matthews.  "That was the first time I was given something where people from my hometown recognized me. I was at my hometown carnival and about eight kids ran up to me—they couldn't have been older than 8 years old—and yelled, 'Homewrecker!'" she remembered. Hey, those Team Topanga fans can be intense.
Good Burger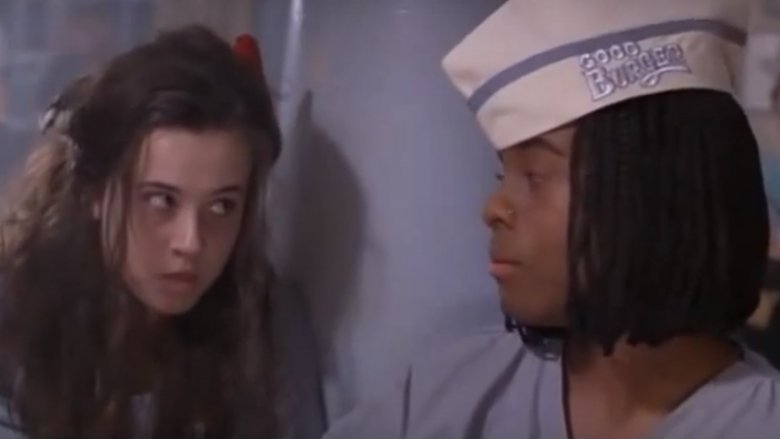 Cardellini's silver screen breakthrough came by way of Nickelodeon's Good Burger, a bizarre fast food film based on a regular sketch from the TV network's All That. In the movie, she starred as Heather, a young woman in a mental institution who calls herself a "psychopath" and whose history may or may not include breaking into a zoo to "free the kangaroos" after being told to do so by aliens who broke into her brain. She's so weird that she makes our resident dimwit Kel look ordinary.
It was a small but memorable role that still ranks among her family's favorites. It wasn't her last time working with the film's leads, Kenan Thompson and Kel Mitchell, as she'd later appear as Becky on their buddy comedy series Kenan & Kel in an episode in which they'd douse her in stew and inspect her feet to confirm that she is not, in fact, a witch. As with Good Burger, the episode features her sharing a strange connection to Kel; whether it's his nice head or their shared passion for orange soda, their on-screen chemistry was relatively intense in these few moments.
Strangeland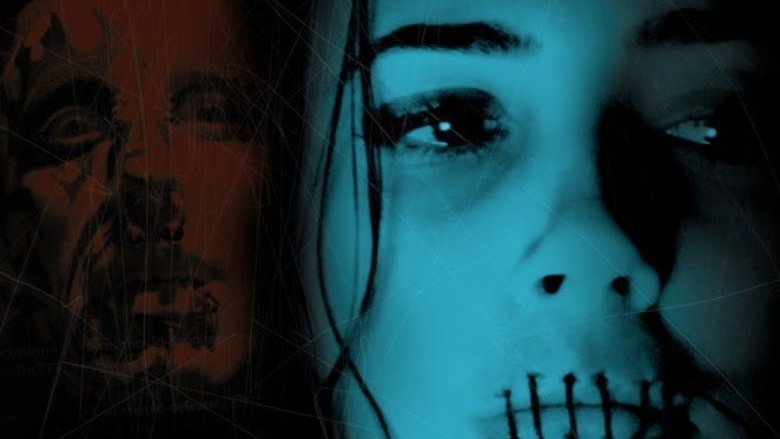 Shortly after the advent of AOL and all its chatroom glory came Strangeland, a feature-length PSA about the dangers of meeting strangers online. Although the technology is now outmoded, the movie's message is still as relevant today as it was back then, and Cardellini's turn as Genevieve Gage, a girl who's abducted after going to the fake party of a guy she met on the internet, still produces a lot of terror.
It wasn't Cardellini's first film appearance, of course, but it was the first movie to feature in a prominent enough role that she'd be part of the promotional materials. As she told Metro, "My parents used to have that poster in their house, because it was the first poster I was ever on. It was strange because it's such a terrifying poster." Indeed, it featured her face, blued out by the darkness of Howdy's lair, with her lips sewn shut as was his sick want.
Freaks and Geeks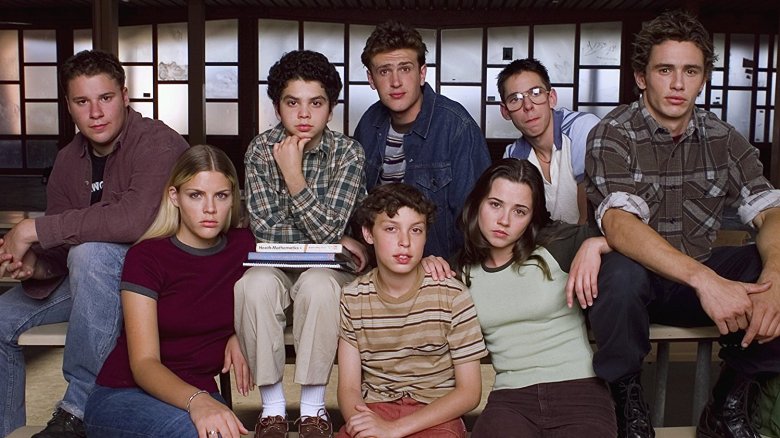 Although Cardellini had already earned several regular television spots, it was her turn as Linda Weir in NBC's Freaks and Geeks that really marked the start of her notoriety. The show featured her as a nerdy ("mathlete") high schooler who decides to make friends with some less academically-inclined members of the student population, much to her parents' chagrin. Although it was cancelled after the first season, it's since become a cult favorite and a central talking point in most of Cardellini's current interviews.
"I love it, and I feel so lucky. How can you not be proud of that show?" she told HuffPost Live of the continued attention she receives for her role. "It was unlike anything at the time [that] I was reading, and I remember I was up for two other projects that never actually ended up making it ... I said, 'I don't want to do anything until I test for Freaks and Geeks." It may not have offered her long-term job security at the time, but the series does offer her one heck of a highlights reel.
Legally Blonde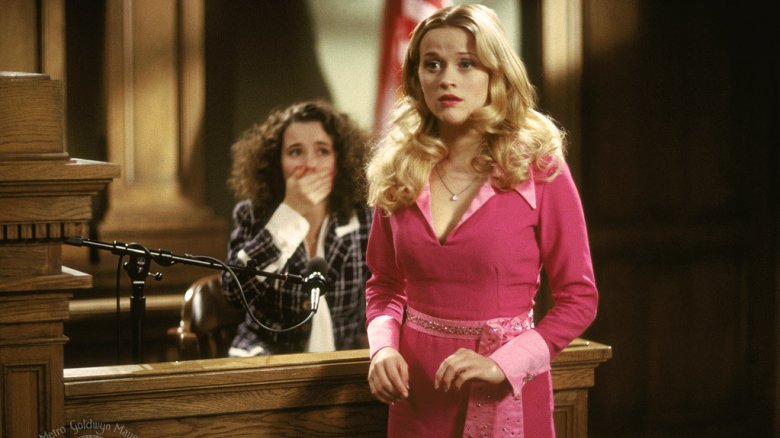 In Legally Blonde, Cardellini appeared as Chutney, the unfortunately-named daughter of a murdered millionaire who takes the stand to testify against the client of Reese Witherspoon's first-year law student-turned-academic intern Elle Woods.
Through the course of Elle's initially rocky interrogation, she eventually corners Chutney into admitting she's perjured herself by saying she took a shower just after having a perm — a cardinal sin of coifdom — and worse, she's the one who pulled the trigger that took out her own dad. Cardellini's role might've been small, but it was a chance to mix it up with the type of work she was doing. As she told Pretty52 of playing the quirky villain in the film, "I tried to take as many different turns as I could to make it interesting for myself and hopefully for everybody watching. Make it interesting for them, to say, 'Oh wait a second, is that her again? What's she doing now?!'"
Scooby Doo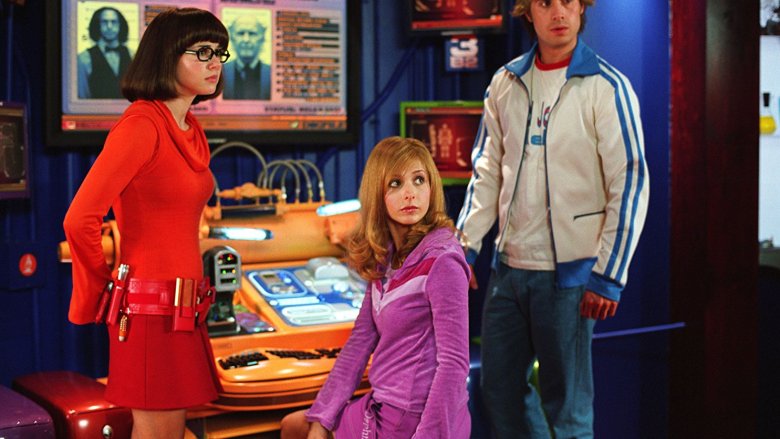 Cardellini was still working her way into the mainstream by the time she started securing more steady work, but being a part of the Scooby Doo films still might not have done the trick of making her a household name. The live-action adaptation of the popular kids detective series featured the actress alongside several other teen favorites of the time, including Freddie Prinze, Jr., Sarah Michelle Gellar, and Matthew Lillard, and her turn as Velma had some purposefully sexually ambiguous moments that are still worth discussing.
However, thanks to her thick-framed glasses in the first film, her face wasn't exactly getting seared into audiences' memories during the movie. As she later told Interview Magazine, "I get recognized less from that. Usually it's if somebody knows that it's me and they tell their kid. When it first came out, I could stand next to the poster, and nobody would know that it was me in the poster, which I found entertaining." Of course, after her big makeover scene in Scooby Doo 2: Monsters Unleashed, her true appearance became much less of a mystery for the movies.
Brokeback Mountain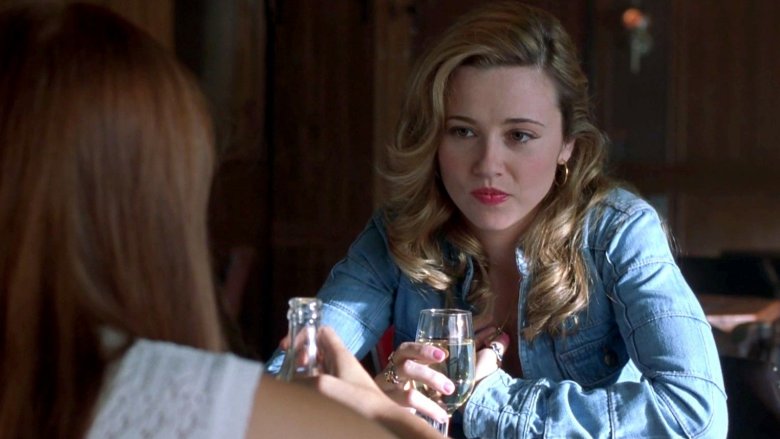 She might not be one of the Brokeback Mountain cast members who comes to mind first, considering her role was relatively small and Hollywood proceeded to heap an enormous amount of praise on the movie's leads, but you've probably not forgotten Cardellini's scenes in the film. She had a brief role as Cassie Cartwright, a small-town waitress who takes a shine to Heath Ledger's Ennis Del Mar, not knowing his complicated familial history and the fact that he's still holding a candle for Jake Gyllenhaal's Jack Twist.
Cardellini admitted that her interest in the role first stemmed from her admiration for the director and screenwriter. She told The A.V. Club, "I'm a huge Ang Lee fan and a huge Larry McMurtry fan. That script is so beautiful. I remember spending 45 minutes auditioning and thinking, 'I may not get this part, but it doesn't matter because I just spent 45 minutes getting directed by Ang Lee.' When I got the part, to work with the talent that was in that film, including Heath Ledger, it was really a gift and privilege."
ER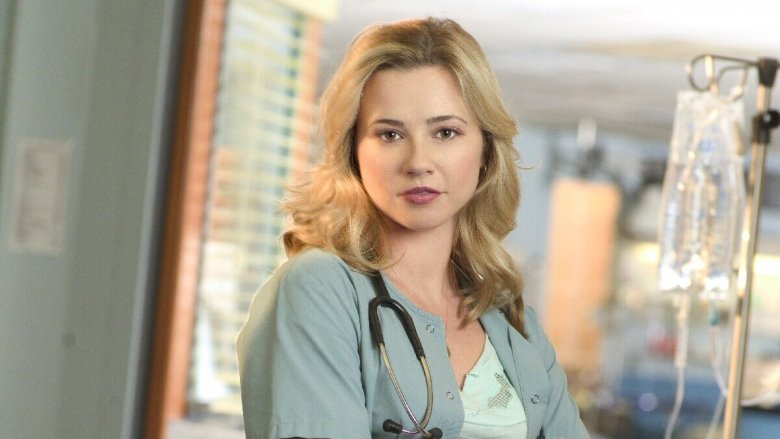 Cardellini really got to show off her flare for the dramatic with her long-standing role on NBC's ER as Samantha Taggart, a nurse who is both a recovering alcoholic and a single mother. She played the character for six seasons, enduring everything from unstable exes to a hostage situation at the hospital to an exploding ambulance. "One of the things I like about the show is that they don't mind if the characters are a little bit unlikable, which makes them human," she said of the series, ahead of the series finale.
Although she was able to do other projects during her five-season run on the show, she's called the experience of being on the series a "marathon" and didn't commit to doing any regular TV work, other than voice roles in animated series, for the better part of a decade. As she told Film School Rejects, "I did a long time on ER, and after that I was just like, 'I'm going to take a break and I'm going to sit back and I'm going to wait, and I'm going to reassess the kind of things I do.'"
Return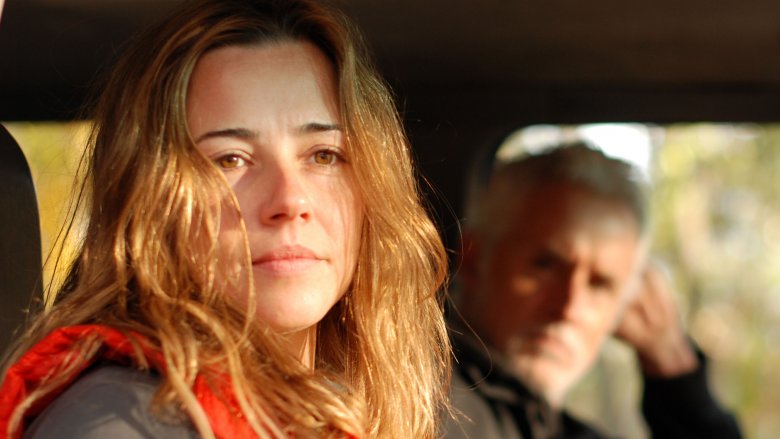 One of Cardellini's post-ER passion projects was a small film called Return, which featured in the lead as a war veteran returning home to her family and finding that although she's wanted nothing more than to be with them again, she doesn't recognize or feel recognized by her old world.
For Cardellini, it was the simplicity of the story that drew her in, as she told Collider, "It wasn't about some terrible, traumatic event that happened. They do happen, but it seemed like just a slow unraveling of somebody, which I found to be really human, really interesting and really relevant [...] The everyday human details were really special and really excited me about playing it." The film was also one of the first that would feature Cardellini in every scene, and while it may not have been a box office smash, it was one of several well-reviewed projects that would help earn the actress some serious indie cred.
Mad Men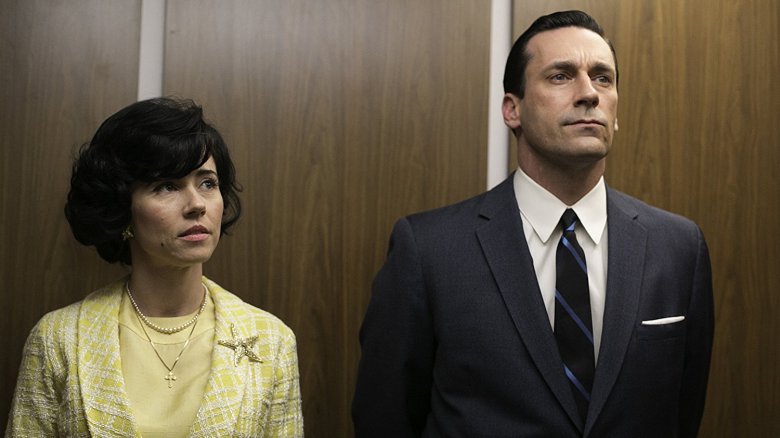 In Mad Men's sixth season, Cardellini debuted in her recurring role as Sylvia Rosen, a neighbor to Jon Hamm's Don Draper who becomes his part-time lover and, eventually, full-time obsession. Her appearance on the show reveals some staggering details about his oft-mysterious past.
For Cardellini, being a part of the series meant that she'd have to learn to keep a set secret (something that would also come in handy during Avengers: Age of Ultron). As she told Entertainment Weekly, "Usually people know what you're doing, especially with the Internet. People know what you're doing sometimes even before you know. To have it be a surprise for my friends and family who haven't seen me do anything for a while because I've been home with my daughter, it'll be a really fun surprise."
In the end, she earned her first Emmy nomination for her work in the show. As she told Backstage Magazine, "People in the industry definitely saw it and they saw me in a different way. I've been busy ever since, so I can't complain."
Daddy's Home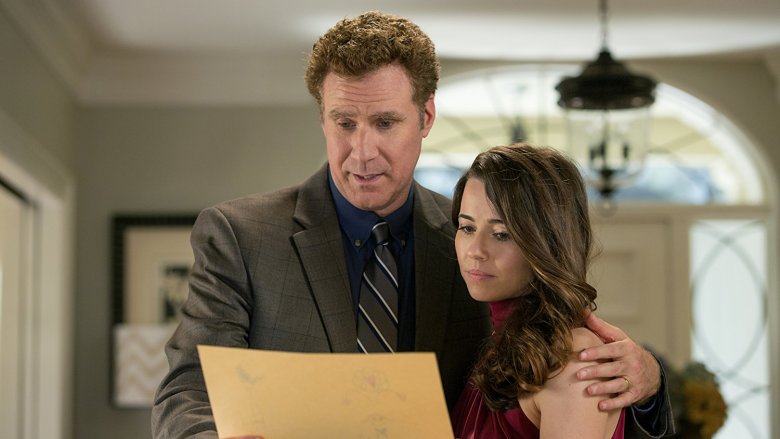 As genre-bending as her screen career has been, Cardellini does seem particularly at home in comedy. It's what made her a good fit for a guest role on New Girl and why she was such a scene-stealer in Grandma's Boy, and Daddy's Home and its sequel gave the actress another chance to play around with some other funny people — namely, Will Ferrell and Mark Wahlberg.
Although she's often reduced to reactionary lines as the men spar, Cardellini said she found a lot of value in the part. She told Pretty52, "It's pretty great to be able to play the person who's got the level head, as the female in a comedy she's pretty aware of everything that's happening. [...] It was important to me to sort of be the person who's centered, in the middle of all the craziness, and I think it helps allow the craziness to then take place."
Bloodline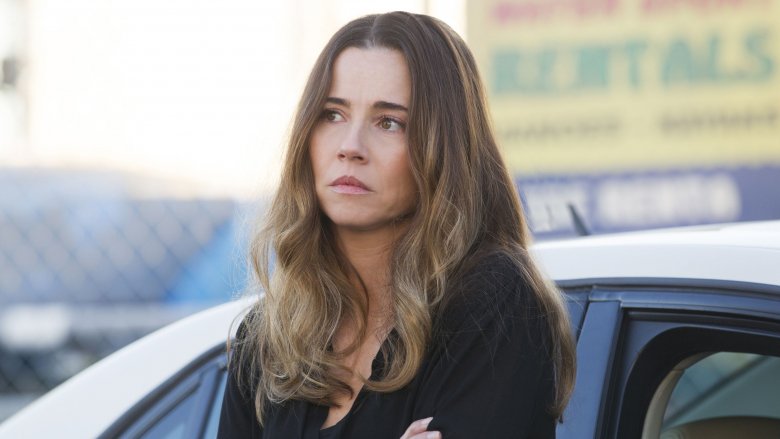 Cardellini's real return to the small screen scene came by way of Netflix's Bloodline as Meg Rayburn, the youngest in a tumultuous family who tries (and often fails) to broker peace between her siblings. She starred in the series for three seasons, which gave her character plenty of room to arc into some dark places, and Cardellini relished the opportunity.
As she told Elle Magazine, she initially joined the series because of the talent that she'd get to work with on the show but found that working on another series gave her the opportunity to stretch her creative legs in a way films cannot. "I think there are great roles for women in television because there is time to allow those characters to evolve," she explained. "Even if you're the wife or the girlfriend or whatever it is that we women are, playing those things on TV, they are much more drawn out and there are greater arcs for the role. The roles [are more] integral to the complexity of the story."
Chances are, she probably sounds familiar, too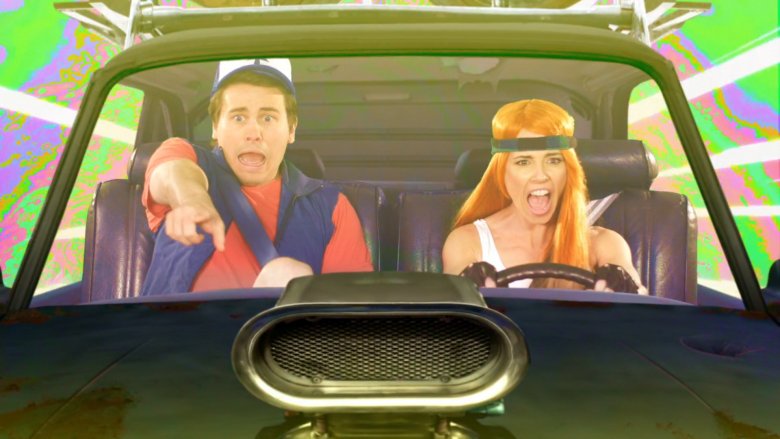 Cardellini is also quite a prolific voice actress. She started doing vocal work for video games before earning a title role in the short-lived ABC animated series The Goode Family. She'd go on to do voice work for a number of cartoon shows, including Scooby-Doo! Mystery Incorporated, Out There, Regular Show, Sanjay and Craig, Robot Chicken, and Disney's Gravity Falls.
Her familiar vocals may make it difficult for her to make prank calls, but the ability to act off-camera has definitely helped her pay the bills. As she told Backstage Magazine, "I'd always wanted to try my hand at every bit of the acting field, so it appealed to me in that way. And then, you know, it's a creative way to make money when I wasn't acting on camera." The work also helped to bridge the gap between her work in ER and her return to the small screen in Mad Men, during which she was also recovering from a difficult pregnancy and childbirth. Sure, it meant auditioning for weird Japanese commercials here and there, but it's a living!