Elayne Boosler Hopes Her Night Court Character Makes A Comeback On The Reboot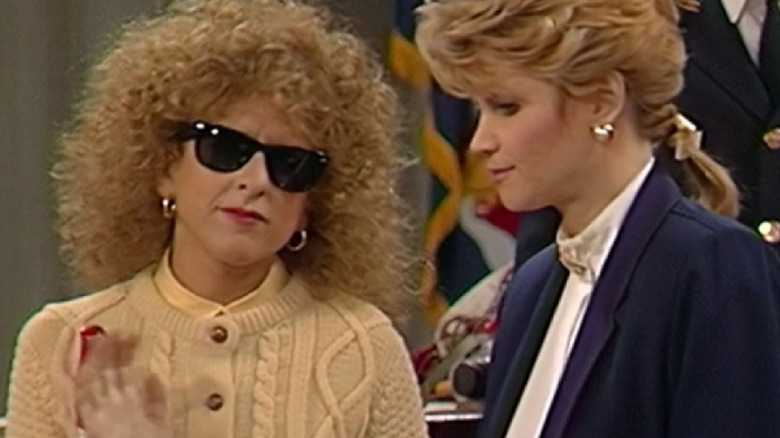 NBC
"Night Court" may feature a main cast full of kooky characters working in the Manhattan court system, but even they can be outdone at times by the show's many guest stars. Plenty of bizarre personalities pass through the court across "Night Court's" lengthy nine-season run, and watching them interact with the series mainstays is a reliable source for jokes. As it happens, few minor guest characters illustrate this idea better than comedian Elayne Boosler's Joy Buscaglia.
Joy appears for just two episodes of "Night Court's" fifth season, but she makes quite the striking impression during her limited screen time. Harry employs the blind woman as his personal assistant for a brief period of time, but her over-the-top strictness and uncomfortable sense of humor get under the court staff's skin pretty quickly. She tosses out a cavalcade of one-liners, engages in a romantic tryst with Bull the bailiff, and then she's never seen again in the series. It's anyone's guess what Joy has been getting up to in the many years since the original "Night Court," but Boosler seems keen on the idea of bringing the character back.
Boosler is down for another Night Court appearance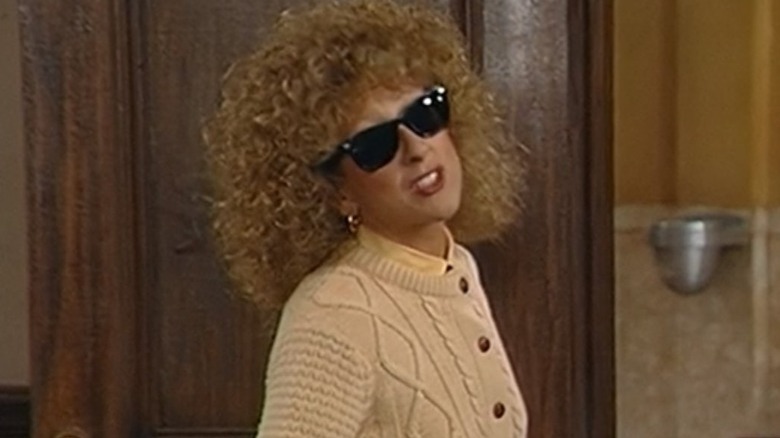 NBC
In a tweet, Elayne Boosler expressed her desire to make another appearance as Joy Buscaglia on NBC's ongoing "Night Court" revival. "I hope they bring my character back on #NightCourt," the tweet reads. "She was so much fun to play." The comedian also tagged the official account for Warner Bros. TV.
It's certainly possible that Boosler's character could come back to "Night Court." Though the reboot primarily features a slate of new characters, it's nevertheless set in the same continuity as the first series, and even features one of its original characters in a main role. John Larroquette's classic character Dan Fielding stars in the new show, serving as the new public defender of the court instead of his former job as a prosecutor. Like Boosler, the star was drawn to the novelty of reprising a role from much earlier in his career. "How often does an actor get a chance to revisit some character that he played three and a half decades ago?" he said in an interview with TV Line.
With the first season of the sitcom revival proving popular enough to warrant a "Night Court" Season 2, it seems there's still plenty of time for Boosler to come back for another go around in the Manhattan court system. However, only time will tell if Joy actually pops up in any future episodes of the show.