Harrison Ford Sometimes Tries To Change His Dialogue, But Not In 1923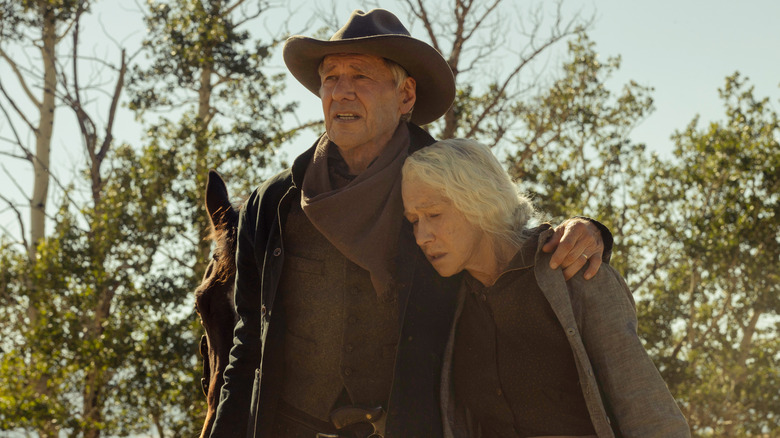 Emerson Miller/Paramount+
As "Yellowstone" continues to grow, so does Taylor Sheridan's power to bring Hollywood A-listers into the franchise. While he got started with an excellent hand, as Kevin Costner was ready for a big TV comeback, adding Helen Mirren and Harrison Ford to "1923" solidified his place as an industry-leading showrunner. While the casting was surprising, to say the least, it paid off tenfold as both actors gave masterful performances, elevating the spinoff to greater heights. Ford's even gone on record saying that his "1923" character is unlike any character he's played, showing love for Sheridan's ability to craft complex characters. 
Ford's high praise for the "Yellowstone" showrunner is the best-case scenario for Sheridan, who, although accustomed to dealing with star power, has never had someone of the actor's caliber on set. The "Star Wars" and "Indiana Jones" star, who brings a renowned grizzled exterior wherever he goes, has also built a reputation for taking matters into his own hands on set. Time and time again, Ford has diverted off-script while filming. One example is his iconic "I know" line, which gave audiences one of the best "Star Wars" scenes that were never supposed to happen. Another was when he brought sass to "Indiana Jones," ad-libbing, "It's not the years, honey. It's the mileage." However, Sheridan must hold a special place in Ford's heart, as he willingly put aside his usual script-altering behavior while filming "1923."
Ford had fun with Sheridan's writing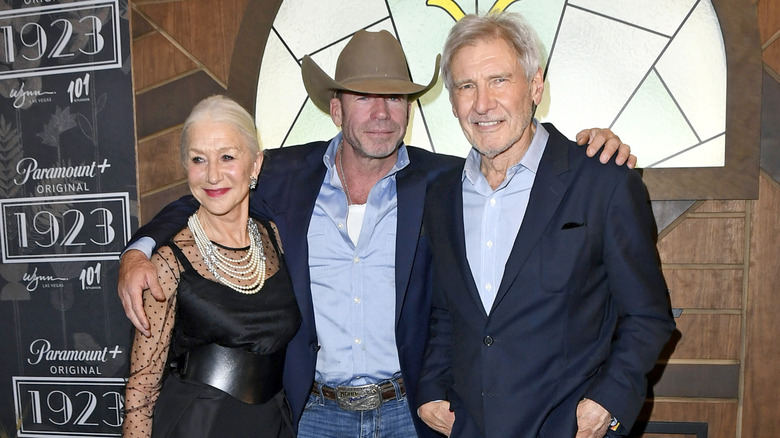 Mindy Small/Getty Images
In an interview with The Hollywood Reporter, Harrison Ford admitted that he's the kind of actor to request changes to the script if the dialogue he's filming doesn't fit with his image of the character. "I'm a guy who says, 'If the words don't fit my mouth, we've got to change the words,'" Ford told the outlet, which brought an interesting dynamic to the "1923" set, as showrunner Taylor Sheridan has his own reputation: no rewrites. "Once in a while, we'd have an issue with that," Ford reflected on his time filming the spinoff. "But life doesn't do rewrites. You get a shot at something, and that's what happened. I really committed to saying Taylor's words because it's fun for me to puzzle it out."
Part of the reason Ford decided to take a backseat to Sheridan's writing could come from the showrunner's unique writing style. During an interview with Deadline, Sheridan revealed his annoyance with chasing down actors that would be good fits in his shows just to find out that they are busy with other projects. Instead, he approaches them before starting the writing process, tailoring the character to the actor already committed to the show. Sheridan did just that with Ford, who flew down to the showrunner's Texas ranch and signed on for "1923" before ever reading a script.