Amy Carlson Experienced A Third Watch Reunion During Her Blue Bloods Exit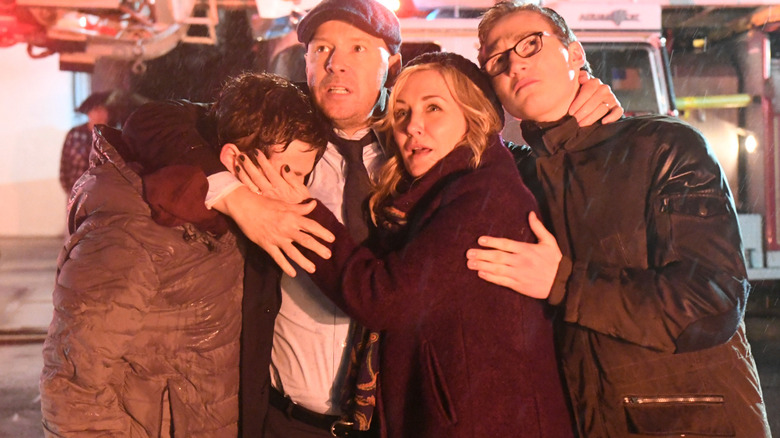 David M. Russell/CBS
From revealing secret family members to cases that have ended in gruesome justice, "Blue Bloods" has shared an abundance of shocking moments throughout its long TV run. However, the abrupt Season 8 death of Danny Reagan's (Donnie Wahlberg) wife, Linda Reagan (Amy Carlson), still sits at the top of the surprise mountain. Fans learned of Linda's tragic end in Season 8's premiere episode, as it explores the rest of the Reagan clan processing their grief over her death. Perhaps even more surprising than Linda's death is the way it occurred. We learn that Linda died offscreen in a helicopter accident.
Amy Carlson's sudden exit from the series gave one of her last scenes she appeared in more emotional weight. In the Season 7 finale, "The Thin Blue Line," Danny, Linda, and their children have to watch their house burn down thanks to a dangerous case involving a drug cartel. In retrospect, the family home going up in ashes is symbolic as it marks the end of a "Blue Bloods" era with Carlson. However, that particular scene also gave Carlson an unexpected reunion from another of her previous shows, "Third Watch."
Firefighters featured on Third Watch appeared for Carlson's last scene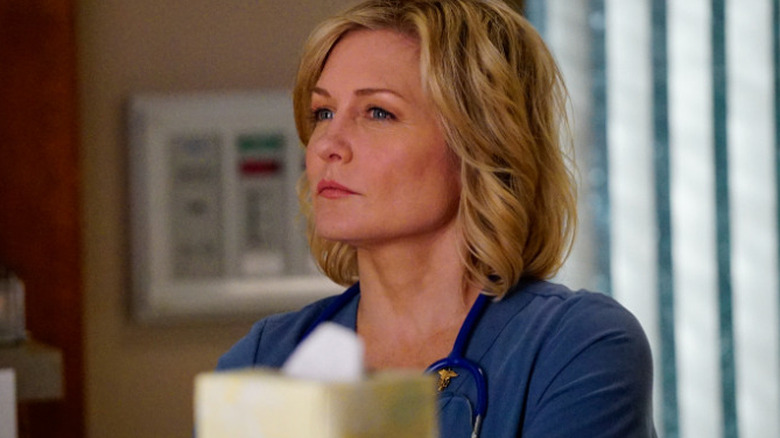 Heather Wines/CBS
Although "The Thin Blue Line" ends with a typical Reagan family dinner with everyone present, the episode's stand-out scene is easily Danny and Linda Reagan's home destroyed in a massive blaze. It's visually a dark scene only lit up by the raging fire and the lights and sirens of numerous first responders. The Reagans can only hopelessly watch as surrounding firefighters do their best to combat the blaze. As Amy Carlson once shared with Deadline, that scene was the last one she shot for "Blue Bloods" before leaving the series. In addition, Carlson also noted in the interview that the scene reunited her with real firefighters she worked with during her time on "Third Watch."
"So it was strange," Carlson told Deadline. "It was raining, and these firefighters were there, and a lot of the firefighters, strangely enough, were actual background actor firefighters, real firefighters whom I'd worked with on 'Third Watch,' so it was a bit of a reunion happening at the same time."
For those that may not remember, "Third Watch" was an NBC procedural drama focused on police officers, firefighters, and paramedics that premiered in 1999 and lasted until 2005. Think of it as like the "One Chicago Universe," except formatted in one show and set in New York instead of Chicago. Carlson portrayed firefighter and paramedic Alexandra "Alex" Taylor on "Third Watch," which help explains just how special that coincidental reunion must have been for her on "Blue Bloods."
Carlson's character on Third Watch was also killed off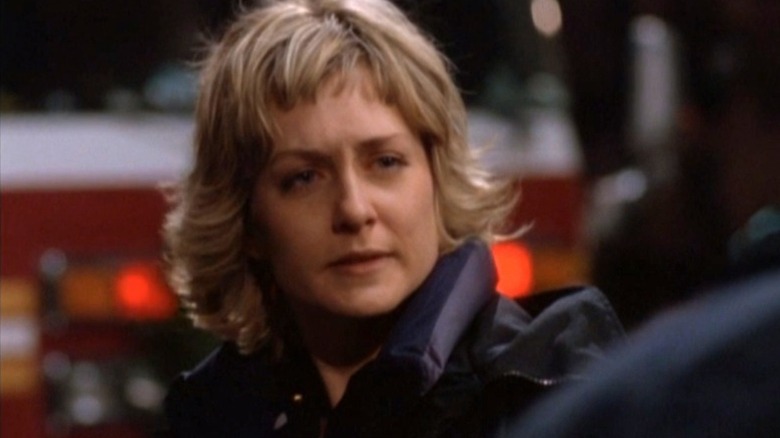 NBC
Amy Carlson appeared on "Third Watch" as Alex Taylor from Season 2 until Season 4. And much like her character in "Blue Bloods," Alex also encountered a shocking end. In her final appearance of the series, while working as a paramedic in the field, a car explosion splits her body in half, and she later dies. Alex's brutal death may have shaken fans at the time. But behind the scenes, the show decided to kill Alex off because Carlson was ready to leave.
In a 2003 interview with TV Guide, Carlson noted that a desire to try other projects, coupled with the series' shift to more cop-driven storylines, prompted her to go. "... I've been itching to do other stuff," Carlson said in the interview. "I've loved the stuff they did with the firefighters, but really, it's become a cop show. So, I wanted to do other things, explore other characters, and work more. It's a cop show now, and I was a firefighter." 
Carlson became involved in other notable projects shortly after "Third Watch," including "Law & Order: Trial By Jury." But "Blue Bloods" is arguably her most known role after "Third Watch." It also serves as the second time she's played a character in the medical field that suffers a bombshell death.