Ant-Man 3's Jonathan Majors Explains How He Switches Up His Kang Performances
While the Marvel Cinematic Universe is primarily known for its array of superheroes, those heroes would be nothing without their villainous counterparts. Though there is certainly no lack of them in the cycle of superhero films, it took a good decade for Thanos (Josh Brolin) to reveal his ultimate evil plan. And it was a good one — understandable, even. With overpopulation ruining the planet, there is a simplicity to the logic of destroying half of all life. But after his long-awaited demise, it is time for a new epic villain to take up the reins and traumatize our favorite characters.
Kang (Jonathan Majors) made his official debut on Disney+'s "Loki" as just one of many different variants. The version that Loki meets is conservative compared to his other selves. Interested in only maintaining The Sacred Timeline, his controversial choices are quaint at best. The same cannot be said for Kang the Conquerer, the ultimate bad variant who Scott Lang (Paul Rudd) is slated to face off against in "Ant-Man and the Wasp: Quantumania." It is time for a villain more complex than Thanos. But for Majors, these complexities meant doing a deep dive into MCU characters, intent on making focused character choices for the different variants. 
Jonathan Majors believes every good villain should study their heroes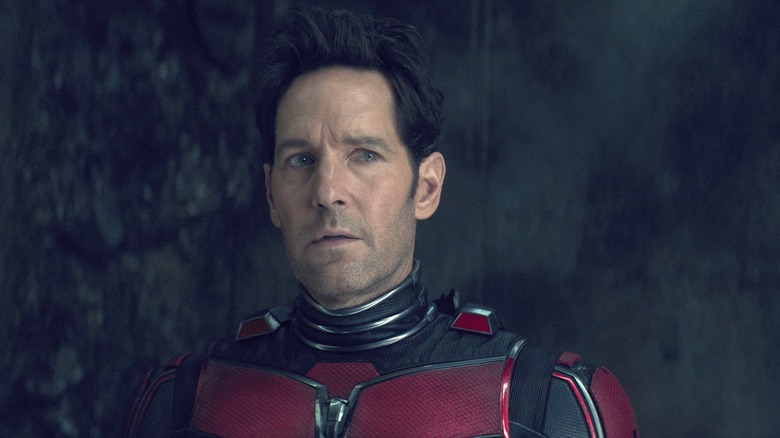 Disney/Marvel Studios
Jonathan Majors' portrayal of Kang the Conqueror promises to be much different than we last saw him. In his brief appearance on "Loki," he didn't play a mighty villain looking for domination. In "Ant-Man and the Wasp: Quantimania," Majors will play a vastly more devastating character.
"Kang is an infinite number of different personas," Kevin Feige explained in a "Quantumania" featurette. To bring this new character to life, Majors focused on character motivation and who he was playing opposite. In a recent press junket attended by Looper, the actor addressed exactly how he prepped for the role.
"As an antagonist, we're following our heroes," Majors noted. It was important that as the villain, he looked to Scott and Hope (Evangeline Lilly) for inspiration. Majors went on to explain: "You can't antagonize somebody if you don't know who they are. If you don't know what's the opposite of them. If you don't know what their hopes and dreams are. My objective is to do that." According to Majors, he did this prep for "Loki," studying series lead Tom Hiddleston so he could hone in on what made him tick. This way he could come up with a persona that would sing, and it sounds like he is repeating the process for "Quantimania."
"I studied Tom Hiddleston for hours a day," Majors said. "And when that was done, I went 'okay, Paul Rudd, you're up!'"