Kevin Feige Plays Coy At The Mention Of A Jimmy Woo Spin-Off After Ant-Man 3
Disney+/Marvel Studios
With less than two weeks left until its release, the hype for "Ant-Man and the Wasp: Quantumania" is reaching truly multiversal proportions. While early reactions praise the "Star Wars"-energy and Jonathan Majors' performance as Kang the Conquerer, some fans are already looking ahead to the future of one of its supporting players: Randall Park's James "Jimmy" Woo.
After being mentioned in a few episodes of the possibly non-canon Marvel Cinematic Universe series "Agents of SHIELD," Woo made his debut in the 2018 sequel "Ant-Man and the Wasp," before popping up again in the 2021 Disney+ series "WandaVision." Played by Park — a comedically gifted actor best known for films like "Always Be My Maybe" and for leading Netflix's ironically ill-fated sitcom "Blockbuster" — the MCU version of Woo is a more hapless, humorous take on the character compared to the James Bond-esque hero of the comics.
At the D23 Expo, Park was confirmed to appear as Woo in "Quantumania," though it was recently noted during a press junket attended by Looper that he does so only briefly. Still, his role in the story was enough to make one interviewer question if Woo would ever get to lead his own MCU project, to which Marvel Studios boss Kevin Feige gave a surprisingly cagey answer.
The future of Jimmy Woo in the MCU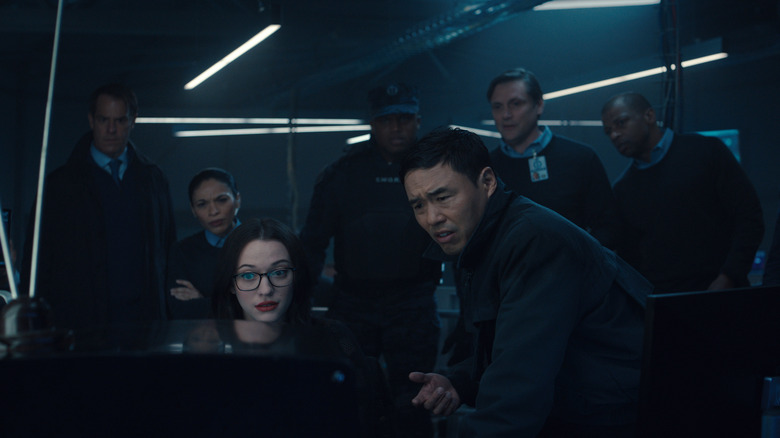 Disney+/Marvel Studios
During a press junket attended by Looper on February 7, Randall Park and Kevin Feige refused to confirm or dismiss the idea of a Jimmy Woo spin-off project in the aftermath of "Ant-Man and the Wasp: Quantumania." While their phrasing and tones of voice don't necessarily indicate that there is one such project secretly in the works, it is interesting that both Park and Feige immediately answered: "You never know." Perhaps the idea has been broached by one or both men in the past and is currently floating in the aether of concepts for future Marvel stories.
In the comics, Woo is actually a pretty prominent character with plenty of material to mine content from. A tactician and team-manager cut from the same cloth as Nick Fury, Woo has led multiple superhero teams including the Protectors and the Agents of Atlas, the latter of which was comprised entirely of Asian and Pacific Islander superheroes. It isn't hard to imagine Woo leading a similar team of heroes in the future of the Marvel Cinematic Universe.
Whether or not Woo gets his own Disney+ series or a $200 million blockbuster, he is at the very least confirmed to be one of the central figures of the upcoming animated series "Marvel Zombies" (via Discussing Film). Woo (voiced by Park) will be one of the human survivors in the show, alongside Kate Bishop, Shang-Chi, and Yelena Belova.