The Big Bang Theory Writers Claim Sheldon Would Have Thrived During The COVID-19 Pandemic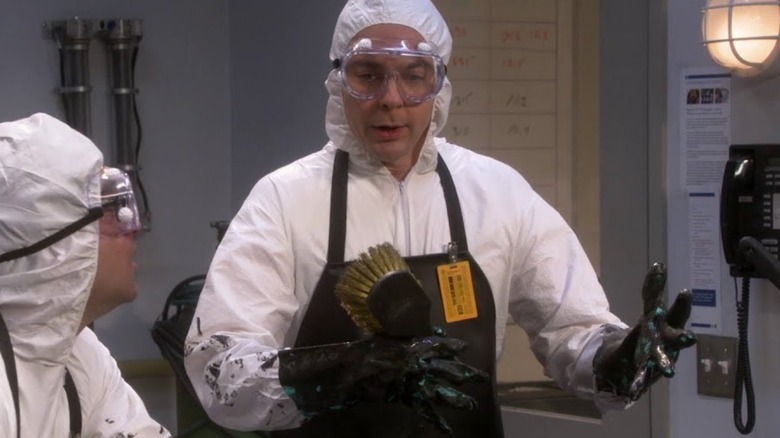 CBS
Chuck Lorre and Bill Prady's "The Big Bang Theory" started out as a humble little sitcom about young adults navigating the world while wearing their nerdiness on their sleeves. However, in next to no time at all, it became an award-winning, merchandise-moving, pop culture-dominating viewer favorite. Much of this success can be attributed to the entire cast, the writing team, and the celebrity cameos, but let's not kid ourselves here — it's no secret that one of the biggest draws, if not the absolute biggest, for audiences was the one and only Sheldon Cooper (played by Jim Parsons, who believes "The Big Bang Theory" was so successful due to its episodic nature).
Though he could be abrasive, blunt, and more than a little condescending, Sheldon became the face of "The Big Bang Theory" in short order. Fans grew to love him for his deep — often buried — appreciation for his friends as well as his now-iconic catchphrase, "Bazinga!" Still, if Sheldon were a real person, one has to imagine that he wouldn't be up for fan meet and greets. Time and time again on the show, he makes it abundantly clear that he doesn't much care for people, specifically those he doesn't know, and he likes to avoid germs as much as possible. Bearing this in mind, the writers of "The Big Bang Theory" have come to the conclusion that Sheldon would've thrived during the COVID-19 pandemic.
Sheldon would've loved the isolation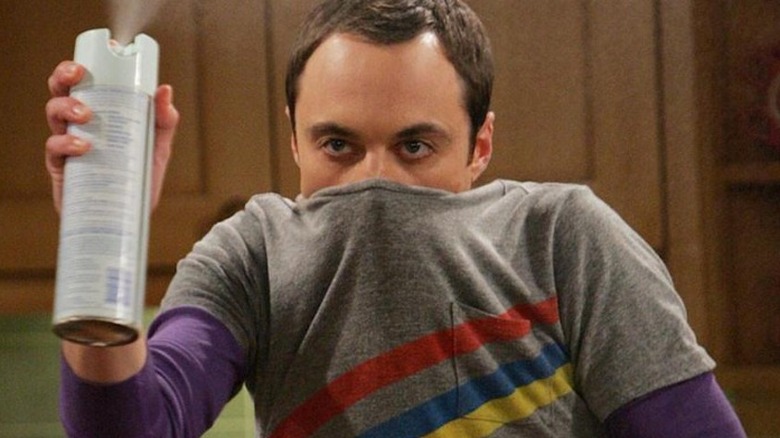 CBS
In early 2020, it didn't take long for the world's optimism about the new decade to quickly dissipate. The COVID-19 pandemic became the top news story of the year, with the illness causing global school and workplace shutdowns, quarantines, and plenty of panic. According to "Big Bang Theory" co-creator Chuck Lorre, however, Sheldon would've done just fine. "Being able to stay at home and not deal with the world? He would have thought it was perfect," he claimed in an interview with Entertainment Weekly, with collaborator Bill Prady adding that getting to share his knowledge of germs would've made it a blast. Both joke that he could've walked around in a hazmat suit for two full seasons had the series covered the pandemic.
Don't just take Lorre and Prady's word for it, though. The man behind Sheldon himself, Jim Parsons, agreed that his on-screen alter ego would've done just fine during the early days of the COVID outbreak. "He was built for this. I mean, this is the moment he was waiting for," Parsons said during a September 2020 appearance on "The Tonight Show Starring Jimmy Fallon." He called back to Sheldon's use of a "mobile virtual presence device" in Season 4's "The Cruciferous Vegetable Amplification," which allowed him to communicate with the outside world and get a variety of tasks done from his own bedroom.
Even though Sheldon is a massive germaphobe, Lorre, Prady, and Parsons do bring up good points. Between the isolation and the chance to share his scientific knowledge, Sheldon would've had a pretty good time during the COVID-19 pandemic.