The Walking Dead's Cooper Andrews Once Suffered An Injury After Taking Five Steps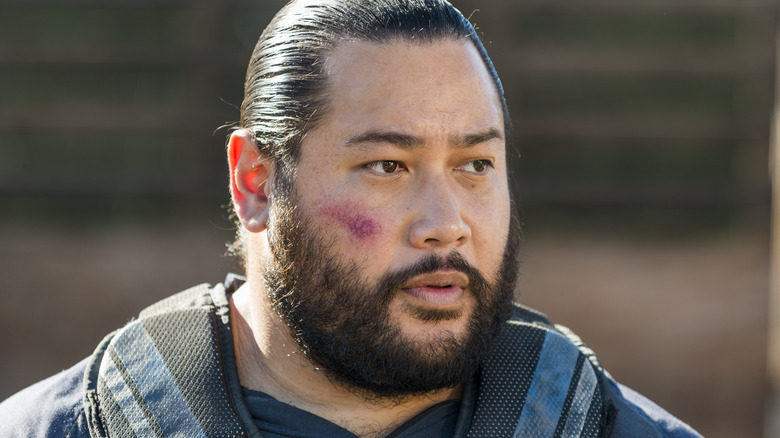 Gene Page/AMC
In the world of "The Walking Dead," danger lurks around every corner. The undead roam the Earth, waiting to turn the next unsuspecting human they come across into a meal. Then, to make the situation even scarier, a good portion of what's left of humanity isn't too friendly either. Names like the Governor (David Morrissey) and Negan Smith (Jeffrey Dean Morgan) have proven more than capable of disposing of their fellow humans to get ahead. Suffice it to say, it's a highly unsafe world, but thankfully, it's a purely fictitious one as well.
"The Walking Dead" may seem frightening on TV, but behind the scenes, most would agree that it was a treat to be a part of. Many of the show's actors came together to form something of a family throughout their days battling hordes of zombies, so once their tenures came to a close, they had a host of fond memories to look back on. At the same time, that camaraderie couldn't protect some unfortunate folks from scary on-set moments.
Just ask Cooper Andrews, who portrayed Jerry on the longtime AMC staple from Season 7 to Season 11 and has quite a surprising story to tell. Having only taken a mere five steps, Andrews unexpectedly endured an injury on the set of "The Walking Dead."
Andrews pulled his hamstring out of the blue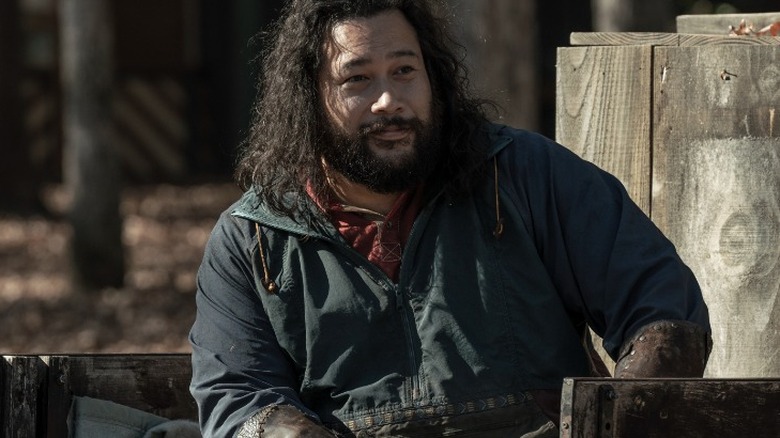 Jace Downs/AMC
As recalled by the actor himself, Cooper Andrews' odd "Walking Dead" injury came during a scene involving himself and Khary Payton — the man behind King Ezekiel who would've definitely cast Sir Patrick Stewart on "The Walking Dead" — as they chased after Negan's truck on foot. "I was like, let's go! ACTION – five steps in, I pull my hamstring... Since then [executive producer] Greg [Nicotero] has made every scene revolve around me so that I don't have to move," Andrews explained during a 2020 Reddit Ask Me Anything session, where he was asked if he was ever injured on the "Walking Dead" set. It's far from the most exciting story, but at least it answers the question.
Thankfully, this injury did little to derail Andrews' tenure as Jerry. He healed up in due time and went on to appear in an impressive 76 "Walking Dead" episodes, with Jerry even avoiding death through the end of the series. That's a pretty astounding run to have on one of the biggest TV dramas of all time, especially for someone who wasn't initially brought onto the team as an actor. As host Chris Hardwick revealed on an episode of "Talking Dead," Andrews actually started out on the "Walking Dead" set as a boom operator before getting the chance to bring Jerry to life (via telisa08 on TikTok).
Cooper Andrews enjoyed a great run on "The Walking Dead," moving from a boom operator to a fan-favorite character. Surely he'd agree that it's good he didn't allow that suddenly pulled hamstring to keep him down for the count.