Breaking Bad's Jesse Plemons Wasn't Necessarily Seeking Out A Villainous Character Like Todd Alquist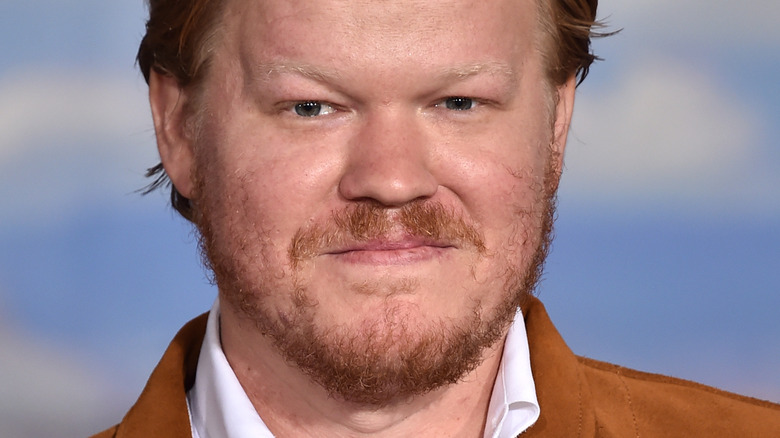 DFree/Shutterstock
Vince Gilligan's "Breaking Bad" universe has introduced us to myriad morally questionable anti-heroes. Of course, chief among them is Albuquerque's meth king, Walter White (Bryan Cranston), but Gilligan also expanded the world of "Breaking Bad" with a prequel in "Better Call Saul" (co-created with Peter Gould), which follows Jimmy McGill (Bob Odenkirk) -– a protagonist with some slippery morals of his own. There's also "El Camino," a "Breaking Bad" spin-off film following Walt's accomplice, Jesse Pinkman (Aaron Paul). Gilligan's mastery of depicting complex characters has attracted both audience and critical acclaim, with "Breaking Bad" winning 16 Primetime Emmys (via IMDb).
In the years since "Breaking Bad" ended, several of its actors have gone on to big careers in TV and film. But perhaps no one has seen a bigger leap than Jesse Plemons, who played Todd Alquist, a fellow meth cooker who worked with Walt, Jesse, and Mike Ehrmantraut (Jonathan Banks). Since his time on "Breaking Bad," Plemons has become an Oscar nominee and worked with esteemed directors such as Paul Thomas Anderson, Charlie Kaufman, Martin Scorsese, and Jane Campion. And yet, because of the villainy of the character, and "Breaking Bad's" significant place in pop culture, Todd is still one of his most memorable parts.
However, given the complexity of the roles Plemons chooses, it might surprise some to learn that he wasn't necessarily looking to play a bad guy when he signed on to "Breaking Bad."
Jesse Plemons wasn't looking for a villainous role like Todd Alquist, but they are the types of parts he was offered
In a wide-ranging interview with The Playlist, Jesse Plemons talked about his time on "Breaking Bad," "El Camino," and other films and TV programs he has starred in. When asked why he often plays characters similar to Todd, he responded, "With Todd, I got the part, and so I played it. It wasn't something I was actively seeking out."
As it turns out though, Plemons relishes playing morally complex characters who are hard to pin down. "In general, I think they're just more fun and interesting ... I like not being able to size a character up immediately. Because I just don't think you can really size anyone up too quickly! I guess that's why I'm drawn to those characters, but I don't know, it just so happens that those are the parts that I'm being offered," he revealed.
Plemons also discussed his approach to playing villainous characters, and the need for him as an actor to see the humanity in them. "It's only happened to me once where, halfway through production, I realized I don't like this guy. And that's not a good thing," he said, clarifying that he was not referring to his role as Todd Alquist. He stressed that since it's easy to figure out the motives of a murderous individual like Todd, it's rare for him to have a hard time understanding why a villain does the things they do.