Amy Sherman-Palladino Paid $20K To Use John Lennon's 'Oh My Love' In Gilmore Girls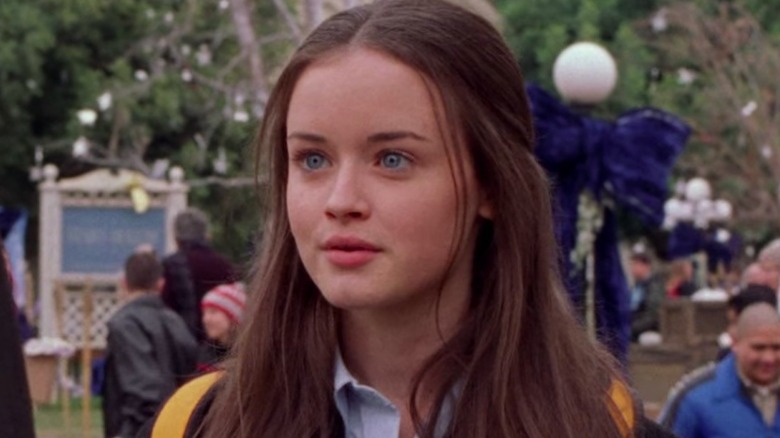 The WB/Netflix
"Gilmore Girls," which was created by Amy Sherman-Palladino, ran on the WB and the CW for seven years between 2000 and 2007. The beloved series focuses on the mother-daughter relationship between Lorelai (Lauren Graham) and Rory Gilmore (Alexis Bledel), who are just 16 years apart in age. The show follows the pair as they navigate their lives in the small town of Stars Hollow, Connecticut. Within their lives, their relationships with the various Gilmore girls boyfriends are often at the center of the narrative, such as Lorelai's long-awaited relationship with local diner owner Luke Danes (Scott Patterson). Meanwhile, Rory has three major love interests: Dean Forester (Jared Padalecki), Jess Mariano (Milo Ventimiglia), and Logan Huntzberger (Matt Czuchry).
The two women represent two very different eras of one's love life: while Lorelai is dealing with dating as a young single mother, Rory is coming of age and navigating her first relationships. As fans very well know, her first boyfriend, Dean, hasn't exactly aged well as a character, but regardless of your feelings about him, it's undeniable that he is essential to Rory's growth.
Fans can't help but root for Rory and Dean, at least at first, in the name of young love — which is why it's so heartbreaking when Dean breaks up with Rory after she isn't ready to say "I love you" back. Adding to the emotion of the moment is the music choice: John Lennon's "Oh My Love." And, as it turns out, Sherman-Palladino paid a hefty price to use that song in the pivotal moment.
Sherman-Palladino paid $20K for the Lennon song after insisting the choice was interchangeable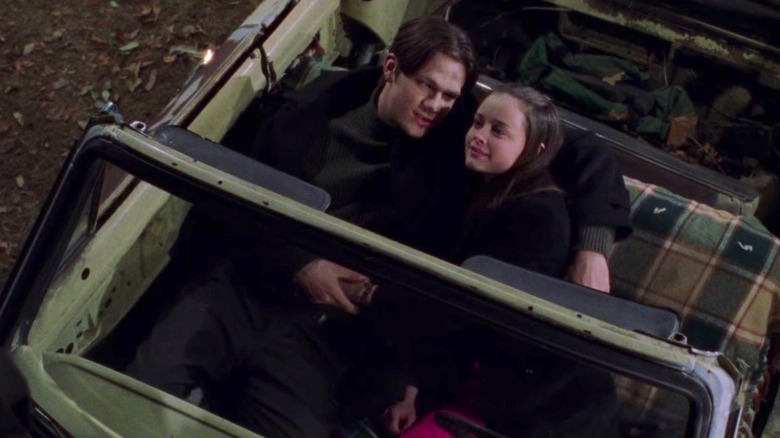 The WB/Netflix
In 2002, "Gilmore Girls" creator Amy Sherman-Palladino spoke with the New York Daily News about the process of picking a song for the moment in which Dean tells Rory that he loves her — then breaks up with her when she doesn't say it back.
Sherman-Palladino said, "People say 'no' to us all the time when we ask to use a song. It took the studio people a couple of years to understand us. They would come back to me with 'no,' and I'd be, 'Well, I don't accept that. Go back.'" However, she often stuck to her guns, insisting on getting the song choice she wanted — and has a good reason for it. The showrunner continued, "They would ask, 'Why go through all this trouble? Go to somebody else ... [I'd say] 'Well, every song is not interchangeable. There is a reason I want a piece of music for this moment.'"
One of those pieces of music is John Lennon's "Oh My Love," which he co-wrote with his wife, Yoko Ono, for his 1971 album "Imagine." For "Oh My Love," Sherman-Palladino was willing to spend $20,000, even if it meant spending less on the set design. For her, the emotion means more than where the characters are standing. She explained, "I'd rather spend $20,000 on a John Lennon song and give up a set. The song says something emotional, and I can always just stick them [Rory and Dean] on a bench if I need to."
Sherman-Palladino says Rory's love life is just one part of who she is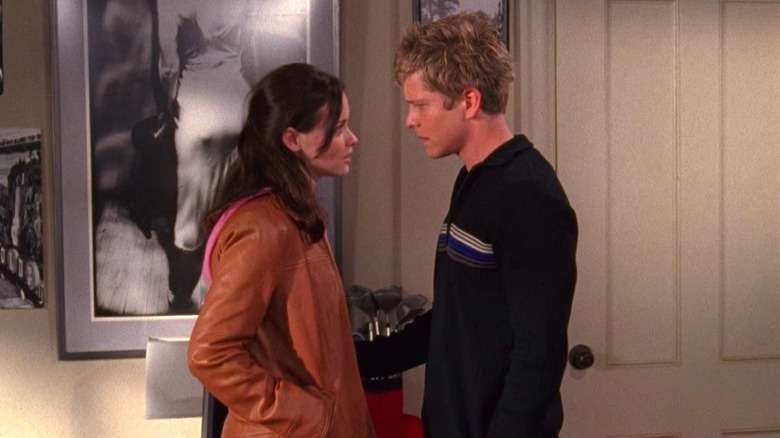 The WB/Netflix
Despite being willing to spend so much to supplement the critical moments between Rory and a love interest, Amy Sherman-Palladino has been open about insisting that Rory is much more than her love life. During a 2016 interview with Time, ahead of the Netflix revival "Gilmore Girls: A Year in the Life," Sherman-Palladino discussed the fans' fixation on Rory's boyfriends, such as debating who is the best or expressing who they think she should end up with.
Sherman-Palladino said, "It's a small part of who Rory is. Rory didn't spend her days thinking, 'Who am I going to end up with?' Rory was much more concerned about 'How do I get that interview at the New York Times?' It's a natural thing: People love romance." She does admit that Rory's romances had a significant impact on her life but emphasized that the boys were only there to show Rory's growth rather than to be a focal point. She explained, "It was part of her development that Dean was her first boyfriend, that Jess was the boy that diverted her attention. Then she wound up with Logan, and God knows where she's been since then."
The creator then brought up Lorelai, making the same argument for the elder Gilmore character, expressing that the only relationship that was meant to be at the center was the one between Rory and Lorelai. Sherman-Palladino said, "They were always there to feed stories about Lorelai and Rory. That was the core of everything. Lorelai's relationships and Rory's relationships were a way for us to explore the mother-daughter relationship."