1923 Fans Are Reeling Over Episode 5's Intense Cliffhanger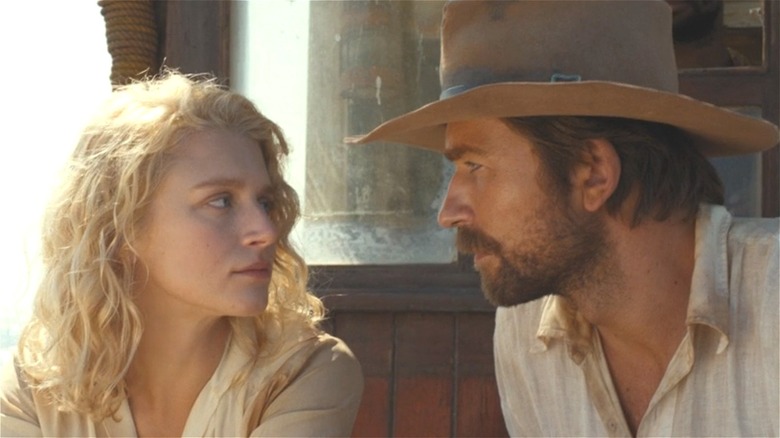 Paramount Network
The individuals, families, and relationships featured throughout the "Yellowstone" franchise often face incredible dangers and difficult decisions. Audience members have long seen the Dutton family deal with many issues involving land rights, interpersonal drama, and government agencies. Likewise, the first spinoff of "Yellowstone," called "1883," shows how the Duttons came to own their precious track of land in Montana and the incredible lengths they had to go through to obtain it.
The most recent spinoff, called "1923," acts as a bridge between "Yellowstone" and "1883," and it highlights how the Wild West became slowly subsumed by technological progress. Having just released Episode 5, titled "Ghost of Zebrina," viewers are treated to several high-stakes moments. This episode begins with Teonna (Aminah Nieves) escaping the Native American boarding school, but not before she slays two nuns who tormented and abused her. This leads to a frantic pursuit of Teonna, and she is forced to brave the wilds to evade capture. "1923" also features fan favorite Jacob Dutton (Harrison Ford) slowly coalescing from his wounds, Donald Whitfield (Timothy Dalton) showing off technological advancements to Banner (Jerome Flynn) to tempt him to his side, and Spencer (Brandon Sklenar) and Alex (Julia Schlaepfer) attempting to book passage back to the United States. However, the episode ends with several unresolved plot issues and events about which fans are definitely concerned.
Episode 5 ends with several unresolved plots and cliffhangers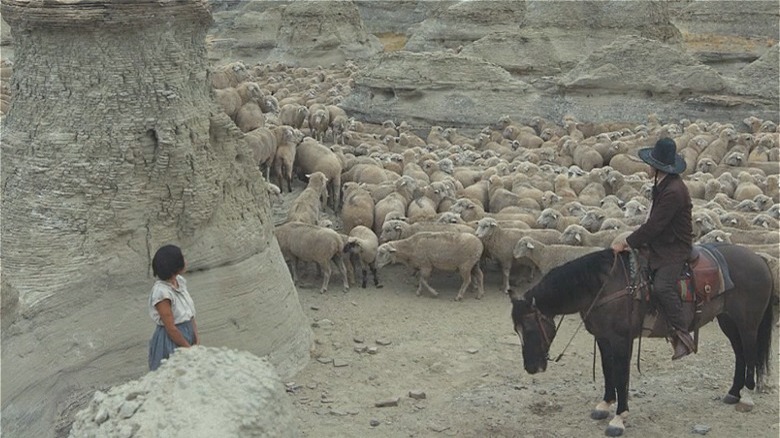 Paramount Network
As mentioned earlier, Episode 5 begins with Teonna escaping the brutal boarding school, and while she is attempting to flee from her pursuers, she spends the night out in the wilderness. This leads to an attack by a lone wolf when Teonna tries to find a reprieve and rest for the night, and she is forced to climb to the top of a steep rock to keep the wolf at bay. When daylight finally wakes her, Teonna is greeted by Hank (Michael Greyeyes), a Native American sheepherder who offers her solace and words of advice. Hank also implies that he is familiar with the practices of the boarding schools that Teonna escaped from and tells her that she can stay with him and he will contact her family.
This was just one aspect of Episode 5 that had some fans worried, like one user over on Reddit that wrote, "I'm guessing Teonnas cousin died? I wanted a happy ending for her as well so bad. Wish she would've left with her. Also glad Teonna was found by Hank (he was lowkey giving me Mo vibes, foreshadowing???) Great episode; cliffhanger has me in a chokehold." This statement caused u/BrodysBootlegs to point out that Hank looks a lot like Mo (Mo Brings Plenty) from "Yellowstone," while also wondering if Hank's sheep were the same ones the Duttons had donated in an earlier episode. Besides wondering what may happen with Teonna, the first quote here highlights the major cliffhanger of the episode and one that almost overshadows the rest of the events.
Fans are worried about Alex and Spencer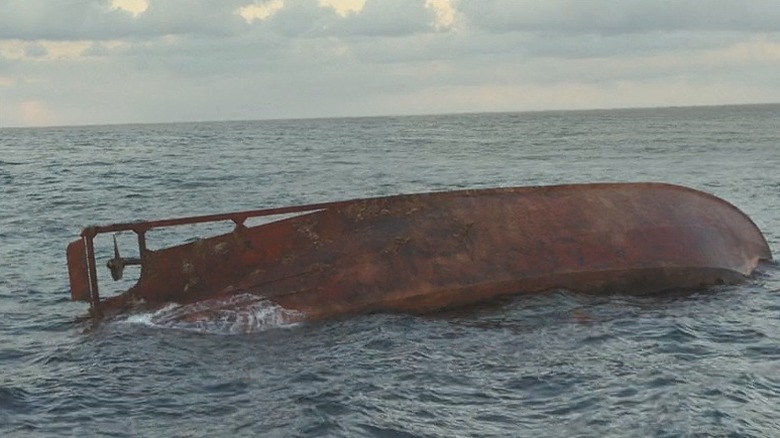 Paramount Network
Though Episode 5 starts with Teonna's desperate sojourn, it ends with Alex and Spencer on a dilapidated tugboat. Spencer desperately tries to return to the Dutton ranch after receiving a request from Cara Dutton (Helen Mirren). Since he and Alex are in Africa, they face several obstacles. Luckily, Spencer can convince Captain Lucca (Peter Stormare) to allow him and Alex to act as deckhands on his ship. Unfortunately, Captain Lucca dies while he is on watch, and the boat they are on is capsized by a ghost ship. The episode ends with the boat overturned, and there are no signs of Alex and Spencer. This moment genuinely shocked fans even more so than the issues surrounding Teonna.
Posting on Reddit, u/32mafiaman expressed shock and concern at Episode 5's ending, rhetorically asking how Spencer and Alex would survive with their ship capsized. Those on Twitter were also of the same mind, with @StacyDmomof5 saying, "Are you freaking kidding me?!!! That's how Episode 5 is gonna end?!!! Geesh! Talk about a cliffhanger!" Others also felt that way, with @tamilu40 and @JennylovesJenny jokingly asking why the show had to leave them like that and @hbmanu07 and @MsChanandlrBng_ both being amazed at the quality of the episode and the cliffhanger itself. For fans of "1923," this week will be a torturous slog as they anxiously wait to see what happens to Teonna, Spencer, and Alex.