Amy Poehler Thought Her Mouth Was Going To Break From Playing Parks And Recreation's Chatty Leslie Knope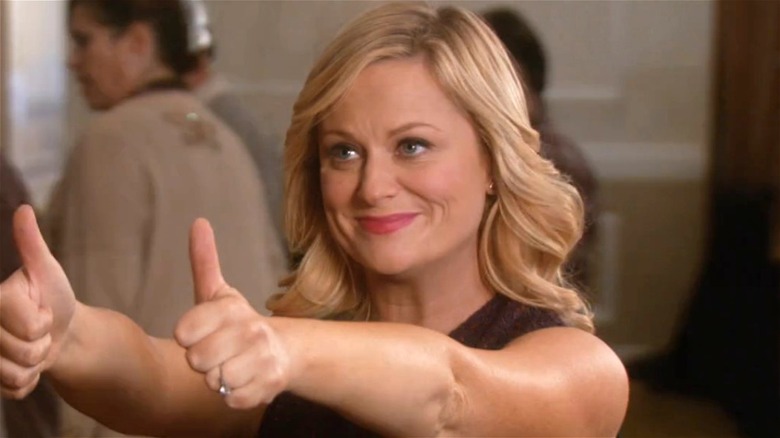 NBC
Long before Amy Poehler joined the sitcom she's now most associated with, she was widely considered a comedy icon by those in the know. She began as a founder of the now-legendary Upright Citizens Brigade improv troupe in Chicago, which went on to spawn a theater of the same name in New York City. Fellow UCB member Tina Fey soon recruited her to "Saturday Night Live," where Poehler impersonated figures such as Hillary Clinton on the late-night variety show. 
Today, of course, Poehler's most beloved character is arguably Leslie Knope, the well-meaning, binder-filling local politician she played on the sitcom "Parks and Recreation." Knope is not explicitly based on Hillary Clinton, despite Poehler's "SNL" caricature, but both are civically engaged women with binders full of plans (the former Secretary of State even has a MasterClass that includes a segment on using binders to organize a busy schedule), and Poehler's character decorates her office in the fictional Pawnee, Indiana with a picture of the former presidential hopeful.
One aspect in which they differ, though, is in their respective manners of speech. While Clinton is prone to a Knope-ism or two, her public speech is generally measured. By contrast, Leslie Knope's defining characteristic is her unceasingly busy mind, the contents of which she constantly speaks aloud. And, as it turns out, that nonstop dialogue wasn't easy for Poehler.
One fan kind of did the math on Knope's motormouth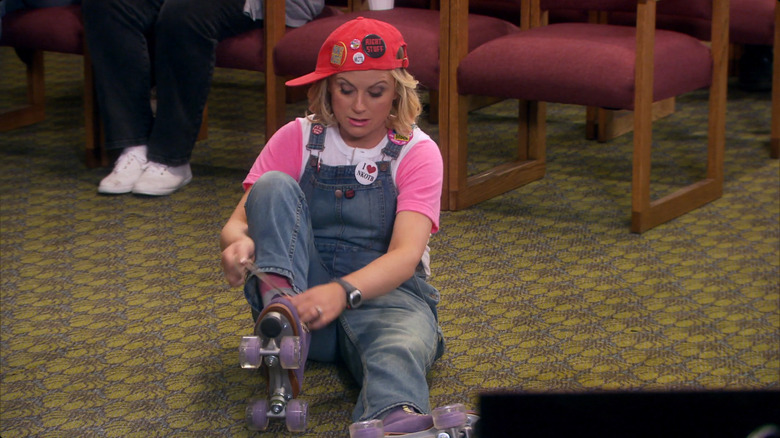 NBC
Leslie Knope's incessant verbal exposition seems effortless and natural coming from Amy Poehler, but internally, it could be quite wearying for the actor. In an "Ask Me Anything" post on Reddit from 2014, Poehler revealed that Leslie's anxious personality, underscored by her constant babbling, took quite a toll on her. Asked by a fan whether playing such a high-strung character wears her out, Poehler replied, "I love playing Leslie Knope, but she says SO many words, and she does talk so much, that sometimes I think my mouth is gonna break."
Poehler continued by asking whether anyone on the Internet was able to tell her how many words Knope actually said during the course of "Parks and Recreation." No one gave a precise answer, but one fan did some guesstimating based on three available episode scripts, finding that, if those were representative of the show as a whole, Knope had uttered about 112,000 words from Seasons 1 through 6.
Poehler has turned to passion projects the years since "Parks and Recreation" came to an end, hosting the crafting competition show "Making It" alongside Nick Offerman, and later its spin-off baking show "Baking It." No doubt her oratory experience on "Parks and Recreation" has come in handy when giving off-the-cuff pep talks to contestants.