Secret Invasion's Second Trailer Suggests It's The Best Disney+ MCU Show Yet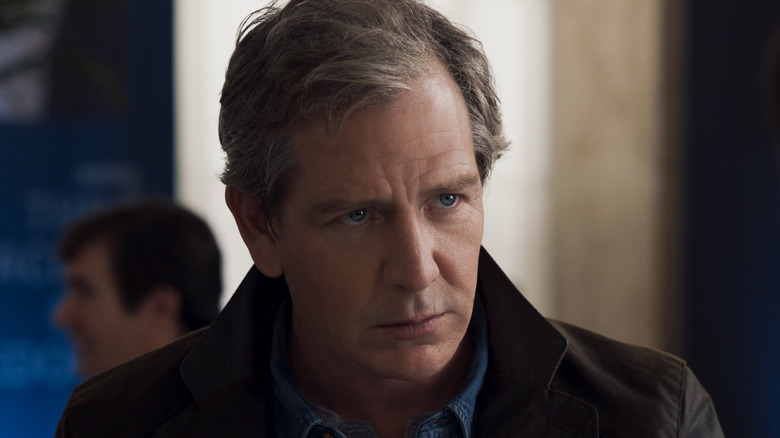 Marvel Studios/Disney+
It's not always hard to figure out the core premise of any given Marvel Cinematic Universe project, if only because Marvel Studios doesn't usually exactly try to hide it. Sure, there are often carefully-protected plot twists, secret characters, and — of course — shocking mid-credits stingers to look out for, but since most of the major characters have a robust Marvel Comics history, fans tend to have a rough idea of what their powers are, and how they'll likely behave. 
"Secret Invasion," on the other hand, is mysterious by its very nature. Not only does it focus on the eternally enigmatic Nick Fury (Samuel L. Jackson) and the shape-shifting Skrull faction leader Talos (Ben Mendelsohn), but the upcoming Disney+ series is named after a legitimately brain-bending comic book storyline of the same name. If the comics version is any indication, you can expect just about anyone to be a hostile Skrull in disguise. The series seems determined to milk this delicious premise for all it's worth, too, as it sets up multiple massive potential twists with numerous returning MCU favorites — as well as huge names like Olivia Colman, Emilia Clarke, and Kingsley Ben-Adir making their MCU debuts.
The first "Secret Invasion" trailer offered a taste of things to come and confirmed that Ben-Adir's character, at the very least, will be a Skrull. Now, a second trailer for the series has arrived, adding yet another layer of excitement and mystery to the mix. 
Secret Invasion is a MCU mystery show for the ages
The many mysteries surrounding "Secret Invasion" started to slowly unfold with the first trailer, which teased that the show's general atmosphere will be a mixture of "The X-Files"-style vibe and classic spy thriller, combined with a liberal dash of Samuel L. Jackson in full "grizzled veteran fighting against insurmountable odds" mode. All of this screams a pretty great time, but as the second trailer for "Secret Invasion" confirms, there's every chance that the viewers will enjoy it on the edge of their seats. 
If the possibility of some of our old MCU favorites turning out to be villainous Skrulls isn't exciting and terrifying enough, the new trailer continues on the path of its predecessor, confirming that suspense is very much the name of the game here. The spy antics and the basic premise of a hostile, infiltrating faction almost make "Secret Invasion" seem like a spiritual successor to "Captain America: The Winter Soldier." Though this new trailer makes it clear that "Secret Invasion" is still going to be very much its own thing, the fact that its atmosphere shares similarities to one of the better MCU movies out there is more than enough to get us excited. 
"Secret Invasion" debuts on Disney + on June 21.