Emma D'Arcy's Favorite Olivia Cooke Scene From House Of The Dragon Season 1 Is All About The Eyes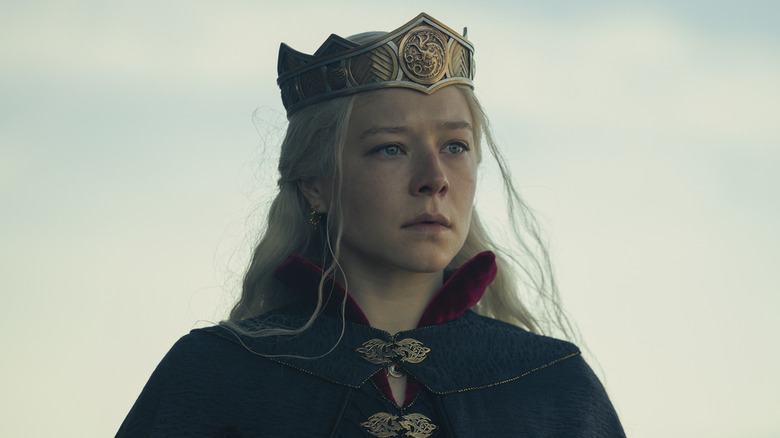 Ollie Upton/HBO
The success of "House of the Dragon" clearly shows that there's plenty of gas left in the tank for HBO's adaptations and collaborations with author George R.R. Martin's many dark fantasy works. Despite the hair-splittingly divisive reaction to the final two truncated seasons of "Game of Thrones," it seems that the franchise hasn't quite lost the goodwill of fans yet as the new series has garnered HBO its biggest premiere ever (via Warner Media).
Part of this success is probably due to the fact that fans had a couple of years between the end of "Game of Thrones" and the beginning of "House of the Dragon." Furthermore, the new series manages to have enough of the infighting and political intrigue from its parent show to give fans waves of nostalgia while still being different enough in its own storytelling approach to justify its existence.
Of course, at the heart of Season 1 of "House of the Dragon" is the slow dissolution of Rhaenyra Targaryen's (Emma D'Arcy) and Alicent Hightower's (Olivia Cooke) friendship, as the two former allies become bitter adversaries in the opening moments of the Targaryen civil war.
D'Arcy admires Cooke's acting in her unhinged revenge scene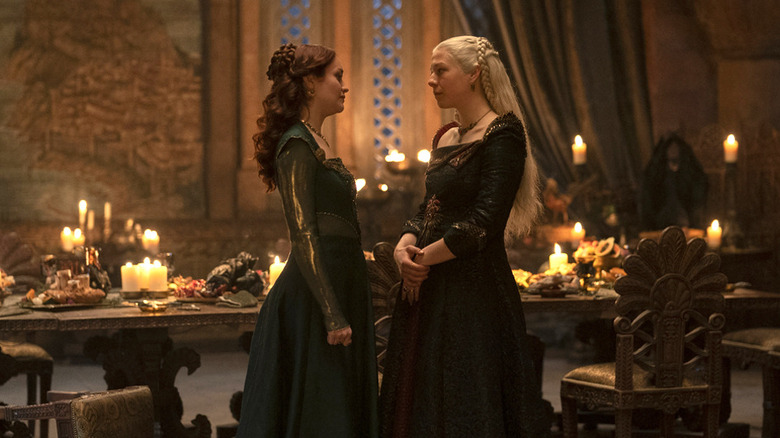 Ollie Upton/HBO
Still, despite the animosity that has grown between their on-screen counterparts, there is no ill will between Emma D'Arcy and Olivia Cooke. The two have been quite cordial and complimentary of one another, and they even expressed that the ideal scenario would see their two characters working together when speaking with Vulture.
While it's unlikely we'll see the two characters come to terms with one another now that blood has been shed on both sides, D'Arcy remains adamant in their admiration for Cooke. D'arcy said as much when they described a scene with Cooke that they really loved. "Watching you speak to Paddy [Considine] in the 'eye for an eye' scene, I've watched it actually quite a lot of times, just getting some tips –" D'Arcy explained.
This caused Cooke to burst in jokingly, "Shut up." Nonetheless, D'Arcy continued to offer praise for Cooke in the scene after her character's child is horribly maimed and she demands justice. "Your eyes speak in full sentences. Living, not showing. There are not that many people who can actually do that," D'Arcy went on.
"I'm amazed at the rigor with which your whole body lives that painful, undermining relationship. I'm really moved by characters who are so cornered," they concluded. Now that the two are on opposite sides of a war, it's unlikely that Rhaenyra and Alicent will have many more scenes together. Still, it's nice to know that the duo remains so friendly off-screen.