American Pickers' Mike Wolfe Was 'Skeptical' When He First Heard About The Aerosmith Tour Van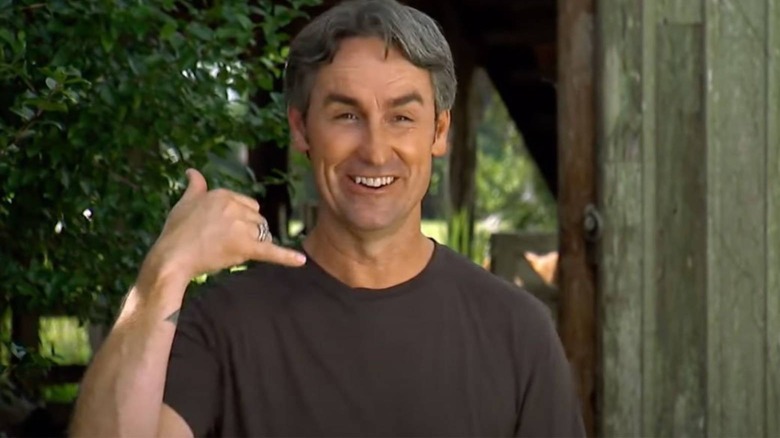 History
Mike Wolfe has found a ton of interesting artifacts throughout his time on "American Pickers." Many of the items have pretty straightforward backstories. The owner either bought it a long time ago or inherited it from a friend or family member. A lot of the time, Wolfe knows precisely what he's looking at, and if he thinks he can make a buck off of it, he's more than happy to make an offer. 
But every so often, an item comes along where part of the resale value is the story behind it. That was precisely the case with the infamous Aerosmith van episode. Mike Wolfe and Frank Fritz stumbled upon the vehicle in Massachusetts and confirmed its authenticity via original member Ray Tabano. Once the story was legit, Wolfe bought the van and restored it to its former glory. In a later episode, Aerosmith came on and actually purchased the van back from the "American Pickers" crew. Everything worked out in the end, but Wolfe naturally had some reservations upon first hearing the van supposedly belonged to an iconic American rock band.
Mike Wolfe had some questions upon first seeing the Aerosmith van
History
Proving the history of ownership can make a difference of thousands of dollars when it comes to buying and selling antiques. If one can prove someone famous or noteworthy owned something in the past, it's worth a lot more due to the story attached. Naturally, when Mike Wolfe stumbled upon the Aerosmith van initially, he had to take a step back to figure out whether the legendary rock band actually toured in this van once upon a time. 
When speaking to Billboard about the vehicle, Wolfe explained, "I was skeptical because a lot of that stuff is just stories handed down from generation to generation and a lot is local folklore. So when I heard that could be it, I was like, 'Why would something like that exist in that condition and be sitting on a property for that long?' Those are the questions I ask myself right away." It makes sense Wolfe would wonder how the van ended up in the condition he found it in, but he did stumble upon it in Massachusetts, and Aerosmith originally formed in Boston, so it may not have been that farfetched.
Wolfe went on to say, "I always imagine what something is going to be like before I even get there; it's part of what I've done for the last 30 years. You hear about something and you're already painting a picture in your mind." Aerosmith themselves even appeared on "American Pickers" down the line to reminisce about the old days in the van. It proved to be a perfect "full circle" moment.