1923's Helen Mirren Says She And Cara Dutton Share Personalities Thanks To Taylor Sheridan
If Beth (Kelly Reilly) is any indication, the women of the Dutton family come from a certain stock. Even before she returned to her home state of Montana at the beginning of "Yellowstone" — AKA The Beth Show — Beth made everyone's lives miserable as a Mergers and Acquisitions liaison. Celebrated for her talent of destroying companies, it was an easy decision to join her father, John (Kevin Costner), and his cattle ranching empire.
Beth comes from sturdy ancestors, stretching back to when the Duttons first settled the land. Men and women have had to fight tooth and nail to cling to the hard-fought property in the prequel series "1883" and "1923." One of the most impressive of these women is Cara Dutton (Helen Mirren), the wife of Jacob (Harrison Ford), who takes ownership of the ranch in his decade. But as fans of "1923" understand, Cara is more than any wife. To Jacob, she is an equal partner and true ally. With her grit and tenacity, many look up to her as the real boss of the family. This is no accident. While creator Taylor Sheridan does not collaborate with a writers' room, he did take some inspiration from Mirren herself when crafting the character.
Cara Dutton is all about tough love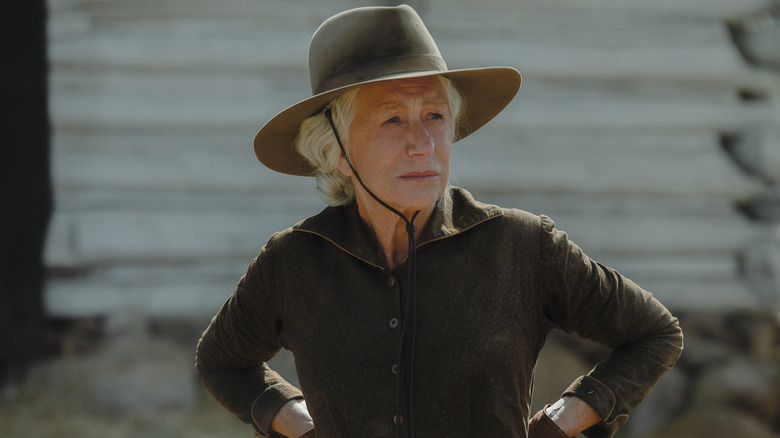 Emerson Miller/Paramount+
It is no secret that "1923" is nothing without its actors. While each iteration of the "Yellowstone" universe has incorporated many illustrious actors, there is nothing quite like seeing Helen Mirren and Harrison Ford on the small screen together. Taylor Sheridan told Deadline that the scripts had not even been finalized when he tapped the two acclaimed actors for leading roles. The creator wanted them to commit on the spot. Though a risky move, both rose to the challenge. Since they were already cast, the lines between actors and characters became slightly blurred. Helen Mirren readily admitted to Us Weekly that Sheridan prefers to mold the character around the performer, so she and Cara exhibit many similar traits.
"Cara is very much — as Jacob is constructed around Harrison and Harrison's personal qualities — Cara is constructed around me," Mirren told the outlet. She explained the similarities between her and her "1923" character, saying, "I would hope the sense of humor. I would hope the stoicism. I would hope the professionality that Cara carries with her. The love. But it's a tough love. You know, it's not a sentimental love." This is the die all Dutton women have been cast, for better or worse. Growing up in an emotional desert is a harsh environment to thrive in, and a formidable exterior is how they get by.