Mike Henry Loves That Family Guy Feels New Every Time You Watch It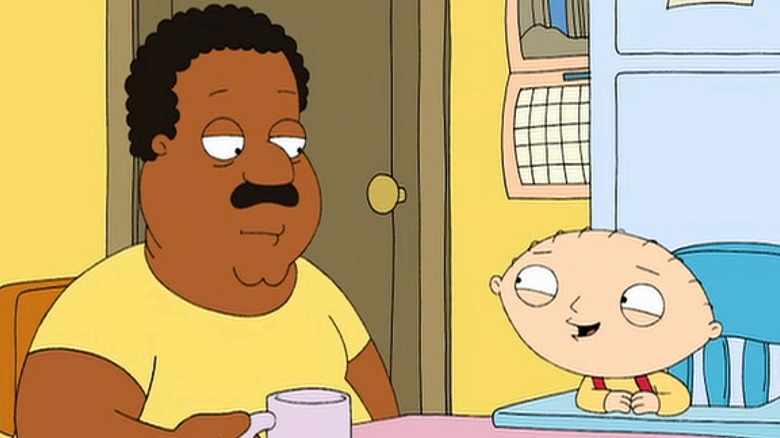 20th Television
"Family Guy" has achieved what countless other shows of its kind could only dream of. While plenty of adult animated sitcoms have come and gone, "Family Guy" has reached a rich longevity, having been airing episodes since 1999. Even when "Family Guy" saw its near moments of permanent cancellation early on, the show has always found its way back onto television screens.
The series, which follows a fictional dysfunctional Rhode Island family and the many absurd adventures they find themselves in, has been giving audiences all the envelope-pushing entertainment that they can muster for nearly 25 years now. So, what is the magic that has kept "Family Guy" running for over 20 seasons and 400 episodes? Could it be its quotable lines, hilarious characters, or even the show's occasional penchant for finding itself in hot water that keeps fans coming back? While everyone is entitled to their own reason, one of the show's key cast members and writers, Mike Henry, has his own opinion for comprehending the show's endurance.
You'll never know what's coming next on Family Guy
"Family Guy" has been on the air for so long that there are entire generations who have never existed without it. Such a simple series shouldn't have the kind of durability that "Family Guy" has managed to obtain, but the Seth MacFarlane-created cartoon just keeps coming. According to Mike Henry, who voices characters like Herbert, Consuela, Bruce, and originally Cleveland Brown before stepping down from the role, the series beats out its competition in one notable way (via Deadline).
In a 2018 interview with Henry and "Family Guy" co-star John Viener at New York City Comic Con, Henry mentions what he finds so endearing about the series. "What I love about the show is you can watch old episodes, and you don't know which gags are in them," Henry comments. "Because most of the time you watch a show ... you know what the story's going to be, you remember jokes, but given that the non sequiturs are in there so much, you'll find yourself laughing like you never saw it before." Viener continues, mentioning how fun it is to do the many cutaway gags the series is infamous for.
"Family Guy" can be called many things, but it certainly can't be called predictable. And while fans have commented on the show's decline, it is still going strong, with Fox having recently renewed the series for another two seasons (via Variety).