What Happened To The People Stuck With Impractical Jokers' Q During His Universal Studios Tram Punishment?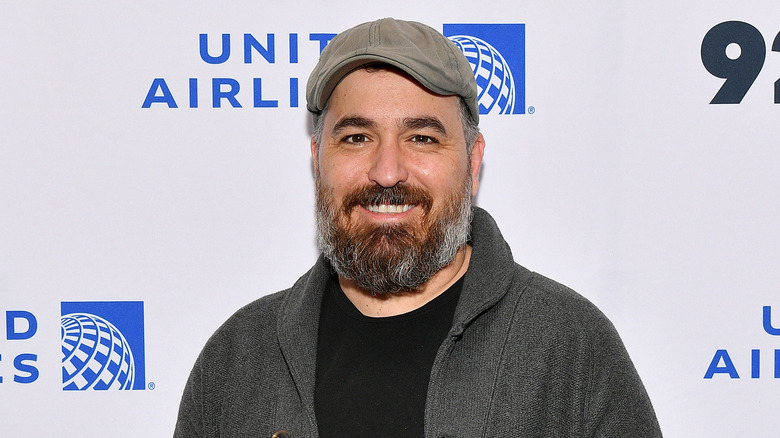 Dia Dipasupil/Getty Images
"Impractical Jokers" has been turning heads and generating laughs for almost 12 years now, as fans have tuned in time and time again to watch Brian "Q" Quinn, Sal Vulcano, James "Murr" Murray, and Joe Gatto entertain viewers at the expense of their self-respect. As one of the best and longest-lasting improv comedy series on TV, the show has delighted in pulling pranks on the public that range from cutting them in line to challenging them to wrestling matches. Every episode features a new set of challenges for the comedians, and every episode features a new punishment for that episode's "loser." It's also all in good fun, as the show's stars are lifelong friends.
However, one episode — and its subsequent punishment — remains particularly unforgettable in Q's mind. In Season 8, Episode 12 ("The Show Stopper"), Q was forced (well, "forced") to pull the emergency brake while taking the famous backlot tram ride at Universal Studios. And he did it again. And again. 
While the ride was painful for Quinn and earned him the hatred of many of his fellow parkgoers, as it turns out, it wasn't very fun for the paying customers on board, either.
Mercifully, guests received a second free tram ride
Brian "Q" Quinn has already spoken in the past about his difficulties with shooting the Season 8 episode, "The Show Stopper." As one might expect, his fellow Universal Studios tram passengers were not very happy with his antics on board the tram ride, and even began hurling threats at him. "I've never been the focus of concentrated verbal hate from all sides," he told Celebrity GamerZ in 2021 (via YouTube). "It was bad, man. It was the worst I've felt in a long, long time ... It was the worst thing I've done on the show. Nothing will top it." 
Thankfully for those customers, it was revealed in 2019, on "The Official Impractical Jokers Podcast," that everyone trapped in that punishment received a second free tram tour after the show. "We make it clear to viewers that if we are inconveniencing people, that it's made up for after the fact," said producer Simmy Kustanowitz. "We're frustrating them momentarily for the sake of tour, but then we always make good afterwards." Plus, according to Quinn's interview with CelebrityGamerZ, the "Jokers" cast got a VIP tour of the theme park after the show. In the end, all of the stress and frustration was nothing but a temporary setback.