Avatar: The Way Of Water On Track To Lose Top Box Office Spot To Knock At The Cabin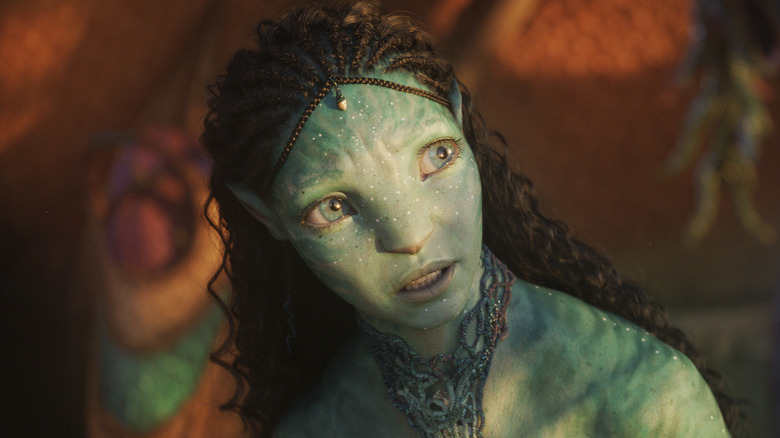 Disney
Sorry Tsireya, but it looks like "The Way of Water" does have an end, at least when it comes to box office supremacy.
James Cameron proved that everyone was a fool to bet against him when "Avatar: The Way of Water" debuted to nearly half a billion dollars during its opening weekend (via The Numbers). Since its mid-December 2022 release, the "Avatar" sequel has gone on to gross over $2 billion worldwide, emerging as one of the highest-grossing films ever made. As it stands, James Cameron is the only director to have three films in the $2 billion club (the others being "Avatar" and "Titanic").
The success of "The Way of Water" has solidified Cameron's next decade, with the director confirming that future "Avatar" sequels will be moving forward (via DailyMail). Beyond that, Disney's water-focused epic has invigorated the box office, confirming that the modern moviegoing experience still has a pulse. "So much for the doomsayers doubting the enduring appeal of movie theatres," tweeted AMC Theatres CEO Adam Aaron following its release.
All things, however, must come to an end.
After dominating the box office for seven weeks, "The Way of Water" is passing the torch to M. Night Shyamalan's "Knock at the Cabin," which is on track to top the box office.
M. Night Shyamalan just beat James Cameron at the box office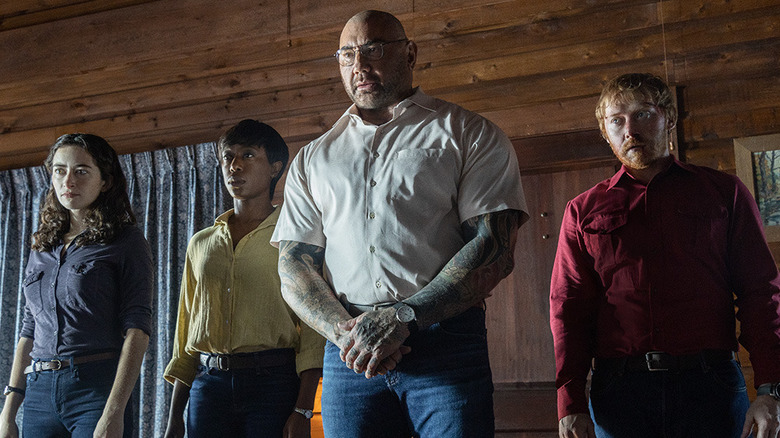 Universal Pictures UK
Variety reports that M. Night Shyamalan's latest horror-thriller "Knock at the Cabin," which stars Dave Bautista as a doomsday soothsayer, will take the number one spot at the box office this weekend. The film, which received a mostly positive review from Looper, is expected to rake in $14.5 million during its debut weekend. The outlet notes that the Shyamalan pic, based on Paul Tremblay's novel "The Cabin at the End of the World," has a budget of $20 million, making it another profitable hit for the "Sixth Sense" director. With a CinemaScore of C, it remains to be seen just how long Shyamalan's doomsday outing will dominate the box office. 
Trailing behind the Bautista-led film is "80 for Brady," Paramount Pictures latest crowd-pleasing effort. The comedy, which focuses on four female friends who vye to see NFL superstar Tom Brady, is set to rake in $13 million during its opening weekend. The studio comedy likely received a solid bump due to on-going, nationwide promotions by the studio which saw them lowering ticket prices (via The Hollywood Reporter). The ensemble comedy boasts a might A- CinemaScore and is already on track be another breakout hit for Paramount. 
"The Way of Water," will emerge as the third victor at the box office, with a gross of $10 million. This weekend marks the first time the Cameron-directed film will leave the number one spot. As for how long sequel stays in the top five? Only time will tell.