The Little Mermaid's Oscar Trailer Is A Beautiful Deep Dive Under The Sea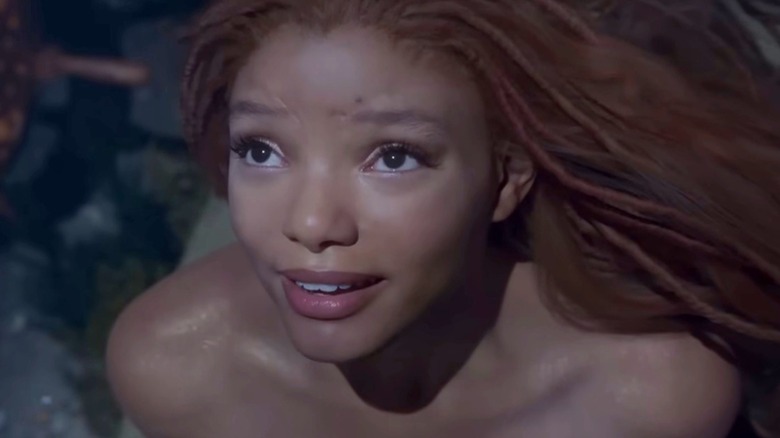 Disney
1989 saw the release of Disney's "The Little Mermaid": a film based on Hans Christian Andersen's literary work that, much like many of its Disney contemporaries, takes quite a few creative liberties with the source material. Nevertheless, this much lighter, family-friendly approach to the famous story went on to become a merchandising juggernaut, an animation marvel, and an all-around Disney classic. It was so good that attempts to expand on it in the years that followed — including a sequel, prequel, and animated series — paled in comparison to their now-iconic predecessor.
Fast-forward to the 2020s, and "The Little Mermaid" remains a beloved (and lucrative) title, hence why Disney is so eager to revisit it. Like such favorites as "The Lion King," "Mulan," and "Aladdin," among others, "The Little Mermaid" is about to get the live-action remake treatment. Rob Marshall has taken up directing duties, with names like Javier Bardem, Melissa McCarthy, Daveed Diggs, and more filling out the cast list. As for the role of Ariel herself, that honor has gone to Halle Bailey, who is best known for her musical endeavors and a small handful of acting credits.
Following a rather uneventful teaser, a full-length trailer for "The Little Mermaid" has finally arrived by way of the 95th Annual Academy Awards. 
The Little Mermaid is visually stunning
The first look at "The Little Mermaid" reached the internet in September 2022, and it didn't have a lot to offer. It shows off some CGI sea life, takes us through caves and sea grass, and finally focuses on Halle Bailey's Ariel, who sits on the ocean floor and sings while daydreaming about the surface world. Thankfully, the second trailer for the movie gave fans a lot more. We see a wide array of environments, get better looks at some of the characters, and overall get a better feel for how this remake will set itself apart from the "Little Mermaid" that came before it.
The live-action rendition of "The Little Mermaid" was a long time coming, to say the least. Rumblings of Disney developing such a project date back to 2016 (via Deadline), with Lin Manuel-Miranda of "Hamilton" fame later joining Marc Platt as a producer (via Entertainment Weekly). In time, the stacked cast was assembled, the behind-the-scenes crew got to work, and principal photography began. Though the COVID-19 pandemic put a damper on production — something that was unavoidable for all movies in 2020 into 2021 — "The Little Mermaid" has been fully realized and is on its way to theaters.
"The Little Mermaid" will welcome us into a whole new world on May 26.