Why Julia Louis-Dreyfus Doesn't Think Resurrecting Veep To Joke About January 6 Would Work
Few comedic actresses have reached the same caliber of success as Julia Louis-Dreyfus. Her role as Elaine on NBC's classic comedy "Seinfeld" was not only a star turn but established the talented performer as a TV mainstay. Her continued level of excellence led to numerous Emmy wins, in addition to ratings winners like "The New Adventures of Old Christine." She even attained the prestigious Mark Twain Prize for Humor in 2016 (via The New York Times). Louis-Dreyfus is balancing those past successes with a host of current opportunities.
A new chapter in the actress' career has her starring in the film "You Hurt My Feelings." The Sundance 2023 selection features Louis-Dreyfus as a woman dealing with marriage problems, as well as a difficult relationship with her child. The audience's response to the performance is positive as early reviews come in. Vanity Fair's Richard Lawson spoke to Louis-Dreyfus' affinity for interpreting the evenhanded material. "She has such fluid ease with the material, gracefully inhabiting Beth's world with tic and idiosyncrasy," he wrote.
With an eye on her comedic and dramatic future, it's fair to say the actress isn't exactly looking backward. Still, one of her most well-known series, "Veep," re-entered the conversation thanks to a disturbing national event. Louis-Dreyfus reflects on why the series is best left as a memory when it comes to January 6, 2021.
Louis-Dreyfus thinks one thing should happen before Veep's return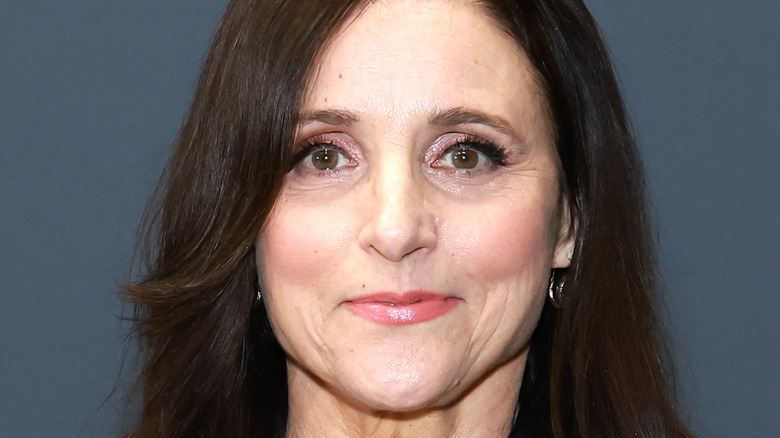 Arturo Holmes/Getty Images
In a time where political divides are larger than ever, comedies with politics as their focal point can be both a revered way to satirize current events, and an unwanted reminder of current issues. "Veep" found a place that set it apart, creating a series that won over critics and audiences. The hit HBO series starred Julia Louis-Dreyfus as Selina Meyer: Vice-President of the United States. She's constantly in search of ways to separate herself from her predecessors while also impacting policies and attitudes.
The events of January 6, 2021, proved to be a difficult and painful point in American history — something that others might see as fodder for satirization. Louis-Dreyfus took time to address why her series was not the right forum to discuss the event. Variety asked the actress about "Veep" in light of comments made by "Velma" star and executive producer Mindy Kaling. The latter suggested "The Office" would be considered too politically incorrect today. For Louis-Dreyfus, it can be a difficult situation. "It's tricky. I'm in favor of sensitivity. When people complain about being too politically correct, I start to question what their motives are," she said. "I believe in irony and satire — there must be a place for it for a culture to survive — but I also believe in being sensitive and kind at the same time."
In a surprise to "Veep" fans, she also revealed being pitched on returning to the Selina Meyer role. It's a concept whose timing just doesn't seem right to the actress. For her, a return would take multiple years of Washington normalcy before something like "Veep" would be appropriate. The subject is even more difficult when thinking about the events of January 6. Louis-Dreyfus bristled at the idea of placing her character in the midst of that. "I don't know how to make that funny, especially when people lost their lives."
Veep didn't hold back on controversial topics
While the events of January 6 may prove to be a line in the sand for the series' star, "Veep" certainly borrowed from controversial topics and storylines during its run. Showrunner Dave Mandel once spoke to Variety about the series being a Trump-free zone, instead looking at bigger-picture things. Still, that didn't stop it from delving into hot-button issues and some of the more precarious issues to hit Washington's political scene. One of the most talked about episodes takes on a real-life pursuit that originated from conspiracy theories. In the episode, Selina is the focus of an attack on her age, with a candidate insisting that she was lying.
Julia Louis-Drefyus was far from the only series star whose character encountered controversy. In a more serious twist, "Veep" also looked at the issues of abortion from a distinctive viewpoint. Amy, played by Anna Chlumsky, must make the choice after a one-night stand. Chlumsky worked with the series' showrunner along with writers to craft something that was accurate and authentic; the actress also recognized the importance surrounding the subject, as well as the debates that could occur from its inclusion. For Chlumsky, it's not an easy topic and people still have far to go in figuring it all out. According to her, a major element was sticking to the story as well as the character, making sure that the series was not speaking for every person. "Think of it as a doorway into that subject matter, which is just to explore one woman's experience," she told The Hollywood Reporter.