Jenna Ortega's Opening Scene In Stuck In The Middle Predicts Her Own Future As Wednesday Addams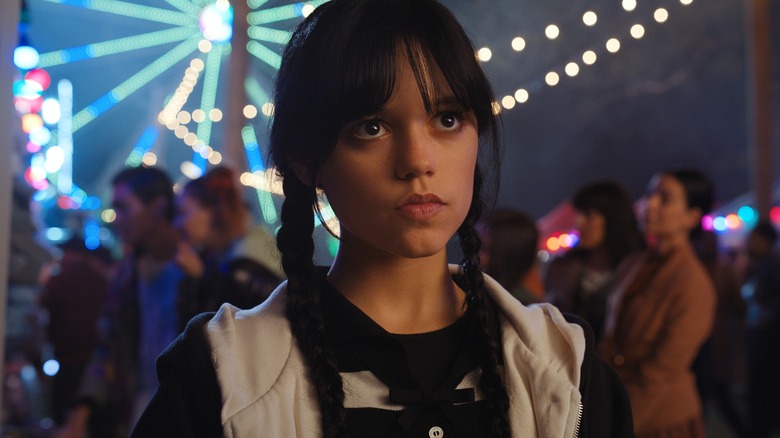 Netflix
Few actors can boast the banner year that Jenna Ortega had in 2022. From playing a traumatized student in "The Fallout," to joining the "Scream" franchise (via Entertainment Weekly), to her sultry break out in Ti West's "X," Ortega took the entertainment world by storm last year. Still, none of these parts quite had the pop cultural impact that her titular role as the most dour member of "The Addams Family" had in Netflix's "Wednesday."
Ortega seems to effortlessly inhabit Wednesday Addams in a way that makes the character just different enough from previous versions to work. Of course, despite Ortega only coming onto the radar of many fans in 2022, the actor has been working diligently for years. In fact, she got her start over a decade ago (via IMDb). All the same, one of the earliest roles that garnered the star attention was that of Harley in the Disney Channel series, "Stuck in the Middle."
A line from Stuck in the Middle suggests Harley's name could be Wednesday
Jenna Ortega played middle child Harley Diaz on the family comedy series "Stuck in the Middle." An aspiring inventor and precocious smart-aleck, Harley tries to control her often chaotic and somewhat dysfunctional family with her inventions, while also trying to live up to her often thankless role within the family unit. Naturally, Harley expresses her frustrations directly to the audience in scenes that have her breaking the fourth wall. In a strange little coincidental touch, however, there's one episode of "Stuck in the Middle" that has Harley call herself Wednesday almost directly.
In the scene in question, Harley makes an analogy of the seven members of her family as days of the week. "If my family were days of the week, I'd be Wednesday!" Harley exclaims in the very first episode of "Stuck in the Middle." Of course, that line seems to have a lot more relevance after the actor played the titular role in one of Netflix's biggest breakout hits ever (via Parrot Analytics). 
While the actor will no doubt be returning for the upcoming second season of "Wednesday," fans can likely look forward to seeing Ortega in a myriad of places as her star continues to rise.