How Edward Herrmann Behaved On The Set Of Gilmore Girls, According To Keiko Agena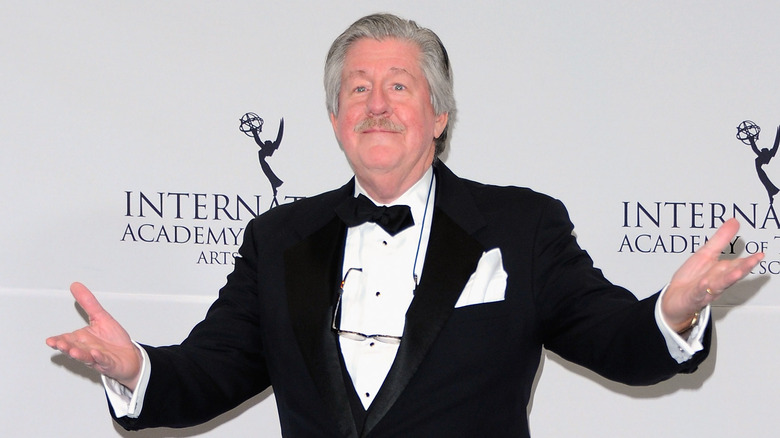 Andrew H. Walker/Getty Images
Rory Gilmore (Alexis Bledel) may have an unbreakable bond with her mother Lorelai (Lauren Graham), but the aspiring journalist has a particularly special place in her heart for her grandfather, Richard (Edward Herrmann).
On the surface, Richard is a no-nonsense, strict man, especially regarding Lorelai's teenage pregnancy. He's a wealthy business professional, believes in the value of a college education, and, in his spare time, enjoys a good book or game of golf. Lorelai may not have had the warmest parental experience with Richard and Emily (Kelly Bishop), but he's a big softie when it comes to his granddaughter.
Throughout the seven seasons of "Gilmore Girls," there are many heartfelt moments involving Richard, who continues to evolve thanks to his ever-growing connection with Rory. A prime example is when she decides to drop out of Yale. This goes against everything he believes in, but he graciously allows Rory to stay at his home and reevaluate her life's direction.
Herrmann said in an interview for "The Gilmore Girls Companion," "Richard did change over the seasons. He was more flexible. I think that was [creator] Amy [Sherman-Palladino]'s idea from the beginning, to have this relationship between the grandfather and the granddaughter blossom."
It's clear that Richard is a massive support system for Rory and the rest of the Gilmore clan. But did Herrmann's behind-the-scenes behavior match that of his loving, charismatic on-screen persona?
Edward Herrmann was a gentleman both on- and off-screen
Keiko Agena, who portrays Rory's best friend Lane Kim on "Gilmore Girls," revealed in a Reddit AMA that Edward Herrmann wasn't much different than Richard Gilmore when off-camera. When asked to share her favorite memory involving her late co-star, she said, "I think seeing him at all the table reads? He was so charming, and such a gentleman, on- and off-screen. That kind of charisma is just infectious."
Herrmann's personality didn't fluctuate much between TV and real life, nor did his bond with Alexis Bledel. Just as Richard tries to guide Rory toward success, Herrmann served as a mentor to Bledel, who was brand new to the high-pressure world of acting. He said in an interview for "The Gilmore Girls Companion," "She'd have difficult times. For a while there I was designated [to] 'find out if Alexis is OK.' I said, 'She's burned out! You're burning her up! She's exhausted.' She didn't know how to deal with this stuff, so we'd go out and I'd take her to Musso's."
Herrmann died in 2014, devastating his co-stars. At the time, Argena tweeted, "RIP #EdwardHerrmann I was lucky to know you. I can't imagine what #GilmoreGirls would have been like w/o you. [Love] to your Family."